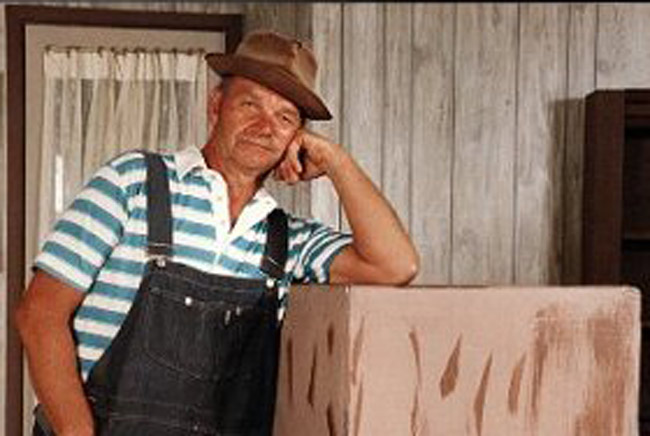 First it was just the news of another wreck on State Road A1A, after a two-car collision shut down the highway in Beverly Beach. Then word started spreading in late afternoon Thursday.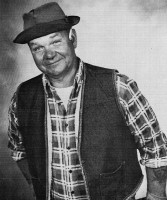 The elderly man at the wheel of the Ford, whose front was pulverized in the collision with another car, was Ed Hess, the long-time Beverly Beach city commission, the electrician for the city of Flagler Beach, the eternal resident, with his wife Marjarie, of Surfside Estates, and the an actor known for his humor, his Scrooge and Santa Claus at Christmas, and his unfailing imitations of Walter Brennan. As with many actors, his age fluctuated: it was officially recorded as 79 in the FHP report, but he'd told a reporter in 2008 that he was 65, and those who knew him in Beverly Beach and Flagler Beach hadn't seen him as a man approaching 80.
"Ed was very much dedicated to the town, and serving the town," Beverly Beach Mayor Gerry Gersbach said this morning. "He never hesitated to speak his mind on town issues that he was passionate about—fire hydrants, the wastewater treatment facility. Ed had a great sense of humor. He was a bit of an actor, he also did a great imitation of Walter Brennan. In all cases, Ed has put the town people first and politics second. Ed was extremely popular not only at Surfside Estates but throughout the town of Beverly Beach. He was loved and he will be missed."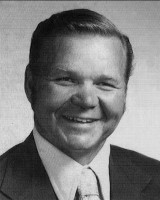 At Surfside Estates, Hess was called on to officiate at social events, to entertain, and to call Friday night bingo. On the city commission, he had a mind of his own, and like any other elected official, he had his quirks, his lines in the sand, his tenacities. But his good humor was a bridge to solutions, too.
"As far as I can remember working with him on the commission was always a fun and entertaining opportunity," Frank Gromling, a current member of the Beverly Beach City Commission, said, "because we often would disagree yet worked out what the differences were." The two commissioners worked together for about five years.
It's not entirely clear how long Hess has been on the commission. The town's earliest records show him serving on the commission as far back as 1996. It could be longer.
He was an electrician for Flagler Beach until the budget crunch hit. "When we got our budget one year, we had to cut some positions and he was one of them," Alice Baker, the former Flagler Beach mayor, said. "It's not that he didn't do a good job, he was a very good worker, very dependable, he worked as a head electrician. And he did these imitations, and he did a really god job. He always had a smile on his face, very jovial guy."
Kari Cobahm, the former writer for the News-Journal and now a FlaglerLive contributor, had profiled Hess in 2008, summing up a career in theater stretching half a century. Hess, Cobahm wrote, "is quick to slip into entertainment mode, insistently plucking a jaw harp — a tiny old musical instrument — or regaling listeners in an almost natural Western drawl of his own adventures portraying Brennan. Like the time he was in Tennessee a few years ago and convinced two female Brennan fans he was the real deal. He even posed for a picture with them. 'I says, 'You just take a look-a here now. Of course I'm Walter Brennan!' ' he recalled with a gruff Brennan chuckle."
Hess had moved to Flagler Beach a quarter century ago, and often appeared on the stage of the Flagler Playhouse, in such plays as "All My Sons," "Too Soon For Daisies" and "Scrooge and Such." He acted in commercials. He performed at churches and nursing homes.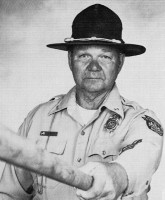 "I was talking to him the other day, my God," said John Sbordone, the theater director who'd worked with Hess over the years at the Flagler Playhouse and now runs the City Repertory Theatre in Palm Coast. "We were talking about bringing his Walter Brennan act to City Repertory for some intermission fun." The two men had run into each other at Walmart, Sbordone telling Hess how well he looked. "He was a sweet man who loved, absolutely adored, playing Walter Brennan."
He had five children (a daughter lived with him at Surfside Estates) and at least nine grandchildren.
According to the Florida Highway Patrol, Hess was traveling east on Osprey Point Drive at 12:30 p.m. Thursday and was beginning to make a left turn to go north on State Road A1A, crossing the path—and right of way—of 34-year-old Mary Dullea of Philadelphia, who was driving a 2012 Dodge Avenger, going south. The collision sent both cars spinning. Hess was not wearing his seat belt. His head struck and shattered the windshield on the passenger side. He was flown to Halifax hospital, where he died.
For the Beverly Beach City Commission, the loss of a commissioner is the second in less than a year. John McDonald, who had been the town's longest-serving commissioner at the time, died last October, at 76, of cancer.
"We will ask for resumes to fill his vacated position," Gersbach, the Beverly Beach mayor, said. "The commission will review the resumes, make a selection, and the individual selected will serve as an appointed commissioner until our elections in March 2013."