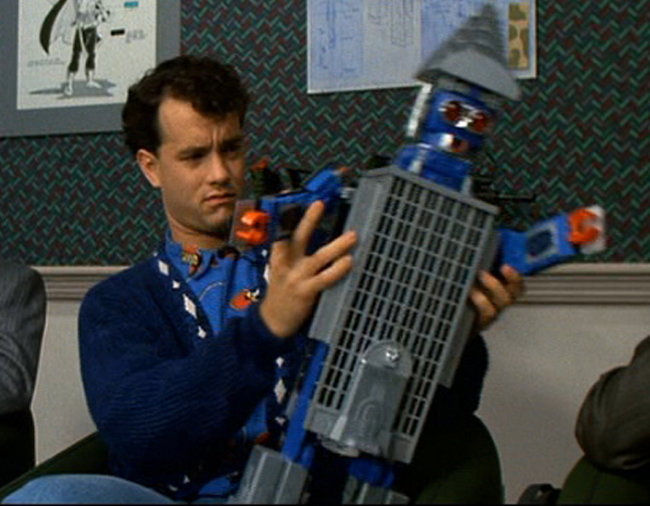 There's a scene toward the end of "Big," the Tom Hanks movie about a 13-year-old boy stuck in an adult's body, where Josh Baskins, Hanks' character—by then a joyfully creative CEO—presents an idea for a new toy at a business meeting. The computerized, interactive thing does wonders. Josh is convinced it'll sell zillions. But it's also astronomically expensive. Josh has no concept of costs. He's just a good-hearted ideas boy. That's when the disconnect hits his colleagues: Josh may not quite be the man he was pretending to be.
A similar disconnect is sharpening between Flagler County's business community—a whole bunch of well-meaning Josh Baskins—and at least some government officials. The business types want new tax dollars "invested" in economic development. They're convinced it'll generate tons of jobs. But it's other people's money they'd be playing with, not their own. Government types are telling them they have no concept of the political cost when it comes to that sort of speculation, though some government officials, particularly in Flagler County, are being seduced by the speculation.
Those forces are coming to a head Friday.
Enterprise Flagler, the county's public-private partnership, is going to be asking for more money from taxpayers. Lots of it. Palm Coast and Flagler Beach will balk. And an old, unresolved conflict will flare again, though only toward the very end of this latest of summit: That's the bottom line at Friday's county-wide economic-development meeting, the fifth since January.
Yes, they're doing it again. At 8 a.m. Friday morning, elected officials from the county and every city, along with business executives and civic leaders, are meeting for what could be yet another day-long session, though this time Don Upton, the "facilitator" the county hired for the three previous sessions, at more than $7,000 a day, agreed to forgo his fee. And many participants at previous meetings aren't showing up. Some will be playing golf. Some will be working. Some will have other excuses, real or invented.
The first four summits, held between January and March, achieved little other than the development of five general economic development "strategies" most of the assembled could agree on, and the scheduling of more meetings. Committee meetings and committee reports were produced along the way, consuming untold man-hours. The hope is that Friday's summit will finally settle the hard questions the group has been avoiding all along: how to pay for what's being proposed, who would pay it, and who would administer it.
The summits were originally designed to get the various governments and business community to agree on a political and financial strategy for economic development. There never was any such agreement. Palm Coast and Flagler Beach aren't interested in any new tax for economic development. Bunnell is for it, and county commissioners aren't sure what they're for. Failing agreement on that score, the summiteers sank their energies in smaller-bore stuff they could agree on: those five strategies that are, in fact, closer to optimistic tactics than strategies: providing an entrepreneurial environment, linking talent effectively, providing "exceptional" customer service, "maximizing regionalism". The fifth element, the closest to a strategy, is a retread of the same element Enterprise Flagler and others have been pushing for years: targeting and recruiting particular industries to broaden Flagler County's commercial and industrial tax base.
One thing the committee meetings did achieve: they put a price tag on each of the five tactics and strategies. Most of those price tags are modest. A couple are not at all.
The committee that worked on target industries is proposing a whopping $6.5 million budget over three years, including $1.15 million a year in "community enticements" such as tax breaks, capital dollars—that is, government underwriting private industry development—and workforce training, and $331,000 a year in marketing. What generated those numbers and what justifies them isn't clear. But they're the numbers that will be presented Friday, along with another set of numbers that appear drawn from thin air: a speculative "return on investment" of $174 million over three years, "more thereafter," according to the committee's taskforce report.
The goal, according to that report, is to have several development-ready and construction-ready sites around the county and the cities (what's been termed "shovel-ready" and "pad-ready" sites) that could quickly be turned over to prospective industry, and therefore employers, with a goal of developing 900 primary jobs and 1,100 secondary jobs within three years.
Other committees provided similar break-downs and speculative "return on investment" projections. The numbers don't necessarily add up, but the total cost of the summiteers' plan, over three years (what they call "financial investment," and what taxpayers call taxpayer dollars), is $7.1 million. Jobs created over three years? 2,480. Economic benefit? $188 million. Other than what would be charged taxpayers, the numbers are entirely speculative.
If this is beginning to sound familiar, that's because it is: it's essentially the framework of Enterprise Flagler's tax-and-build plan (that is, government construction of business sites as bait for new industry) it attempted to take to voters last year. The public response was so derisive that Enterprise Flagler pulled the proposal before it made it to the ballot box. The "target industry" strategy at this economic summit is a repeat of that attempt. Instead of angling for a property tax increase, Enterprise Flagler is pushing a half-cent sales tax increase.
Several members of the Enterprise Flagler board of directors, meeting for several hours today (May 12), agreed that at the end of Friday's meeting, David Ottati, president of Enterprise Flagler—and Florida Hospital Flagler's CEO—would lead the charge to stop talking and get something done. That something would be to make Enterprise Flagler the driving engine of the overall economic development effort. That, too, would be a retread of last year's effort.
Thursday's meeting got occasionally, and revealingly, testy: Enterprise Flagler is made up of elected representatives from each of Flagler's governments, along with top government administrators and managers, and several private-sector executives, who serve as volunteers. The operation is mostly paid for with tax dollars, with Palm Coast and the county footing most of the bill (about $90,000 each). There's a telling divide between the government representatives and the business representatives. That divide has been more pronounced as the business sector has been aching for activity while the government sector has been battered by falling revenue and pressure to raise taxes, with potentially dire results at the polls.
That divide unraveled at the meeting today as members on the business side harped on the need for action by governments to get moving—that is, to do what's necessary to raise taxes and generate the revenue for "economic development."
"That's easy for you to say," an elected representative retorted, when it's the elected representatives who have to do the political heavy lifting. "Well, that's your job," came the reply from the business end.
Two of Enterprise Flagler's most vocal members—Bob DeVore, a developer, and Bruce Page, a banker—talked a good game of getting something done only to concede that they wouldn't be at Friday's meeting, thus joining a long list of no-shows. Among them Frank Meeker, who's been the loudest voice for economic development on the Palm Coast City Council. He's going to a GOP political function. (Calling it a function may be too generous: a local Republican calls it a boxing match for control of Flagler County's GOP.) Colleen Conklin, who resorted to inspirational quotes and a long motivational speech at the last meeting, is recovering from ankle surgery. County Commissioner Nate McLaughlin is spending time with family in Utah. The lawyer Mike Chiumento, who led the entrepreneurial committees, was also to be absent.