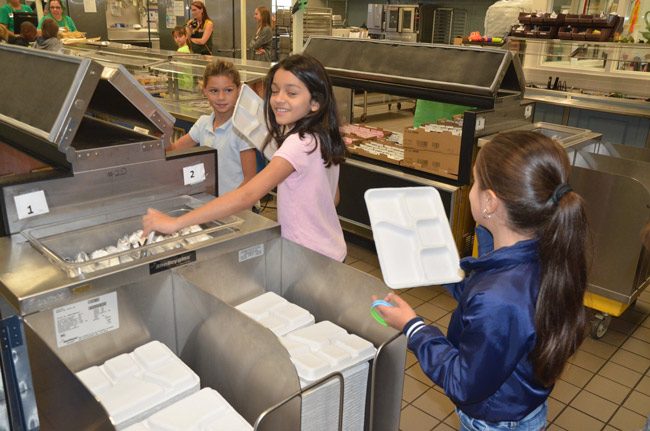 This is what second graders at Old Kings Elementary were able to do: they went from working on a dune-protection project to discovering that the ocean a few feet beyond is clogging up with plastics they use every day. So they declared war on plastics, first through a recycling campaign, then by looking at what they could do in their schools, and their entire district, to make a difference.
They boycotted the use of disposable plastic lunch trays, pushing for a more bio-degradable alternative. They succeeded. Old Kings Elementary last year became the site of a pilot project, using the recyclable trays made of recycled paperboard. Then the trays were adopted district-wide, thus eliminating from landfills the 1.4 million plastic trays that were ending up there every year.
Then two other counties' school systems in Florida switched, and now Flagler is working on 30 other counties to switch, because of they do, it could help bring down the cost of the more environmentally friendly but more expensive trays for Flagler: they're about 1 cent more expensive than the dirtier kind: not a significant difference all told, as it adds up to an extra $14,000 a year district-wide.
That's what second-grade students achieved. And today at Old Kings Superintendent Jim Tager, Flagler Beach Mayor Linda Provencher, Flagler Palm Coast High School Principal Dusty Sims (a portion of whose 10th graders partnered with the second-graders), along with many others, turned out for the ribbon-cutting to the re-trayed dining room. The ribbon-cutting also marks the first district-wide day of using the biodegradable trays.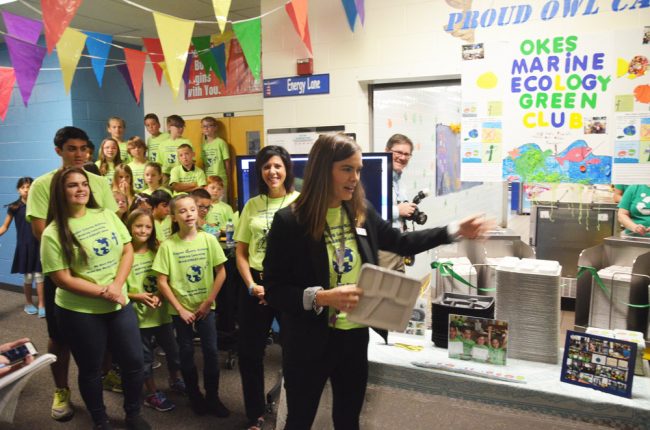 So when these students this morning told assembled officials "thank you for listening to our small voices," they were wrong in one regard: their voices had roared as loud as those of big institutions, for they had started a local movement that tied directly into a global initiative the United Nations launched last February.
"This has been an enormously exciting project with just a few small children talking about how the world works, and it turned into something that's truly amazing," said Ellen Asher, a teacher at Old Kings and a continuous force for change through her students. Among her allies in the initiative, and the work of students aside, she had Maia McGuire, the University of Florida's marine extension agent for Flagler and St. Johns counties who also heads UF's Microplastics Awareness Project, and Angela Bush (formerly Torres), who runs the food services division like a cutting-edge enterprise in Silicon Valley: she doesn't tire of innovation.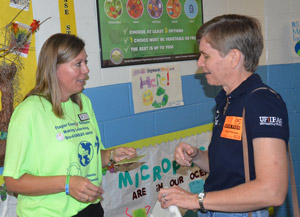 Asher connected McGuire with the students. "From there, learning was ignited," Asher said. "They were excited to read everything they could find about microplastics. If you were in our school the hallways were filled with trash. They recycled everything they could find and really try to spread the awareness."
The students aren't stopping there. They're now working on eliminating all disposable plastics at Old Kings (and presumably elsewhere), starting with plastic silverware.
A couple of glossary terms and their environmental context will help to understand this story. The first is "nurdles." Those are lentil-sized plastic pellets used by industry to manufacture every imaginable plastic product. They're great for the manufacturing process. They're lethal to the environment. They never decompose, and their derivatives end up in drinkable water, in the oceans, in birds and fish who ingest the "microplastics." That's the second term gaining currency. It's what becomes of those innumerable plastic products consumed and discarded. They help turn landfill piles into mountains. They have also been clogging the oceans at a rate of 8 million tons a year, enough that by 2050, the United Nation says, there'll be more plastic mass in the ocean than there'll be biomass, or living creatures in the sea. ("I feel mad that we are making our oceans terrible," one second-grader told the assembled this morning.)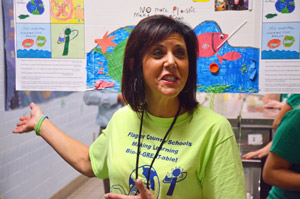 It is a bigger problem than you know, and the main reason most don't know about it is because it is largely out at sea, and therefore invisible. But awareness is growing. UN Environment in February launched a global campaign to eliminate single-use plastics, such as plastic grocery bags and straws, by 2022. Ten countries either tax or ban the uses of some of those plastics, including grocery bags. California bans their single-use statewide. In Florida, Coral Gables this year became the first municipality to adopt a ban on plastic bags in retail.
The vision for the recycling project at Old Kings was born from that sea oats garden project the students had been working on, planting sea oats to rebuild the dunes in Flagler Beach (whose city commission became familiar with the ideas machine at Old Kings in a unique town hall with the students). There was a tie-in between the project and the doctoral dissertation Ellen Asher was completing just then, which had a lot to do with techniques of developing gratitude and empathy into her everyday teaching, and a way for students to develop appreciation for the world around them.
That's how discussions about microplastics began with McGuire, and a new project was born.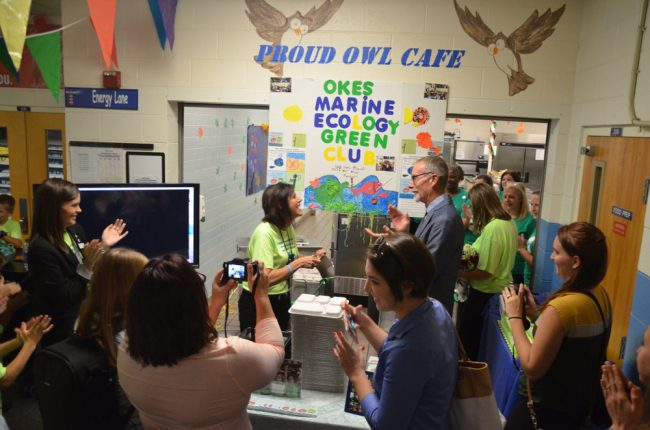 "The reason we're concerned about them in the ocean, Number 1 is because they're just increasing in quantity daily," McGuire said of microplastics. "Every piece of plastic ever made, except for that little bit that's been incinerated, is still around. So when we think since the 1950s we've been consuming plastics, it's pretty much all still there, and a lot of it is in our oceans, and a lot of it floats." Researchers, she said, are finding it in the deep sea, in sediments, on beaches, and in the digestive systems of "almost any kind of animal that's been looked at in the oceans." That's before discussing the toxic capacities of plastics.
McGuire noted the "huge international effort" under way to limit dumping and reduce the consumption of single-use plastics, including the federal Microbeads-Free Waters Act, passed in 2015 to forbid the use of tiny plastic pellets in cosmetic and over-the-counter products. Microbeads had previously been used even in toothpaste.
It's time, McGuire said, to think about alternative in everyday habits, whether it's using washable and reusable bottles, cups and plates to avoiding the use of straws and Styrofoam. "So you really need that disposable straw that you're going to throw away?" she says. "It adds up over time."
Why not use actual silverware and washable plates and trays at Old Kings and other schools, which would eliminate the need to recycle anything? It's a combination of other costs and septic systems: the schools would have to rebuild kitchens to include big dish-washing equipment, and in schools like Old Kings, the septic system could not process the effluents. For now, the goal is to expand the use of eco-friendly trays in other districts. The use of trays itself is not considered problematic.
"Our motivation behind supporting the students was not as much that as not putting Styrofoam into the oceans," Bush said. "That was their initial approach, the nurdles, 'no more nurdles, save the turtles,' and how the Styrofoam goes into the ocean and doesn't break down."