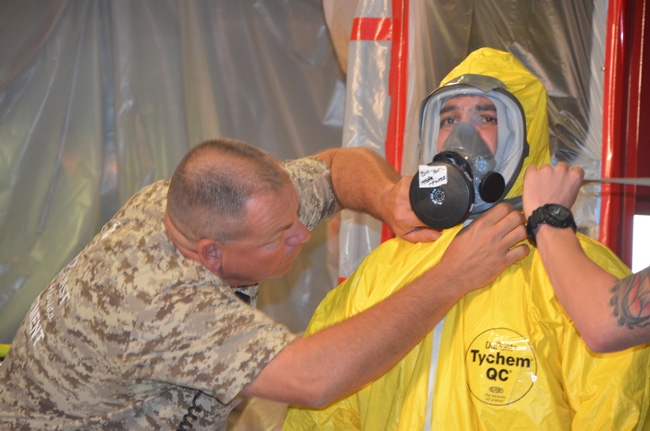 Just in case.
If a case of infectious disease like Ebola is detected in Flagler County, local agencies are suited up and prepared to address it, from the paramedics responding to such a case to the local hospital dedicating and segregating a part of its facility for treatment, to the local health and emergency management departments coordinating the response.
That's the message from a coalition of the county's fire departments, police agencies, emergency management and Florida Hospital Flagler's Kristin McCabe-Kline, the medical director at the emergency room and for the county's paramedics, who Thursday afternoon briefly demonstrated for media what some of the response might look like—at least from a wardrobe perspective—,who would be involved and how.
"The key to de-escalate situations like this is to educate people: what is your real risk, and how to do protect yourself, and just reassuring everyone that we know what we're doing and how to do it," McCabe-Kline said. "The reality is that this is not something that's unique to our community or our country," she said, referring to risks beyond the disease of the day or month, to such things as bioterrorism and other threats. "And the more that we prepare people and the more we are aware what our resources are, how they can be utilized and how we can keep ourselves safe, then the public perception is probably very rarely matched to the actual risk. But I think the reassurances and things like this are equally as important in de-escalating that public perception."
In October, the hospital, the department of health and Flagler County Emergency Management got together to analyze what's in place to respond to infectious diseases. Of course they were prompted by the Ebola crisis, or what was then perceived as a crisis—it has since proved to be far less than one—sweeping the country. "We thought it was a good time to look at our coffers of equipment, to see what we had, and get ready to do some refresher training within the county," Kevin Guthrie, the county's emergency management director, said.
---
Reassurances intended to show preparedness as much as to de-escalate fears.
---
The group also put together an incident management team. A similar team was put together three years ago during the response to the wildfires, but with obviously different objectives. In this case, the team is more focused on health and medical preparedness, so its "unified command" involves the chief operating officer at Florida Hospital Flagler, Patrick Johnson, head of the Flagler County Health Department, and Guthrie. They also have section chiefs, among them Lennie Ensalaco, Flagler County Fire Rescue's training chief, who led the demonstration today.
"I did look at the numbers today, they still have a severe epidemic going on in that part of the world," Johnson said of Ebola, about which the health departments across the state still get regular calls from the state. "As much as I'd like to say it's unlikely, we have to remain vigilant to the one person who gets through and shows up. Nobody wants a repeat of what happened in Dallas."
That's why the preparedness.
Today's demonstration consisted of a paramedic—Joey Paci, a Palm Coast Fire Department firefighter—suiting up in a yellow biohazard suit with the help of two other firefighters, so that in a matter of minutes he turned into one of those familiar images from the Ebola front of the past few months: a masked, gloved, booted, suited and duct-taped diver who'd be wading into potentially the most infectious environment in the county. In a typical such response, assuming one would be needed anywhere in the county, four such paramedics would suit up with the help of four more, and two of the four would go into the actual "hot zone" to address and retrieve the patient.
That patient would then be brought into a county ambulance that has been permanently converted into an infectious disease transport—essentially, by lining and taping down its patient compartment with a vehicle's equivalent of a biohazard suit. Florida Hospital Flagler has designated a containment unit where the patient would be taken and treated. Staff at the hospital has been trained for the eventuality.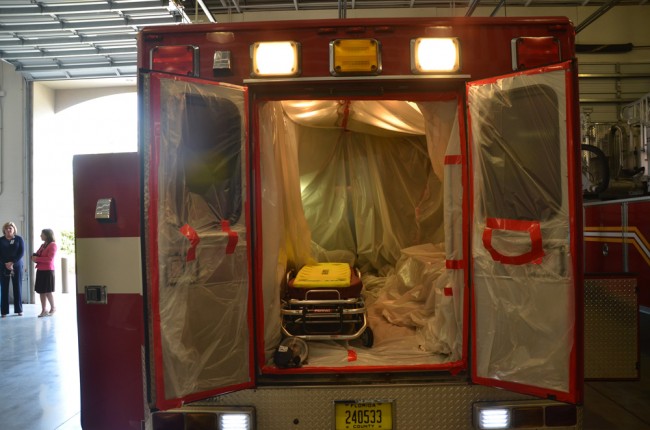 The ambulance is one of five that the county owns as a reserve back-up to the seven that are in permanent service. Should it be called on for regular service, it can be quickly converted—and back again to a biohazard transport.
"We used to do this years ago with anthrax," Ensalaco said as he led the demonstration, explaining every step down to the decontamination (with a 10 percent bleach solution) and the proper doffing of the suit. All local emergency personnel went through training earlier this month. This week ambulance personnel is training for proper decontamination procedures on ambulances.
"The suits are made for 100 percent chlorine and ammonia type atmosphere, so something as fragile as Ebola is a lot better to handle for us in chemical suits, because chemical suits actually overprotect you,"  Ensalaco said as the demonstration unfolded. The suits are [part of local first responders' inventory: they did not have to buy them. Each fire engine carries five suits, each rescue unit has two extra suits, so that if additional personnel such as police or others have to be suited up, they're available.
Officials today stressed that the protective measures have been in place for a long time. "This is nothing that we just created over the last six or seven weeks," Guthrie said. "This is something that we have refined, retrained, maybe dusted off the cobwebs a little bit."
One of the problems with the Ebola crisis in September and October was misinformation, not always diminished by media thriving on the overheated attention on the story, and hype. Guthrie addressed that. "What we want to do first and foremost," Guthrie said, "is we want to advise our community that we're prepared. We've always been prepared. It's just that at this point we've taken the necessary precautions to ensure that we have a unit that can transport folks as well as make sure that the equipment we've had stored in the warehouses and the stuff that's been stored on the trucks is in usable shape and it can be used, that it can be deployed at a moment's notice. I think when it comes to the hype, specifically that, is we're not playing into the hype, we're just informing our community residents that we are prepared. There has been questions—are you prepared at the local level, are you prepared at the state level. I can't speak to the state level, I can't speak to the CDC," he said, referring to the Centers for Disease Control. "But I can assure the residents of Flagler County that we are prepared at a local level."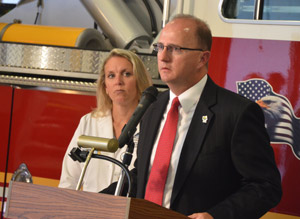 Guthrie was less clear about matters beyond emergency management's and the health department's jurisdiction, as when, for example, a patient who presents symptoms such as Ebola's might not be cooperative, or when a neighborhood is at the center of a concern. At that point, it's not precisely clear who would give orders to take custody of the patient, or on whose authority law enforcement might impose restrictions on a given neighborhood.
"When we're presented with that case, it will be a unified incident command decision, it will not be a decision made in a vacuum," Guthrie said, but a decision made in concert with the sheriff's office, the CDC and the state department of health. "But at this point I'm not going to get into the legalities side of the house."
Johnson spoke of those legalities. "If they met the criteria for quarantine," he said of patients with infectious diseases, "we would proceed with quarantine. The details of how that order goes through, I don't know all the details of it. It starts with our lawyers, they give us then directions, then we go to law enforcement. There would be voluntary quarantine and mandatory quarantine. The mandatory would go the legal way."
Johnson said such occurrences are very rare. Nevertheless, preparedness is key. "I don't think we're going to let our guard down. As far as DOH goes, we have regular calls about this still, and we'll continue. But in many regards public health has to respond to public concern." He concluded: "We're going to continue to look for it and be prepared for it."