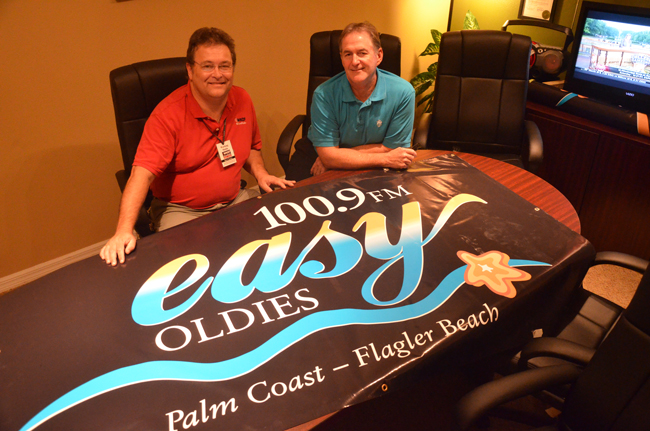 The oldies, they are a-changin'.
Used to be that oldies meant Tommy Dorsey, Bing Crosby, Artie Shaw, Glenn Miller, Harry James and the Mills Brothers. The oldies got a little younger a generation later with Frankie Avalon and Bobby Darrin, the Shirelles, Elvis Presley and Chubby Checker. Oldies stations sprang up all over the land in the late 1970s and 80s, playing on the nostalgia of post-World War II and pre-Vietnam innocence.
All of that might as well be considered classical music these days. "Oldies" is being redefined again to mean something frightfully recent: Seals & Crofts, Elton John, Stephanie Mills, late Beatles and early Madonna, Chicago, Phil Collins, Air Supply, and the people who brought WNZF and Beach-FM to Flagler County's airwaves have just launched a third radio station to capitalize on what station General Manager David Ayres describes as "the first station in the country to do an easy oldies format."
It's Easy Oldies 100.9 FM, which can also be heard in high definition, if you have one of those  expensive contraptions, on the HD3 channel of 92.7 FM. (The station's official call letters are WBHQ-HD3).
You might have noticed it on the radio dial in the last few weeks, between the hip-hop, the preaching and the static, a commercial-free station (until the first week of October, anyway), streaming Aaron Neville, John Denver and Stephanie Mills with periodic shout-outs to Grand Haven, Flagler Beach, Palm Coast, Bunnell and a few other smaller burgs ("We're Marineland's easy oldies," or something to that effect). No hard rock, no overwrought rhythms, no politics.
"It was what was missing," Ayres says. "The Beach rocks, it's too heavy for some people"—that's Beach FM—"some people don't like the politics on WNZF, it's love it or hate it kind of thing." Easy Oldies gets to what Ayres calls "the alpha boomers," the older, richer, age-defying generation that thinks being 60 is a quirk that wouldn't stop Paul McCartney, who's 69, from jamming up Yankee Stadium (as he did recently). "These are the ones they have the money, they saved, they spent and they have the personal ability to withstand economic downturns even though they cry about it. They're still doing good."
The studios at WNZF, the flagship station of the Flagler Broadcasting group (which now employs 15 full-timers after less than three years on the air), are being revamped to make room for the new station, which will have its own studio. Most of the music is computerized, though morning programming will include WNZF's news and information shows, switching to all-music for the rest of the day, with CBS news at the top of every hour. Programming will mix automated and locally hosted shows.
Ron Charles, the radio group's director and engineering guru, has been fine-tuning the technical aspects of the new station (and taking comments about it at [email protected]). Sometime this week the station will add its web stream to the world. Don't be surprised if, once you tune in to the new station while driving along with your kids in the backseat, they suddenly ask you when you decided to start listening to classical music.