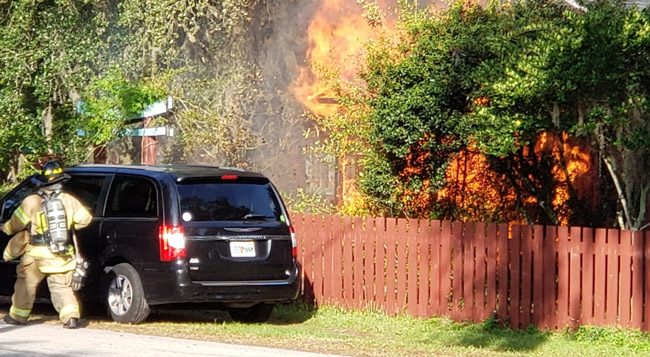 The small house at 506 East Lambert Street was 82 years old, and was substantially rebuilt 60 years ago. This morning, the 840 square-foot house was heavily damaged and made unlivable in a fire that broke out at 8:15 a.m.
Thanks to nearby Flagler County Fire Rescue Station 62–the old home of the now-defunct Bunnell Fire Department–and the fire breaking out at shift-change, which allowed the fire department to send twice as many firefighters, the blaze was quickly contained and out out in less than half an hour. But that's no solace to the three residents of the house–a young couple and a middle-aged woman–who are now homeless but for the help being provided by the Red Cross.
"When the units first got on scene there was heavy fire in the front of the house," Flagler County Fire Chief Don Petito, who was at the scene, said. The front porch's overhang, porch and a couch that sat on the porch were all on fire. That's where the fire appears to have started. It's where the heaviest damage is concentrated.
Since crews were going through their shift change when the call came in, both the outgoing firefighters and incoming firefighters from Station 62 and nearby Station 92, at the county airport, were able to respond. "We were staffed pretty heavy and were able to put a pretty good knock-down on it," Petito said. For a wood-frame house, stopping the fire that quickly is considered a success. The Palm Coast and Flagler Beach fire departments also responded, as did sheriff's and Bunnell Police Department units.
One of the residents at the house was treated "for some type of breathing problem" and was released, Petito said. The house is no longer livable, he said, but was not demolished: the ceiling and walls are still up, but will require substantial repairs.
This afternoon the sheriff's office issued a release narrating one of its employees' encounter with the fire, civil clerk Ashlie Hicks: "Worried that a person may be inside the residence, Ashlie ran to the back of the house and began beating on the door to alert anyone inside," the release states. "She was able to wake the three adults who had been sleeping and were not aware that the house was on fire. Ashlie also assisted the family in exiting the home as well as getting their animals to safety."
The scene has been cleared, but the fire marshal remains there, and the actual cause of the fire has not been determined.