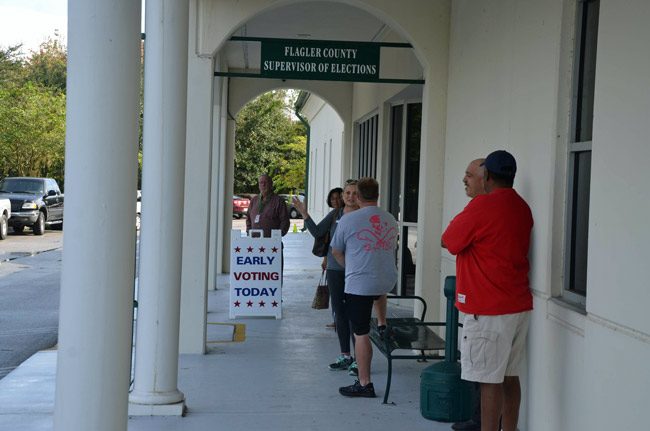 More than 2 million Floridians have voted in the Nov. 6 general election, with Republicans outpacing Democrats in early voting and vote-by-mail ballots.
The latest numbers, posted Friday by the state Division of Elections, came as Democratic gubernatorial candidate Andrew Gillum continued making appearances at college campuses to try to drum up participation in early voting.
"The way that you make good on a demand is by showing up and letting an elected official know that you have the power to put them in office and the power to take them out of office. That is the power that you have," Gillum told a Tallahassee crowd of about 200 people, who were mostly students from Florida State University and Florida A&M University.
After the appearance outside the Florida State University College of Law, Gillum was slated to make additional stops Friday at the University of Florida in Gainesville and Bethune-Cookman University in Daytona Beach. He visited South Florida campuses on Thursday.
Republican nominee Ron DeSantis, meanwhile, was scheduled Friday afternoon to make an appearance in Miami-Dade County with his running mate, state Rep. Jeanette Nunez of Miami. He appeared Thursday in Jacksonville with Vice President Mike Pence.
As of Friday morning, 869,745 Republicans had cast ballots, compared to 808,288 Democrats and 347,488 unaffiliated voters, out of the state's nearly 13.3 million registered voters, according to the Division of Elections.
Republicans were up 636,016 to 575,601 over Democrats in vote-by-mail ballots and held a slight edge in early voting, 233,729 to 232,687.
Early voting started Monday in 31 counties, with more counties gradually beginning throughout the week. Early voting is required to be offered statewide from Saturday through Nov. 3.
Unaffiliated voters had cast 258,295 vote-by-mail ballots and 89,193 early votes.
Third-party voters had returned 7,978 vote-by-mail ballots and had cast 4,306 early votes.
In noting that turnout for the Nov. 6 election has already topped 15 percent, the Florida Chamber of Commerce posted in a daily report that black voters account for about 9 percent of the people who have cast ballots. Gillum is trying to become the state's first black governor.
A day earlier, the chamber noted that vote-by-mail ballots were on a record pace, with some of the biggest turnout percentages coming from "smaller, older and Republican counties" such as Sumter, Lee and Indian River.
Vote-by-mail "returns continue to come in strong with 39.81 percent of requested ballots returned to the supervisor of elections," the chamber report said. "Given that Democrat and non-party affiliate returns are coming in above baseline of 2014 and Republicans just at baseline of 2014, it seems very likely we could have return rates for (vote-by-mail) approaching 65 percent — meaning there could be 2.4 million ballots mailed in by election day, a record for a gubernatorial election."
–News Service of Florida