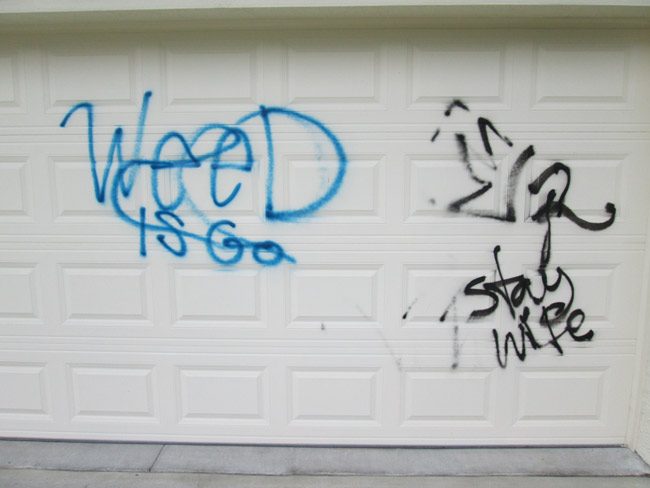 For at least the third time this month, what appears to be the same graffiti-armed, grammar-challenged and racially-confused vandals have left their inelegant spray on more garage doors, this time in Palm Coast's E Section.
Previous discharges took place mostly in the F Section last week, and at the beginning of the month on properties along Rolling Sands Drive.
In every case, the markings have approximated a few words barely resembling English, symbols that in earlier spates detectives found comparable to gang signs on the internet, and incoherent markings that looked like hurried, spasmodic bursts of nothing in particular: artful, daring or even suggestive graffiti they are not. But they are criminal violations of private property. They are costing targeted residents money to paint over, and discomfort. In several cases, the markings have suggested racist messages, though there's been no connection between message and intended recipients. The randomness seems to belie whatever racial motive may be intended. Remarkably, no surveillance video has yet caught the perpetrators.
One relatively sure indication is that they are the work of the same individual or group of individuals: the consistency of the arrested-development-like stylelessness is recognizable.
So the Flagler County Sheriff's Office issued another release today urging residents to help nab the vandals. Detectives, according to the release, are asking residents to call law enforcement if they see anything that may be related to these crimes. They are also sending a reminder to businesses that minors are prohibited by law from buying aerosol spray paint until they're 18 or older.
Deputies have increased patrols in residential areas to hinder the vandals. "If you see something, say something," Sheriff Rick Staly said. "That will be the best way for us to identify who is doing this and put a stop to it."
The latest spraying was in a relatively compact zone of the E-Section. The spraying took place overnight between Monday and Tuesday.
At 34 Edith Pope Drive, vandals spray-painted "Stay Wite" in black letters on the garage door, and "God is Black," also in black paint, along with an unrecognizable shape in black and blue lines around it. (The occupant of the house happens to be white.) At 155 Eric Drive, some sort of black symbol, "three blue Ks," as a sheriff's incident report, reluctant to declare it an outright KKK slur, described it, and a red unknown figure.
At 140 Eric Drive, all had been normal when the homeowner had walked his dog at 10:30 the previous evening. By morning, the garage door had crude markings of something like "Weed IS Go" in blue, "stay wite" in black, and some black symbols. None of the residents at 141, 142, and 143 Eric Drive reported seeing any suspicious activity that night. The resident of 143 Eric Drive has external security cameras, but they're aimed at his own property and part of the road in front of it.
If anyone has any information about these cases or information on any crime in Flagler County, they may contact the Flagler County Sheriff's Office at (386) 313-4911. Callers can also remain anonymous and be eligible for a reward of up to $1,000 by calling Crime Stoppers of Northeast Florida at 1-888-277-TIPS (8477).