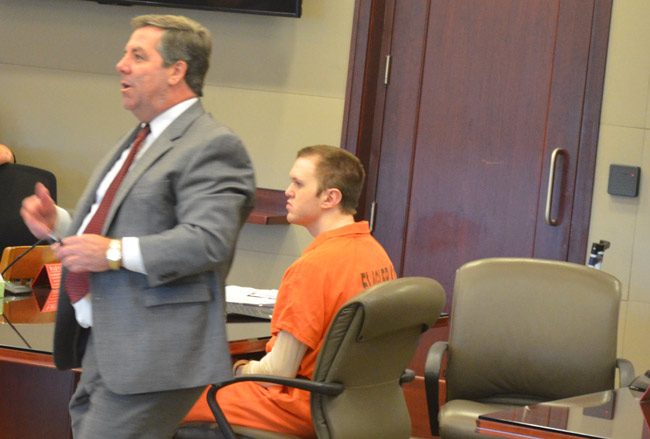 Paul Dykes of Buffalo Lane in Palm Coast is going on trial on Nov. 13 on 23 counts of child-sex crimes, including a count of rape involving a 1 year old. He faces 36 counts in all, but the prosecution and his defense lawyers agreed today to try him on two further counts–including one involving the alleged rape of his own child–after November, and possibly not have to try him on the remaining counts, depending on the outcome of the first two trials.
Dykes, now 20, was in court this afternoon as Bill Bookhammer, his public defender, and Assistant State Attorney Jason Lewis worked out the last steps before a trial that will be the latest chapter in an extensive and lurid case that involves Dykes's one-time girlfriend, Erin Vickers, 23, whom a jury found guilty a month ago of raping her 1-year-old daughter. Vickers is to be sentenced to life without parole and has yet to face trials on more than three dozen charges, but her attorney has filed a motion for a new trial on the September verdict.
Two of the counts Dykes will be tried on include the rape charge involving Vickers's daughter, as he is accused of "procuring" or "encouraging" Vickers to commit oral sex on her daughter as she transmitted the act on her phone, allegedly to him as he spoke to her and allegedly directed her. They were each in their respective homes when the acts–alleged in the case of Dykes, no longer merely alleged in the case of Vickers–took place. That charge is a capital felony that would expose Dykes to life in prison without parole. (Execution for such convictions were abolished.) He also faces a related first-degree felony charge of conspiring with Vickers to rape the child. The incidents are alleged to have taken place between Feb. 20 and March 26, 2015.
No evidence relating to Vickers's conviction will be allowed at Dykes's trial.
In an unexpected twist at this stage of the proceedings, Bookhammer told Circuit Judge Dennis Craig that Dykes and his mother are likely to take the stand in a hearing scheduled for next week (Oct. 25 at 9:30 a.m.) as to his background, his level of intelligence, his difficulties in school "and things along those lines." It would be the first and likely the only time that Dykes will be heard in court. Vickers did not testify in her trial and is unlikely to testify in Dykes's, though Lewis left that very slight possibility open, but only in the realm of anything being possible. Vickers has no incentive to testify, and no deals are being offered either defendant.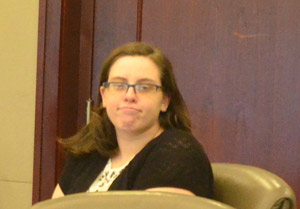 "We haven't done any deals, we aren't doing any deals," Lewis said after today's hearing. Craig had asked him moments earlier if there'd been a plea offer to Dykes. "The only offer is life, judge. I don't think he's going to accept that," Lewis said, with Dykes sitting in his inmate's orange jumpsuit a few feet away, impassively staring ahead as he usually has during court appearances. The only person in the audience other than two reporters was his mother.
The hearing is a motion to suppress certain statements Dykes made when Florida Department of Law Enforcement agents served a search warrant at his home on March 26, 2015.
Dykes made self-incriminating statements that Bookhammer wants excluded from the evidence at trial since the statements were made–Bookhammer argues–without Dyke's attorney present and without his waiver of his Miranda rights, though the rights were read to him. Bookhammer is arguing that he was placed in custody earlier than when his rights were read and was then constrained to the point of feeling as if "he had no choice but to speak with law enforcement," according to the motion.
The prosecution wants the statements Dykes made to FDLE agents introduced but does not appear to find them to be crucial to the state's case, which rests on a substantial amount of video and image evidence with time stamps, the lot associated with Dykes's phone and social media accounts such as Whisper and Kik. The judge today ruled that some peripheral evidence that could be prejudicial to Dykes, such as photographs that are indirectly related to the allegations (what's legally termed "similar-fact evidence"), would be allowed, as was the case in the Vickers trial. It's that sort of allowances that led Vickers's attorney, Garry Wood, to file for a new trial.
Aside from the two rape-related counts against Dykes, the 21 other counts that would be part of the November trial are each second-degree felony counts of possession of child porn–essentially, images or video related to the acts involving Vickers and her child. Two separate counts on which he would be subsequently tried involve allegations that he raped his daughter and filmed the act. (He had two daughters from separate mothers at the time, one of them 1 year old, the other 3 years old. Both have since been adopted.)
Ten counts on which he may not be tried should the state win its other cases are more child-porn possession charges, but those images were not produced by him or by Vickers. They are listed as charges one through 10 in the charging information against Vickers. "In reality one through 10 is really one through 850, so there's a massive amount of viseos and pornography, child pornography, on there," Lewis said of the material collected allegedly from Dykes's devices.
"Sounds like we'll be ready for trial," Judge Craig, who presided over the Vickers trial, said at the end of today's hearing.