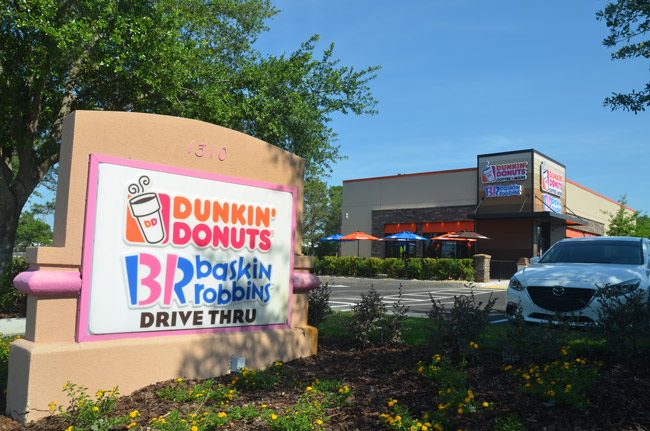 Old cities have beautiful ruins, big cities have skyscrapers, some small cities have a rusticity all their own. Palm Coast has none of those things. But it has coffee shops and convenience stores. Mention the opening of a Starbucks, a Wawa or a Dunkin Donuts and the town goes wild, possibly because those markers of cultural belonging make up for a more distinct local identity. So it was no surprise that when the Dunkin Donuts on Palm Coast Parkway burned last June, for reasons never determined, the city's collective reaction was grief and disbelief, as if it had lost a part of its history.
In many ways it had. One of the items lost in the fire was a large, framed photograph that hung on the wall, of a group of 20 men around the Dunkin Donut sign on the lawn outside, who called themselves the Dunkin Donuts Lotto Club. They'd met at the restaurant over a decade ago and kept meeting every morning since, to the point of being commemorated as part of the restaurant family.
Not a surprise to Mayor Milissa Holland, who describes the emotional attachment the place had for many people who used it as their meeting ground after church or other community events, or just to meet: "I don't think there's been a single meeting that I've had with Frank Meeker over the years that did not occur here. So I have memories," Holland said, referring to the late Palm Coast City Council member and County Commissioner whose obsession with Dunkin Donuts kept many an equatorial coffee grower in business until his death weeks after the fire.
So when Dunkin Donuts reopens its doors at 4 a.m. Thursday morning, after an 11-month absence, it is almost certain to elicit a collective ode to joy from the thousand people a day it averaged in the past, with much of that joy already in evidence at a sneak preview and VIP reception that franchise co-owner Glen Garman organized for all the people who helped bring the restaurant back to life, as he promised it would when he stood outside his store, shrouded in smoke and shock, watching it burn that June 9, 2016. It was one of his five local restaurants, but also his busiest, accounting for a third of his business' revenue.
"It was probably one of the scariest times of my entire life because of the uncertainty," Garman said today, remembering that afternoon when he got the call about the fire as he was working at his home office on Colbert, initially thought it was one of those occasional fires he's dealt with before—a donut stuck on an oven, that sort of thing—until he crested on the bridge over I-95, saw the smoke and flames, and told his partner on the phone, "it's bad. It's really bad."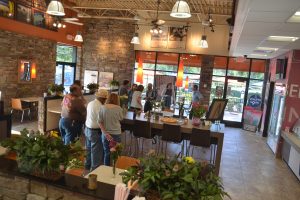 "This is the lifeblood of our business, and to see it up in smoke, and you don't know really how much insurance is going to cover, what you're going to do with your employees," he said. "The personal and financial uncertainty of losing your business: it's pretty daunting. And the bills don't stop. We're paying a week or two after the fact, and we're a cash-flow business. My cash flow stopped that day, and I knew I pretty much had a month's worth of invoices coming in that we had to shuffle around from our other restaurants to make sure we stayed solvent. So it was a really stressful time in the beginning." But, he said, "we were going to rebuild no matter what. I said it then, kind of proved it to be the case. That was stated not knowing that the 'no matter what' was how much it would take from my business partner and I. It was a lot of worry, a lot of frustration, and how do we take care of our employees, how do we take care of ourselves."
But the insurance came through well, Palm Coast government's helpful employees came through, "and the community itself," Garman noted. "When I'm out grocery shopping or out and I have my Dunkin Donuts shirt on, no matter where—'when are you guys going to open again, we can't wait until you're back.' To know how important this business is to the city of Palm Coast and how much it means to them just makes me be that much better for them when we open our doors tomorrow morning."
Keep in mind: the corporate side of Dunkin Donuts did not help financially. That's not how a frenchise works. The business was all for Garman and his business partner to invest in, win or lose, though the company did provide help in planning and logistics when it came time to rebuild. Something else helped: Garman had lost-business insurance, without which, he says, he may not have been able to survive. He urges all small business owners to review their insurance policies. He also discovered that he had been under-insured, so he still ended up losing money in the end. Still, he stuck to pledges he made in the smoke of his burning business: 14 of the 35 employees at the rebuilt restaurant were kept on over those 11 months, reassigned to work in the other businesses in town, 10 of them full time. Those 14 are back at the new restaurant.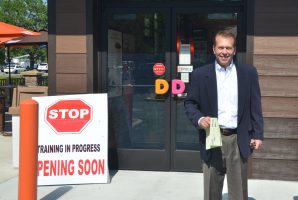 "It really took a lot of people for us to get through from that day, which you remember to where we are today," Garman said, his remarkable optimism of 11 months ago now morphed into the resilience that had led him back to standing beneath a new roof in a new building that no longer owes its construction plans to Hardee's, as the old Dunkin Donuts had: the structure, rebuilt from scratch, is entirely a house of donuts now. The dining room is a bit larger, the work spaces more efficient, the ceilings higher—high enough to accommodate a more personal touch that reflects Garman's locally-owned style. If the plan of the restaurant, the color scheme, the furniture and the menu are all dictated by Dunkin Donut's corporate edicts, the space above a certain level toward the ceiling is given over to Garman's touch, with numerous pictures tracing the "tree-to-cup" story of coffee from its equatorial grounds to its pickers' hands to the roasting and grinding stations. On the opposite wall authentic coffee sacks have been framed, too.
And there, alongside it all, is the picture of the Dunkin Donuts Lotto Club, as resuscitated as the restaurant itself. How? Ronald Melvin, better known as Mystic Mel, had taken the original picture. He still had it on his computer. And so it was reprinted, reframed and re-hung under the big-lettered word "FAMILY." And just for an added touch, Garman and his business partner, Gary Heckel, had a special elevated table built for the Lotto Club. "We're just a bunch of friends that met here over the years," says Joe Vece, a veteran club member who used to work for ITT well before Palm Coast was a city (and when the restaurant was a Hardee's). "We have meetings every morning and we resolve all the problems here."
Somehow Vece manages to limit his daily coffee intake to two cups (cream and sugar), unlike the mayor, who today had an espresso at 4 p.m., had had two cups in the morning, and may have had a third somewhere in there (all black, no sugar). That's about average for Holland, with maybe more on Mondays and Tuesdays when she's usually in her city office all day, not far from a mega-coffee machine with a variety of beans.
Garman is a three-or-four-cups-a-day dark roast man (all black, no sugar), though he is naturally high-energy. He'll need it. Dunkin Donuts has some 8,500 restaurants in 41 states, 11,300 if you include the rest of the world. But even in Palm Coast, the store is re-opening at a time of fierce competition among coffee-themed restaurants, with Starbucks opening its second stand-alone location in Palm Coast, on State Road 100, the Palm Coast Parkway location, not far from Dunkin Donuts, getting its own revamp, with Panera Bread getting acquired by a coffee-focused parent company, with a new coffee shop opening in Flagler Beach, a town already gurgling with coffee. None of it worries Garman, who's originally from Eastern Pennsylvania and schooled in Indiana before years as a corporate "road warrior" for TGIF, Darden Restaurants and Dunkin Donuts.
"Here's how I manage it mentally and from a business standpoint," Garman said. "I can't control Starbucks development or the development of a coffee shop in Flagler Beach or what Panera may or may not do as far as focusing on their coffee. What I can focus on is building a restaurant that is beautiful and inviting and welcoming and comfortable for my guests. I can concentrate on hiring great people." Philosophically speaking, it is the sprinkles on the business. He added: "I've been in the business 30 years. There's always competition, there's always somebody coming at you. My philosophy has always, will always be, do the best you can with your business, work on what you can control, provide a great experience to your guests, and they'll be back."
And no, it's not a myth: after 18 minutes, Dunkin Donuts throws out any coffee that's sat that long. Not to worry though, Garman said: "A brewed fresh pot of hot coffee in the morning probably lasts me at best five minutes. That's how busy we are, and that's how much hot coffee we sell during the morning breakfast rush. We don't come close to that. But as it's later in the day and people move from hot coffee to iced coffee or frozen beverages, then we have to watch it."