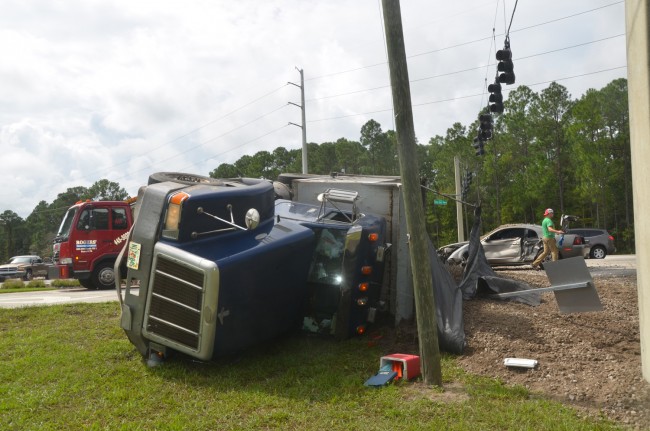 A dump truck carrying dirt and gravel overturned in a collision with a Ford Mustang around 11:15 a.m. at the intersection of Palm Coast Parkway and U.S. 1. The wreck injured the driver of the truck, but the driver of the Mustang escaped injuries.
A Florida Highway Patrol investigator at the scene said Craig E. Waltman, 61, of Palm Coast, was at the wheel of the dump truck, heaving north on U.S. 1. "Witnesses said he'd previously blown the red light on Royal Palms," the investigator said, and that Waltman was blowing through a red light at Palm Coast Parkway when the wreck took place. Waltman was transported to Florida Hospital Flagler.
Joshua Shelton, 21, of Flagler Beach, was at the wheel of the Mustang, heading west on the Parkway, when the two vehicles collided.
The wreck closed Palm Coast Parkway's westbound lanes at Pine Lakes Parkway after 11:15 a.m. Traffic on U.S. 1 or on the eastbound lanes of Palm Coast Parkway was unimpeded.
Roger's Towing was clearing the wreck at around noon. The Palm Coast Fire Department and Flagler County Fire Rescue, as well as the Flagler County Sheriff's Office and the Palm Coast Fire Police, responded to the scene.
The FHP investigator said it is likely, if the investigation sustains the witnesses' reports, that Waltman will be cited for violating Shelton's right of way.