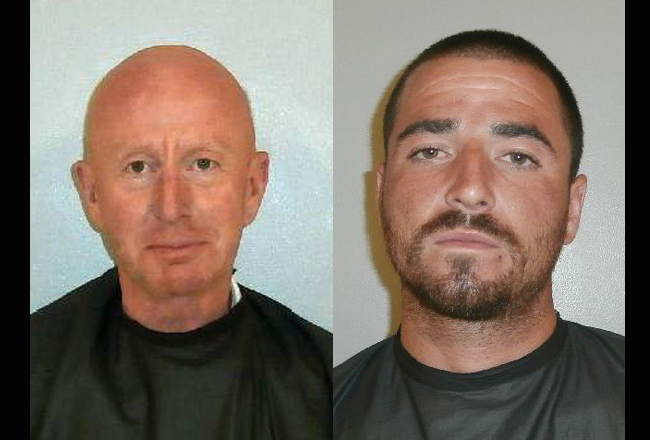 Two drivers in separate incidents this weekend—one on Palm Coast Parkway and Cypress Edge Drive, another on I-95 and, later, on U.S. 1—were arrested Saturday and Sunday after triggering wrecks involving several cars, then committing other offenses.
David Shipman, 52, of 81 Weymouth Lane, is facing charges of drunk driving, giving a false identification while detained, causing property damage and serious bodily injuries to another. He remains in jail this afternoon on $5,000 bond. Marty Hogan, 24, of Deltona, is charged with a hit and run, with property damage, reckless driving with bodily injury, and probation violation. He's at the Flagler County jail on $1,000 bond. He was on probation for robbery.
In Shipman's case, deputies had responded to a wreck on palm Coast Parkway and Cypress Edge a little after 2 p.m. Sunday. The wreck involved three vehicles. Shipman was at the wheel of a green Saturn. When a Flagler County Sheriff's deputy asked him for his driver's license and proof of insurance, Shipman looked at the deputy and smiled. The deputy asked him three times. Shipman fumbled through papers but couldn't produce anything.
"When I asked David if he usually keeps his driver's license in his wallet, he smiled and appeared very confused," the deputy reported. Shipman was not on medication, according to what he told police. He finally handed over an insurance ID, saying it's all he had. The insurance paper read "Frank P. Shipman," the person David claimed to be throughout the investigation. Frank is, in fact, David's father, who was not present.
Shipman was then put through several field sobriety exercises, failing most, including the walk-and-turn, and not managing to follow instructions when it came to walking a certain number of steps. He was arrested for drunk driving. At the Flagler County jail, he agreed to take a breathalyzer test, but couldn't complete it. Meanwhile, cops were able to check his ID, discovering that he was David rather than Frank Shipman.
"When asking David why he would provide law enforcement with a false name," Shipman's arrest report states, "he laughed and thought it was hilarious."
Hogan was arrested by a Florida Highway Patrol trooper after being chased by a civilian whose car he'd struck from behind on I-95.
The incident began to unfold late Saturday evening when 911 received a call about a gray Chevy Impala driving erratically and speeding excessively on I-95. As a trooper was on the way, the crashed into another car.
Hogan was at the wheel of the Chevy. Jesus Rodriguez, a resident of Winter Haven, was driving his Chevy pick-up on I-95 northbound when he was struck from behind by the Impala, according to a police report. Rodriguez then saw the Impala swerve left, almost crash into the guardrail, and stop.
So did Rodriguez, who confronted Hogan. Hogan begged him not to call police, according to the report, saying police were looking for him. Hogan then got back into his car and sped off. Rodriguez set chase, telling police that Hogan went "so fast he had a hard time keeping up with the vehicle." Rodriguez followed the Impala to a Marathon gas station on U.S. 1, near Faver Dykes Road, where he again confronted the driver, who again begged that the police not be called.
Rodriguez couldn't get Hogan to provide him information, so Rodriguez could follow through on crash issues. Rodriguez called his father, who advised him to call 911. Hogan was initially detained by sheriff's office deputies.
The Impala had damage to the front passenger side. Rodriguez's pick-up was damaged on its driver's rear side. Hogan was given a field sobriety test, but he passed. He was arrested on the hit-and-run charge, and later faced the additional charge of probation violation.