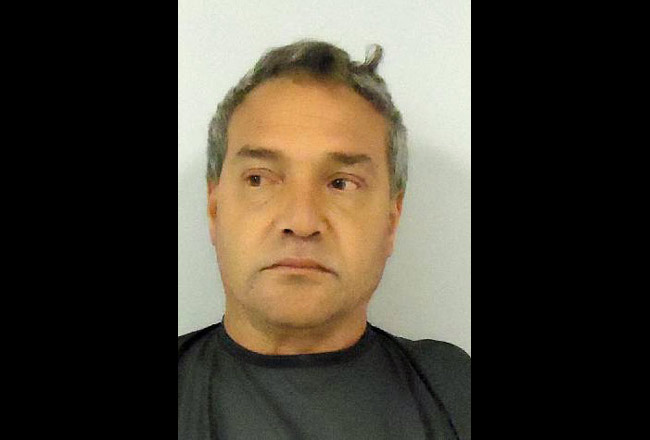 Rank-and-file Flagler County Sheriff's deputies don't make that much money: they start in the low 30s, and take time to accumulate the sort of raises that might get them closer to a decent wage.
That doesn't mean they can be bought. Ricardo Feo Sr., a 58-year-old resident of Princess Geraldine Place in Palm Coast, found that out when he ran into deputy Joseph Barile Friday afternoon (July 18), when a traffic stop turned into a DUI arrest, and a case of attempting to bribe an officer.
Dispatch alerted Barile to a drunk man at the Citgo gas station on Belle Terre Parkway just before 5 p.m. that day. The reportedly drunk man was driving a Honda Civic, and had allegedly been rude and aggressive towards clerks at the gas station before getting in his car and driving toward the nearby Publix parking lot.
Just as he was hearing those details, Barile—according to the incident report he filed on the case—pulled into the grocery store's parking lot (the same parking lot, and the same grocery store, that was the site of another driver's carelessness two years ago, when that driver plowed into the store). In this case though, Barile saw the Honda exit the parking lot onto Belle Terre Parkway, going south into heavy end-of-week traffic. Barile got behind the Honda, which waited at the light until it turned green.
As the Honda turned, its rear driver's side tire struck the cement median slightly. Then as it drove south, it did not maintain its lane despite the congestion. That gave Barile enough cause to activate his emergency lights and pull the driver over. It was Feo, who stopped in the left turn lane to the entrance of St. Elizabeth Ann Seton church. There would be no divine intervention that afternoon.
Barile asked Feo if he knew why he'd been stopped.
"Yes, I was speeding," Feo said. Barile detected alcohol on Feo's breath. Feo, Barile's report states, "was slurring his words as he spoke." The cop told the driver that speeding was not the issue. Failing to maintain his lane was.
"Am I going to jail?" Feo asked immediately.
Barile did not answer. He asked Feo instead whether he'd been drinking, and asked for the usual papers. Feo kept asking whether he was going to jail. Barile repeated his request for the license and registration, which Feo eventually produced the license as he kept asking about going to jail. But he couldn't find the registration. He produced a Google map from the glove box, which kept his attention a good 30 seconds.
Barile asked him to step out of the car.
"You are taking me to jail," Feo again said.
Not at the moment, Barile told him. He was just concerned that Feo was possibly operating a car drunk. As Feo stepped out of the car, he used the Honda's frame to keep his balance, then swayed side to side, according to the report. He could not stand up straight. Barile let him use the car for support, at which point another cop arrived (with one of those Taser Axon Flex body cameras many deputies now wear to record audio and video of such events.)
As usual in such cases, drivers who appear drunk are asked to carry out a series of field sobriety tests. Feo would not yet perform them: he asked several times for a ride home, the report states, and asked one of the cops if the cop could at least drive his car home. Barile told him that was not possible just then. When Feo agreed to start the exercises—by then the scene had moved to the Catholic church parking lot, out of the way of traffic—but Feo either did not follow directions or could not complete exercises.
"I warned Ricardo numerous times that if he continued to be uncooperative and not perform the exercise that I requested of him, it would be considered a refusal," Barile wrote in his report. "Ricardo did not cooperate." He was placed under arrest for drunk driving, handcuffed and seated in Barile's cruiser. (The Honda was impounded by John's Towing.)
It was during the booking process at the Flagler County jail that Feo allegedly made his proposition to Barile.
"If you let me go, I will buy you dinner," Feo said, according to Barile.
"Sir, are you bribing me?" Barile asked. Feo gave an answer, but it was redacted from Barile's report: such redactions are common when a suspect makes a self0-incriminating statement. Barile then told him that bribery was illegal and, that he would be charged with that as well.
His two breathalizer tests produced readings of 0.259 and 0.257 percent blood-alcohol content. The legal limit in Florida is 0.08 percent. At those levels, according to analyses on blood alcohol content, all mental, physical and sensory functions are severely impaired, and there is an increased risk of asphyxiation from choking on vomit and of seriously injury by falls or other accidents. Blackouts can occur at a lower level of 0.2.
Feo was charged with bribery, a second-degree felony, and DUI, a second-degree misdemeanor. He posted bail on $1,500 bond, and is scheduled for an arraignment on Aug. 26 before Circuit Judge J. David Walsh.