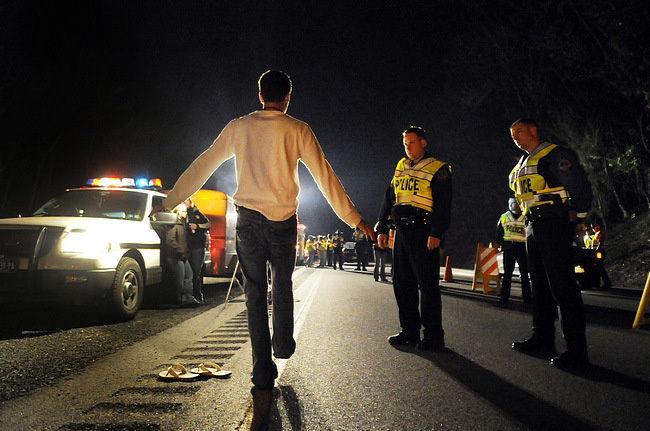 The Flagler County Sheriff's Office has scheduled two DUI checkpoints for this Friday, Dec. 19, from 8 p.m. to 4 a.m. The checkpoints will be located at Palm Coast Pkwy NW and Frontage Road as well as State Road 100, East of Old Kings Road. The checkpoints are part of the agency's continued effort to curb traffic fatalities, injuries and crashes and to emphasize its commitment to make county roadways safe.
Anyone pulled over for a check may be subject to questions and potential arrest or citation beyond alcohol or drug-related matters. Those matters may include issues as minor as lack of registration or insurance or improper or malfunctioning equipment on a vehicle, or more serious violations. When the sheriff's office last conducted DUI enforcement around Labor Day some 10 weeks ago, the operation led to 247 traffic stops, 43 citations, 204 written or verbal warnings and 25 arrests, but only three DUIs.
The use of the checkpoints is a change from saturation patrols that have been deployed in the past and is designed to emphasize to the public the importance of removing impaired drivers from county roadways, reducing the likelihood that an impaired driver will operate a vehicle.
Drivers are reminded that it is a crime to mix alcohol or drugs with driving a vehicle, though Florida law, while forbidding alcohol consumption in a moving vehicle, allows drivers to drink then drive as long as their blood alcohol content does not exceed 0.08 percent. For men and women, that usually mean drinking one glass of wine or beer, or a 1.5-ounce shot of heavier liquor, before driving, will not exceed the 0.08 level. Nevertheless, whatever the legal limit states, intoxication begins with the first sip of alcohol, which does diminish alertness and reflexes. It is, in sum, never safe to drink any amount before driving, if arriving at your destination–as opposed to evading legal trouble–is your priority.
Avoid the risk of becoming involved in a motor vehicle accident by being responsible and selecting a designated driver before you go out for the evening. If you are with a group of friends and you see one of them has been drinking, don't let him or her get behind the wheel. Take the keys and help make arrangements to get the individual wherever he or she may be going, safely. "Friends Don't Let Friends Drive Drunk" may be a cliche. It's also a life-saver.
Motorists can help to remove impaired drivers from the roadways by calling 911 immediately any time they observe a vehicle they suspect may be operated by an impaired driver.
The Flagler County Sheriff's DUI checkpoint operation is being funded by a $100,000 grant from the Florida Department of Transportation, which makes the checkpoints a requirement. Last year, the sheriff's office received $70,000 from the state transportation department to carry out a similar series of check points.
---
All checkpoints are not alike: courts have set out strict guidelines that police must follow.
---
All checkpoints are not alike, or legal: Florida courts have set out parameters within which the checkpoints may be conducted, and require every department conducting checkpoints to have written guidelines that may be freely examined by the public. "The requirement of written guidelines is not merely a formality," Florida's Second District Court of Appeal ruled. "Rather, it is the method this Court and others have chosen to ensure that the police do not act with unbridled discretion in exercising the power to stop and restrain citizens who have manifested no conduct that would otherwise justify an intrusion on a citizen's liberty. In this country the police are not vested with the general authority to set up 'routine' roadblocks at any time or place. Rather, law enforcement was placed on notice by our holding in [a previous case] that the stopping and detaining of a citizen is a serious matter that requires particularized advance planning and direction and strict compliance thereafter." (See the Flagler sheriff's policy and guidelines below.)
The U.S. Supreme Court ruled in a 6-3 decision in 1990 that DUI checkpoints were permissible, though the ruling did not go as far as calling checkpoints strictly constitutional so much as "consistent with the Fourth Amendment," and stressed that the ruling did not apply to "unreasonable treatment of any person after an actual detention at a particular checkpoint"–a complaint that has sometimes attached to drivers' experiences at and beyond such checkpoint encounters.
"No one can seriously dispute the magnitude of the drunken driving problem or the states' interest in eradicating it," Justice William Rehnquist wrote in the majority opinion at the time. "Media reports of alcohol-related death and mutilation on the nation's roads are legion. The anecdotal is confirmed by the statistical. 'Drunk drivers cause an annual death toll of over 25,000 and in the same time span cause nearly one million personal injuries and more than five billion dollars in property damage.'" Rehnquist described "the measure of the intrusion on motorists stopped briefly at sobriety checkpoints" as "slight,"  concluding that "the balance of the state's interest in preventing drunken driving, the extent to which this system can reasonably be said to advance that interest, and the degree of intrusion upon individual motorists who are briefly stopped, weighs in favor of" such check-point programs.
In a previous case, Justice Harry Blackmun had I noted that the "slaughter on the highways of this nation exceeds the death toll of all our wars," and said he'd detected "little genuine public concern about what takes place in our very midst and on our daily travel routes."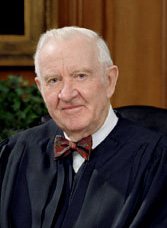 Nevertheless, three justices dissented, citing violation of Fourth Amendment protections in the name of a popular program. "I do not dispute the immense social cost caused by drunken drivers, nor do I slight the Government's efforts to prevent such tragic losses," Justice William Brennan wrote in his dissent. "Indeed, I would hazard a guess that today's opinion will be received favorably by a majority of our society, who would willingly suffer the minimal intrusion of a sobriety checkpoint stop in order to prevent drunken driving. But consensus that a particular law enforcement technique serves a laudable purpose has never been the touchstone of constitutional analysis."
Justice John Paul Stevens, who retired in 2010, was more blunt. "The most disturbing aspect of the Court's decision today is that it appears to give no weight to the citizen's interest in freedom from suspicionless, unannounced investigatory seizures." Stevens wrote. "On the other hand, the Court places a heavy thumb on the law-enforcement interest by looking only at gross receipts instead of net benefits. Perhaps this tampering with the scales of justice can be explained by the Court's obvious concern about the slaughter on our highways, and a resultant tolerance for policies designed to alleviate the problem by "setting an example" of a few motorists. . . . Sobriety checkpoints are elaborate, and disquieting, publicity stunts. The possibility that anybody, no matter how innocent, may be stopped for police inspection is nothing if not attention-getting. The shock value of the checkpoint program may be its most effective feature; Lieutenant Cotton of the Maryland State Police, a defense witness, testified that 'the media coverage . . . has been absolutely overwhelming. . . . Quite frankly we got benefits just from the controversy of the sobriety checkpoints.'
"This is a case that is driven by nothing more than symbolic state action – an insufficient justification for an otherwise unreasonable program of random seizures," Stevens concluded. "Unfortunately, the Court is transfixed by the wrong symbol – the illusory prospect of punishing countless intoxicated motorists – when it should keep its eyes on the road plainly marked by the Constitution."
In the intervening quarter century, drivers have largely accepted checkpoints as part of society's increasingly routine controls, with controversy yielding to submission.