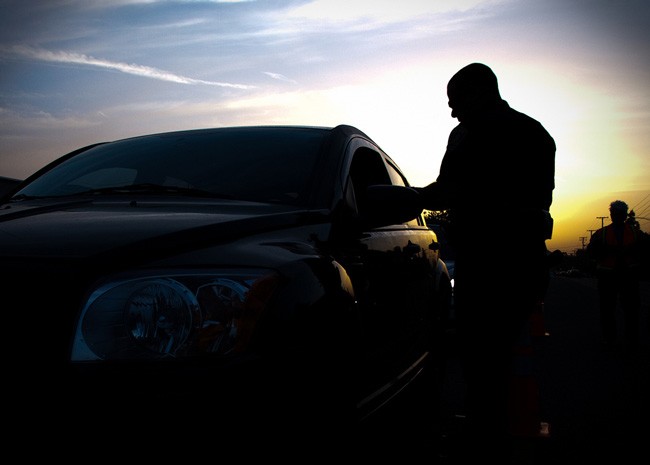 The Flagler County Sheriff's Office will establish a police checkpoint in the westbound lanes of State Road 100, east of Old Kings Road, Saturday evening starting at 8 p.m. and running through 4 a.m. Sunday.
The checkpoint authorizes deputies to pull over any driver–with or without probable cause–ask questions and, if necessary, take the proceedings further. Deputies are required to remain within certain parameters, however, as set out by the state Supreme Court and local policy. See the sheriff's guidelines below. (Passengers in a vehicle, for example, are not required to produce ID on demand: it is not illegal to be drunk. It is only illegal to be drunk and to drive at the same time. Only drivers are required to produce their driver's license and other papers.)
The checkpoint, a sheriff's release states, is part of the sheriff's office's continued effort to "curb traffic fatalities, injuries and crashes and to emphasize our commitment to make county roadways safe."
But drivers may be charged for a host of issues that have nothing to do with drunk driving, including drug possession or for non-moving violations such as non-functioning headlights or tail lights or irregular registration. The checkpoints typically result in far fewer arrests for drunk driving than for other reasons, and of course most people stopped, questioned or searched are cleared. Not all vehicles that drive through the zone are asked to pull over.
When deputies last erected a checkpoint, last Dec. 19 at the same spot, 208 vehicles passed through the checkpoint with an average delay of 1 minute and 48 seconds per vehicle, according to the sheriff's office. The checkpoint netted just four DUI arrests. A fifth DUI arrest, made elsewhere, was processed at the checkpoint. In all, deputies issued 14 written warnings, five non-moving uniform traffic citations, two moving violation citations, one open-container violation, and five criminal uniform traffic citations.
Reefer madness being what it is in this and many other counties, deputies could not resist also making two arrests for marijuana possession.
In comparison, last Labor Day's broader traffic enforcement by deputies across all Palm Coast and Flagler roads netted 247 traffic stops, 43 Uniform Traffic Citations and 204 written or verbal warnings, and a total of 25 arrests, just three of which for drunk driving.
"Motorists," the sheriff's office advises, "can help to remove impaired drivers from the roadways by calling 9-1-1 immediately any time they observe a vehicle they suspect may be operated by an impaired driver. They are also urged to routinely check their vehicle's safety equipment to ensure compliance and reduce their chances of being involved in a crash."
This check should include taking a walk around the vehicle to visually observe the tires. Tire pressure should be routinely checked with a quality tire pressure gauge. Checking turn signals, headlights and brake lights. Checking the horn and windshield wipers. Checking all the vehicle's fluid levels. If a child restraint seat is in your vehicle, check it each time before use.
The checkpoint operation is being funded by a $100,000 grant from the Florida Department of Transportation. In 2013, the FCSO received $70,000 from the FDOT to fund a similar initiative aimed at taking intoxicated drivers off roadways.
But police must abide by certain rules, too.
"The requirement of written guidelines is not merely a formality," Florida's Second District Court of Appeal ruled. "Rather, it is the method this Court and others have chosen to ensure that the police do not act with unbridled discretion in exercising the power to stop and restrain citizens who have manifested no conduct that would otherwise justify an intrusion on a citizen's liberty. In this country the police are not vested with the general authority to set up 'routine' roadblocks at any time or place. Rather, law enforcement was placed on notice by our holding in [a previous case] that the stopping and detaining of a citizen is a serious matter that requires particularized advance planning and direction and strict compliance thereafter."
The Flagler sheriff's policy and guidelines are below.