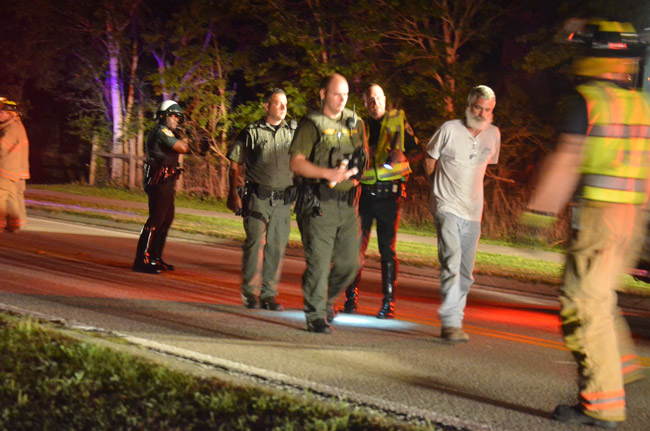 The Florida Highway Patrol and the Flagler County Sheriff's Office are participating in the national "Drive Sober or Get Pulled Over" campaign beginning Aug. 17 and stretching through the Labor Day weekend, which ends Sept. 3. Thousands of other law enforcement and highway safety agencies across the nation are involved in the annual effort.
There are no DUI checkpoints planned for Flagler County roads at this time, however, a Flagler County Sheriff's spokeswoman said.
"Impaired driving is one of America's most often committed and deadliest crimes," said FHP Director Col. David Brierton. "In an effort to get drunk and drugged drivers off the roads, FHP troopers will aggressively look for impaired drivers during the crackdown."
The legal blood-alcohol concentration limit in Florida is 0.08 percent. In other words, 0.08 percent of the blood has alcohol content. For a 190-pound man, it takes between three and four drinks to reach that blood-alcohol level. For a 120-pound woman, two to three drinks would do it. A standard drink is a 12-ounce beer, or a 5-ounce glass of wine, or a 1.5-ounce shot of hard liquor.
By the time a drinker hits the 0.08 percent limit, that driver's concentration has already been compromised, reflexes have been impaired, as has depth perception, reasoning, peripheral vision, and the time it takes to recover from a flash of glare. A driver's conditions are much worse beyond that limit, as reaction time and motor control are slowed, speech becomes slurred, the person staggers when upright, and, when the drinker has a blood-alcohol level of 0.2 percent or worse, black-outs can occur.
America's 0.08 percent limit for drivers is actually among the most permissive in the world. Most European countries set the limit at 0.05 percent. Several are at 0.02 percent. And more than a dozen countries (not including nations such as Saudi Arabia, where drinking is outlawed outright, at least officially) have a zero-tolerance policy for drivers. Those include Brazil, Canada (for drivers 22 or 21 and under), the Czech Republic, Russia and Slovakia.
Impairment, in other words, is a relative term, with a 0.08 percent limit already crossing that line by medical measures. The National Highway Traffic Safety Administration has found that, nationally, one fatal traffic crash occurs every 16 minutes. Across the United States, 161 DUI arrests are made every hour. The number of convictions is lower, however, as many drivers plead down to reckless driving or lesser charges. Nearly half of all alcohol impaired driving fatalities occur between 9 .m. and 3 p.m., according to the traffic safety administration numbers released by the sheriff's office today.
"These statistics are alarming and it is the goal of every law enforcement agency to eliminate these dangerous drivers from the road," Flagler County Sheriff Don Fleming said. "Anyone who is impaired and gets behind the wheel of a vehicle is acting irresponsibly and without concern for the lives and property of others. Those are the people we want to take off our streets."
FHP offers tips to help you and your family arrive at your destination safely:
• Observe and obey all speed limits.
• Drive sober, and only sober.
• Have a designated driver.
• Buckle up.
The campaign coincides with the Labor Day holiday weekend, from Aug. 31 to Sept. 3. All uniformed FHP personnel, including those normally assigned to administrative duties, will patrol interstates and other major state roads during the four-day holiday. FHP Auxiliary troopers also will volunteer to augment the Patrol during the holiday travel period. The Patrol aims to increase its presence throughout Florida in an effort to deter traffic violations and to enhance services to motorists who break down while traveling or who need other assistance, the highway patrol said.
The NHTSA has developed a series of television ads to highlight the campaign. The ads are a little creepy: they show cops and cop cars materializing out of nowhere, as if dis-embedding themselves from walls or alleys as they notice drunks walk by, then following them in a cruiser and pulling them over as a sinister voice intones: "They'll see you, before you see them. Cops are cracking down on drinking and driving. Drive sober, or get pulled over." The idea is strong enough, though the appearance of all-seeing cops with eyes and ears literally morphing out of walls and dark alleys conveys a message more akin to police states than free societies. The producers have gone as far as doing a "behind the scenes" video and posting numerous images to illustrate the way the ads were shot. (See below.)
On the highways, FHP reminds drivers to dial *FHP (*347) from your cellphone to contact FHP to report an aggressive or impaired driver or to request roadside assistance.
For more information on the "Driver Sober or Get Pulled Over" campaign, visit the national traffic safety's website.