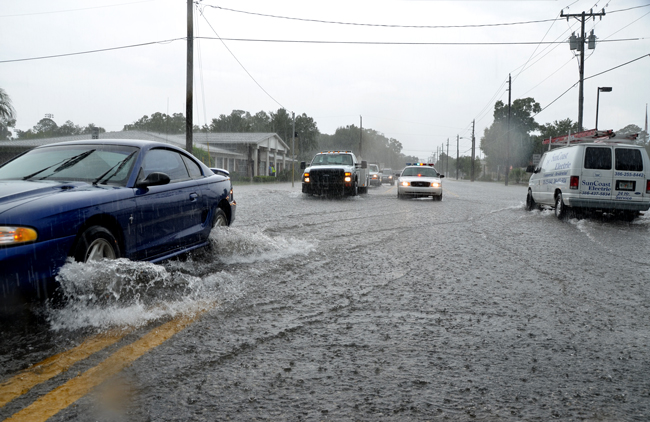 A storm dumped 2.7 inches of rain around the area of the Flagler County Emergency Operations Center in Bunnell Monday afternoon, with similarly heavy rains in the central part of the county from I-95 to just west of Bunnell.
The rain produced sights not seen in the county in months: flooded streets, especially across the old courthouse in Bunnell, on State Road 100, overflowing swales, soaked medians, and cars skidding off roads (an SUV ended up on the sidewalk, past the swale, on the southern end of Belle Terre Parkway during the storm). The weather itself made a sharp U-turn from the dry spell that had parched grounds and fueled dozens of fires.
But Monday's rains did not stretch to the area where they were needed most: the Espanola fire, about six miles west of Palm Coast. That fire did get some rain over the weekend, however. But it's still burning. State and county fire officials this morning cautioned that absent continuous and direct rain on the fire, it will still burn, though it has been contained to up to 70 percent.
Bob Pickering, a county emergency technician and the EOC's weather guru, said Monday afternoon that radar readings showed rain of 1 to 2 inches in the northeast quadrant of the county, very little along the beaches, and very little out west. The rain stayed primarily on Bunnell and west-central Palm Coast, he said, though DOF's gauges will more precisely tell the story of precipitation in the Espanola area by Tuesday morning.
That fire now has 20 miles of fire lines around it. About a third are not in muck, organic-like soil, which burns easily and deeply, to up to four feet, so when it rains, even heavily, as it did over the weekend, the moisture saturated just the top foot or so, leaving the smoldering underground still hot, still burning. "The fire can literally creep across that muck and soil," Tom Donahoe, the DOF's operations chief, said. "Not only we can;t get our fire lines deep enough, the muck is so deep that we can't get down to the mineral soil that will actually stop the spread of the fire, so it's kind of like working a big cigar. The thing just continues to smolder and smolder and smolder."
The brush trucks engines work the road system and the hot spots along the road.
"Fire behavior in terms of what's going on has begun to moderate," Keith Mousel, a DOF plans chief and fire behavior analyst, said the morning. "We are picking up a few new starts periodically, but they're able to get on them. If a new start gets started and gets outside the rain band and some wind can get behind it, we're looking at rates of spread of six to 12 chains per hour. Roughly a chain is 66 feet. So you're looking at roughly 700 feet an hour that it can truly run. That's in the pine uplands fuels. If it's in some heavier fuels, our flame lengths could be up to 10 feet in length, but that's going to take some wind to get behind it and push it out. So nothing real bad, but there's still some potential out there, some still dry pockets out there, we've got to keep our heads up. Just be aware that activity could pick up again. One or two days, three days of drying and we may see a little bit of activity."
Some 80 DOF firefighters are working on the fire in one day shift. They're not working at night. The calmer fire activity has also allowed county fire fighters to end the mandatory 36-hour on, 36-hour off shifts. Overtime is still necessary to cover all demands, but on a voluntary basis. At the Espanola fire, about 16 Type 6 engines, or brush trucks, are deployed, along with 21 bulldozers and other equipment. The east and north sides of the fire are well contained and under control. The southern side, less so.
Pine needles are starting to drop on the fire, as are leaves: dozers are working to prevent re-burns. Meanwhile, the National Guard's Black Haw helicopters are still at the Flagler County Airport, available for water-dumping on any fire, but they haven't been used for several days.