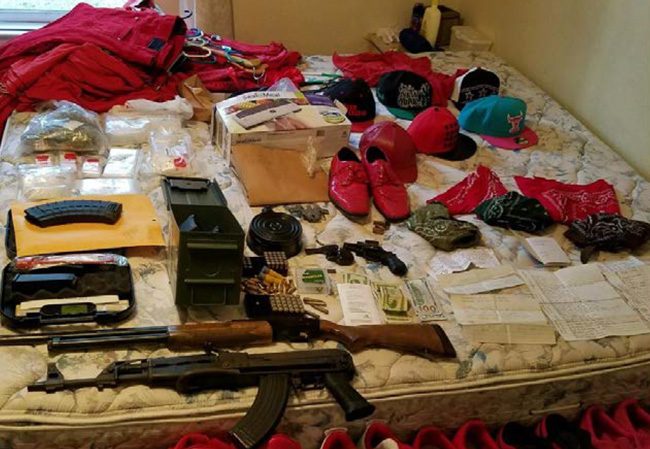 Just over a week ago, Shawn Crawford, 35, was arrested on two charges of possessing a firearm while a convicted felon and on an out-of-county warrant, but he was released on bond 24 hours later. Earlier today, he was arrested again on similar charges, including possession of an AK-47 assault rifle, plus several drug charges.
The man he was staying with for the past two months at 6B Ryall Lane in Palm Coast, Tariq D. Khawaja, 27, was also arrested and charged with tampering with evidence and drug possession. A considerable stash of weapons and ammunition was seized. During the raid, Khawaja is accused of trying to flush marijuana down the toilet. He was not successful.
The arrests take place on the heels of similar arrests–on drug and weapons charges–last Friday in a joint federal, state and local operation targeting individuals dealing drugs and wielding illegal weapons, though Khawaja and Crawford were not among the names authorities were still seeking at the time. Unlike individuals arrested Friday, Crawford has not been charged with federal crimes. His bond is set at $31,000. That of Khawaja is set at $8,000. Sheriff Rick Staly used last week's arrests to send a message, and did so again today: Investigators are working hard to get "poison peddlers off the streets" and into jail, he was quoted as saying in a release issued earlier today, telling such peddlers to "Take your drugs and guns and get out of Flagler County, because we will find you."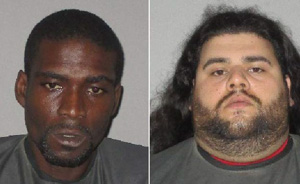 When deputies searched the Ryall Lane duplex, they found the AK-47 in a child's clothes closet that had been decorated with pink Disney theme. The weapon was resting on a box for an Exersaucer, an infant's stand-up activity center.
Crawford's original address is listed as 15341 NW 31st Avenue in Opa Locka, according to his jail booking. He had been staying at Khawaja's place for the past two months, occupying a spare bedroom there, where authorities found the assault rifle, an AK-47 magazine, 30 rounds for the weapon, marijuana, various drug tablets and a single .22 caliber round in a black suitcase, among other items. When Crawford was asked about the items, he quickly invoked his right to an attorney, shutting down any further questioning. Some of the material found tested positive for cocaine.
Items were also seized from Khawaja's master bedroom, including bags of marijuana, MDMA tablets (methamphetamine, also known as ecstasy), a Mossberg 12-gauge shotgun, an EAA .38 special revolver, a Derringer .22 caliber pistol, scores of rounds for various weapons, including 35 AK-47 rounds and 31 rounds from a drum magazine, and 11 rifle magazines.
Some of the pot recovered "was thrown in toilet and and was making it heavier than normal," an arrest report states. In all, the search allegedly uncovered 260 grams of marijuana, 17 grams of cocaine, 3 MDMA tablets, 14 controlled substance tablets, and the weapons and ammunition.
There were a total of 10 occupants in the residence when the search warrant was served.