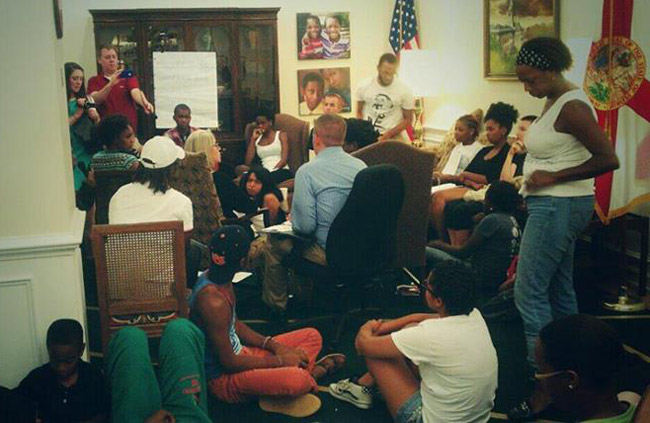 Gov. Rick Scott held his first workday in the Capitol since the second week of July, days before a group of protesters began an ongoing siege of his office.
The protesters on Monday, instead, got state Rep. Halsey Beshears, R-Monticello.
Scott, who is expected to spend the next couple of days back on the road, didn't pop out for a chat with those who want him to call a special session on the state's controversial "stand your ground" law.
While a number of protesters continued to camp outside the first floor lobby of the governor's office and plan for their own review of the law beginning Tuesday, Scott spent the day with staff and had a morning meeting with Enterprise Florida CEO Gray Swoope.
As Swoope was meeting with Scott, Beshears was in the lobby with about 15 protesters.
Protester Melanie Andrade said Beshears' appearance was an attempt to placate the group, similar to an appearance by Department of Juvenile Justice Secretary Wansley Walters a week earlier.
"It seems like they're scrambling, they have to say, 'We're trying, we're listening,' " said Andrade, Florida A&M University chapter president for the Hialeah-based Dream Defenders, which has led the protests. "I do feel the pressure is mounting that he (Scott) will have to do something soon."
Beshears, whose district includes a portion of Leon County, said he dropped by on his own.
And while Beshears supports holding a debate on the law during the 2014 regular legislative session — rather than during a special session — he also supports the law.
"I agree with "stand your ground," it's a good law," Beshears said. "I think it has great intention. I disagree with the application in some cases. But like any good law, there is always some bad applications, but they're very minor."
The protesters, who have used social media to broaden their call, want lawmakers to reconsider the controversial 2005 law, review racial profiling by police and review what they see as changes needed in the juvenile-justice system.
The protest was sparked by the July 13 acquittal of George Zimmerman in the February 2012 shooting death of Miami Gardens teen Trayvon Martin. Though Zimmerman's attorneys did not use a stand-your-ground defense, the case in Sanford has led to a national debate about the law.
The protesters plan to begin their own "special session" starting Tuesday afternoon in the Old Capitol to discuss what they call "Trayvon's Law," which combines their entire platform.
The protesters' "session" is expected to run for at least three consecutive days, rather than over the next three Tuesdays as originally announced. A list of speakers and experts expected to testify, and how the session will run, is to be released Tuesday when the session begins, said Dream Defenders Political Director Ciara Taylor.
Scott and legislative leaders have said they do not plan to call a special session on the law, which was a subject of a task force last summer. Scott told the protesters his position during a hastily called meeting July 18, when he made his one appearance in the Capitol during the prior two weeks.
"I'm not sure what a special session would accomplish," Senate President Don Gaetz, R-Niceville, said Monday.
"I think you call a special session of the Legislature when you have a landing zone that's agreed upon on an issue," Gaetz said. "You don't call a special session, I don't think, and just bring 160 politicians to town, and turn them loose and hope it all works out."
Without support from legislative leaders, members of the Dream Defenders are reaching out to state lawmakers. They are trying to get a needed 20 percent of lawmakers to demand a poll of the full Legislature. The long-shot hope is that three-fifths of the Republican-dominated House and Senate would respond affirmatively to a special session request.
Because a couple hundred people lined the hallway to Scott's office when singer and civil-rights activist Harry Belafonte stopped by to lend his support Friday, the state Monday removed the paintings of former governors from the walls.
"There was some concern that they could be inadvertently damaged, with a lot of people in there the walls could shake a little bit," FDLE spokeswoman Gretl Plessinger said.
Asked about comments from the 86-year-old Belafonte, who suggested Friday that Scott "deals with it now while there is still sanity and peace," Gaetz responded Monday, "I think Harry Belafonte is a better singer than he is a prognosticator of public policy."
The FDLE estimated that security costs — regular and overtime combined — topped $30,000 for the weekend, with overtime pay since July 15, the day before the protests started, now reaching $77,697.24.
–Jim Turner, New Service of Florida