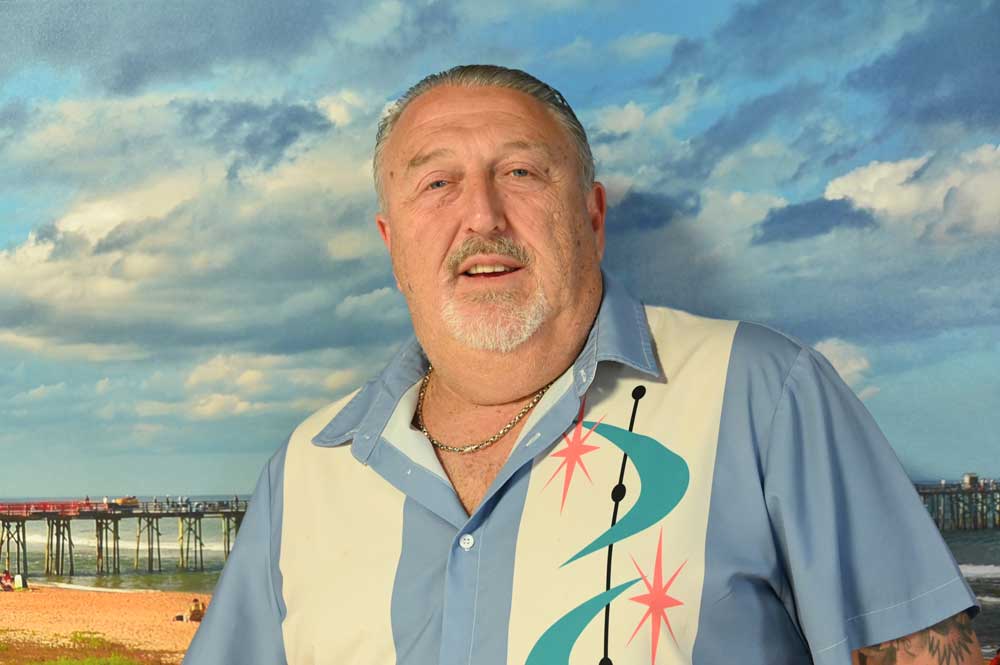 Doug Bruno O'Connor is one of five candidates for two seats on the Flagler Beach City Commission, along with Rick Belhumeur, Bob Cunningham, first-term incumbent Deborah Phillips, and Scott Spradley.
The non-partisan municipal election will be decided on March 7. Voters registered in Flagler Beach have been casting ballots by mail since early February. All registered voters in the city, regardless of party or non-party affiliation–Democrats, Republicans, independents and others–may cast a ballot. Here's a sample ballot.
The top two vote-getters will be elected to a three-year term on the commission, which is made up of five members plus the mayor. The position pays $9,502 a year.
FlaglerLive submitted identical questions to all candidates. The Live Interview's customary follow-up questions have been in most or all cases dispensed with in this race: the interviews are intended to provide a brief if substantive snapshot of each candidate while still eliciting as much candor and transparency as possible. We have asked candidates to refrain from making campaign speeches or make lists of accomplishments. We have also asked candidates to reasonably document any claim or accusation.
The candidates received the questions last Sunday and all but Phillips completed them before the meeting on Feb. 9, where the commission fired City Manager William Whitson. The questions had included one about Whitson's performance. Those answers have been preserved since they reflect the candidates' analysis of city leadership. An additional question went out after the meeting, asking what next.
Note: the Flagler Woman's Club is hosting a Candidate Forum featuring the five candidate for city commission, on Feb. 21 at at 7 p.m. at 1524 S Central Ave, Flagler Beach.

The Questions in Summary: Quick Links

The Basics: Doug Bruno O'Connor
Place and Date of Birth: May 6, 1959, Brooklyn, N.Y.
Current or last job: Retired: last Job was with the Donaldson Organization located in Hauppauge, N.Y., a sub-contractor.
Party Affiliation: Republican.
Resume:
1. What makes you qualified to be a city commission member? How have you specifically prepared yourself to be ready to succeed from day one? Tell us about you as a person: your personality, your temperament, your foibles: what character flaw do you bring to the council? Who do you admire most in office today among elected officials in Flagler County—the person you'd consider a model of leadership?
Passion . I was a former Beverly Beach Town Commissioner. I have a letter from the Mayor, Commissioners and Town Clerk endorsing my run for Flagler Beach Commissioner. It was a honor working together to make Beverly Beach successful. I also was VP of one of the largest trade groups in New York City. I was a Trustee of a billion dollar employee pension and welfare fund while I lived in Beverly Beach. I became VP then President of my HOA board and we eliminated our debt in our first year. So investments and budgeting is a key to my resume. After retiring I have learned to enjoy golfing and seeing my three grandkids. The people I admire most are not our elected officials but our Fire, Police, Building, Sanitation, Utilities and the Staff at City Hall. What an asset we have in his great city.
The question, however, was specific to elected officials. Might you have someone you admire in that group?
I'll say Rick Staly due to his no nonsense approach towards crime and keeping Flagler County safe.
 See how they answered:
Rick Belhumeur | Bob Cunningham | Deborah Phillips | Scott Spradley


2. Cite three issues or concerns that in your view the city is addressing poorly or not at all, and explain with as much specificity as possible how you intend to convince the commission to change course.
A. Communication is key to keeping our residents up to date on projects, grants, spending and up coming developments. Facebook and other social media is not the answer. Simple ideas like monthly newsletters, information boards located in areas and a booth at First Friday so residents can ask questions that they might have.
B. Accountability: I think everyone can agree on this one . Seems we have a lot of talk about and no immediate action. We have budgeted items from last year still not started. Why? We need to start the projects which are budgeted on time and on budget which is tough in today's economy. The Commissioners need to respect each other and work as a team.
C. Respect from our city workers to our residents at meetings. They need to be treated like you would want to be treated yourself.
 See how they answered:
Rick Belhumeur | Bob Cunningham | Deborah Phillips | Scott Spradley


3. Flooding is now a recurring problem in various parts of the city. Evaluate the city's response to flooding from last fall's storms. To what extent is the city capable of addressing the problem, at what cost, and with what revenue?
Flooding is a major issue for Flagler Beach and has been for years. We have budgeted new valves, sewer repairs and pumps to help these homeowners but it seems like the plan is slow going at best. We need to do our part to maintain and prepare for storms before they hit. Mother Nature will always be a pain but everything we can do should be done to stop flooding. Hopefully grants can off set some of these costs. Maybe the City can eliminate permit fees to help homeowners purchase materials to keep their homes from flooding.
 See how they answered:
Rick Belhumeur | Bob Cunningham | Deborah Phillips | Scott Spradley



4.Relations between business and residents on one hand and the city on the other seem poor, and "communication" appears to be a problem, judging from the long but not entirely conclusive discussions of the city commission to date. Have relations deteriorated, in your view? Is there a communication problem? If so, explain why, and what your specific remedy would be.
Like I stated in question 3C, respect and communication is key. Working together is strongly encouraged to have businesses and residents getting the help as needed. Residents should be free to speak at meetings or via phone and get the answers they deserve. At one meeting a City Sanitation worker stated he was threatened and harassed by a resident and the City Manager did nothing. Another person told the Commissioners that the City Manager hung up on her after the storm and stated I'm too busy. This can not happen again in my opinion. Business owners are going to witness along with residents four major construction projects all in the upcoming years–Pier, Beach Renourishment, the hotel downtown, and reconstruction of State Road A1A by the Florida Department of Transportation from South 8th street to I believe North 17th street. So I'm a people person and have been told by others that I listen and then produce. In ending this question you can't work or enjoy life if you're not appreciated.
 See how they answered:
Rick Belhumeur | Bob Cunningham | Deborah Phillips | Scott Spradley






5.City Manager William Whitson's tenure has been rocky, as reflected by a recent three-month probationary term. Since you've attended almost every meeting for most of his tenure, how would you evaluate his strengths and weaknesses from your vantage point? Given the chance would you fire or retain him?
The million dollar question regarding Mr. Whitson and his rocky performance to date. First you need to start at his hiring which four out of five Commissioners approved. Is it true he had some of these issues in other towns? The Commissioners approved approximately a $30 million dollar budget which included hiring more staff in his office. He states his plate is full and what items would you like me to prioritize first. He even states that was before my time or I'm under staffed. At one meeting a Commissioner asked do you need more help like an assistant City Manager. I believe if I'm elected I will have a better understanding regarding his job and his future. Accountability is one of my campaign promises and needs to be held to run this City properly. But that being said a Commissioner is elected by the residents and they should get what they feel is right. I will be accountable for my votes and actions if elected.
In light of the commission's firing of Whitson on Feb. 9, What key factors would drive your decision, first on an interim manager, second on a permanent manager? What skills would you bring to the table to avoid another managerial misfire?
Really nothing changes regarding the skills needed. First the interim manager must not miss a beat with all our existing day to day operations. We must ensure all FEMA and other grants are being executed to their potential. I believe the hiring of a new city manager should be chosen by our newly elected commissioners: they will be working with them for the next three years. We need a person who listens to our taxpayers and doesn't make excuses about their work load. A people's person who respects and has their back. Yes this is a critical time for Flagler Beach and we need to have a city manager that can direct us through all the upcoming projects. If elected I will do everything in my powers to be a team player because I love this city.
 See how they answered:
Rick Belhumeur | Bob Cunningham | Deborah Phillips | Scott Spradley



6. Have you ever been charged with a felony or a misdemeanor anywhere in Flagler, Florida or the United States (other than a speeding ticket), or faced a civil action other than a divorce, but including bankruptcies, or faced any investigative or disciplinary action through a professional board such as the bar or a medical board? Have you ever been demoted? If so, please explain, including cases where charges or claims did not lead to conviction or disciplinary action.
The easiest one so far. I guess I've been a good citizen and person my whole life. I've have never been charged with a felony or a misdemeanor of any kind. I've have never been in bankruptcy or faced any disciplinary actions from any board. Never been demoted but always promoted during my career. Maybe a speeding ticket in my teens but always a stand up guy. I hope I answered these questions honestly and will gain your trust in the upcoming elections.
 See how they answered:
Rick Belhumeur | Bob Cunningham | Deborah Phillips | Scott Spradley