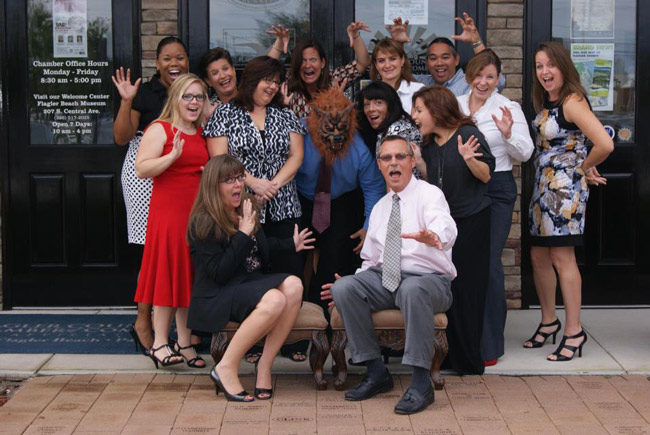 Last Updated: 7:02 p.m.
The Flagler County Chamber of Commerce & Affiliates announced early this afternoon, in a release, that Doug Baxter, president and chief executive officer since 2007, has resigned. The chamber's executive board had met that morning and accepted the resignation.
Rebecca DeLorenzo, the chamber's vice president since 2008, who'd always been seen as a strong successor to Baxter, was appointed interim president by the chamber board, with Baxter's blessing. DeLorenzo was called into the board room and told of the decision by Chamber Board Chairman Garry Lubi, past Chairwoman Lea Stokes and incoming Chairman Scott Sowers. But it may be until March before a permanent appointment is announced, Lubi said.
DeLorenzo "will definitely be a candidate for that position," Lubi said. DeLorenzo this evening said she was "certainly interested in moving into that role. It just takes some time for us to get there." She said she was "as surprised as everybody else" to learn of Baxter's decision to resign–which she learned about today.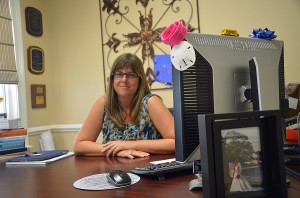 "Rebecca and I have been working together for the last five and a half years and I've been grooming her to take over for me over that period of time," Baxter said in a brief interview this afternoon. "Rebecca is very bright, she knows how the chamber functions, she knows the staff, so why would you want to bring someone else?"
The resignation may not have been a surprise to Baxter: there'd been internal discussions between him and the board over the chamber's finances, which may not be as strong as the board would like them to be.
No one would speak for the record on the specifics of the financial issue. But beyond the veneer of Baxter's amicable resignation, there were issues that led to what, in the end, is a very abrupt and unusual end of a relatively long tenure. These ends don't take place in a void. People familiar with the situation said that over the last few weeks, the executive board of the chamber had met a few times to discuss a financial hole that may have grown to tens of thousands of dollars, more because of the chamber's over-extension than because of any malice, with the chamber's phone book playing a central role in the problem. Baxter was then granted an amicable divorce, while the chamber board itself will look to reorganize its mission, and possibly its relatively large staff of 13 (large for a county this size), scaling back some operations and focusing much more on supporting and promoting the small businesses that form the core of its membership.
Baxter himself said the chamber's books were in good order.
"Everything is fine over at the chamber," Baxter said. "People say that because the phone book is a dying breed that it's going to be a revenue source we're going to have to look at at some point, but right now the phone book is doing great," with a distribution of 50,000 a year. With phone books, however, distribution is not necessarily an indication of success if the advertising content of the book is sub-par. A higher distribution may merely add to production costs without enough advertising to make up the difference, or generate the needed profits.
Lubi said the chamber's finances are solid, too. "We're still on solid ground, we're a little bit off but—we're in a good place," Lubi said. "A little bit off" is as far as Lubi would go in describing the chamber's finances. Aside from the chamber's foundation, which is a non-profit segment of the operation, the chamber is a private entity. It is not required to open its books to public inspection.
He concurred that the phone book is no longer the source of revenue it once was, and membership's fluctuations this year–between the upper 700s and the mid 800 members–is down from the roughly 1,000 members of around 2007 or 2008. (As of Monday, there were 797 members.) But today's number is a truer reflection of what the membership may have been even then, he said, when many members had been "carried" through the years, without being purged from the system after their membership had lapsed. The economy, too, has shrunk the numbers. "As the economy gets better," Lubi said, "that'll help that membership grow."
Lubi was more effusive in praise for Baxter in an interview late Wednesday afternoon, repeating several times the benefits Baxtter had brought to the chamber and the business community. But Lubi stopped just short of saying that the chamber board would have rather he'd stayed.
"His heart is really in the right place, he cares, and we wish him the very very best, I wish him the very very best," Lubi said. "It's just a decision he decided to make and we've got to respect it."
Baxter, who hails from Australia, came to Central Florida in the late 1970s. He started, owned and operated two successful entrepreneurial businesses before joining the chamber as president in 2007.
"I've got some other opportunities I'm wanting to explore, I thought now was a good time," Baxter said, sounding as cheerful as if he were hosting one of the chamber's special events. "This is a serious decision that I've made and I thought the timing was right because I thought the chamber is in good hands, we've come a long way since I've come here, and I'm happy and at peace that I'm leaving the chamber in good hands." He credited DeLorenzo as well as the chamber's staff and its board.
In its release this afternoon, the chamber reflected polite applause for Baxter.
"Doug played a key role in turning the chamber into the largest member organization in Flagler County," Lubi is quoted as saying in the release. "Since 2007 he has demonstrated a passion for and commitment to supporting the local business community. We value his contributions to our chamber, and wish him the very best in his future endeavors."
Baxter, 56, said he planned to spend some time with his family — his 27-year-old son and 25-year-old daughter are moving back to Australia, though Baxter who lives in Flagler Beach, has no plan to return to his homeland. "I'm going to take a little bit of time off and spend sometime with the children, and that's always good."
Asked about his next move, he said: "I don't know just for the simple fact I don't know where my next career path is going to take me." He said he won't look for work until after the new year.
"There's no downside to me leaving at this point. One chapter of my life is ending and another one will start," he said. "I've done a lot of good at the chamber."
Every year in early to mid-January, the chamber goes through a strategic planning process. The vision for the new presidency will be part of that process this January. Lubi said the board won't rush the decision, expected in March. Meanwhile, he had no doubts that the chamber would be led well by DeLorenzo and the rest of the staff. "As good as Doug has been, you've got to remember one thing about a chamber, it's not about one person, it's about many people," Lubi said, noting the staff, the board and the membership served.