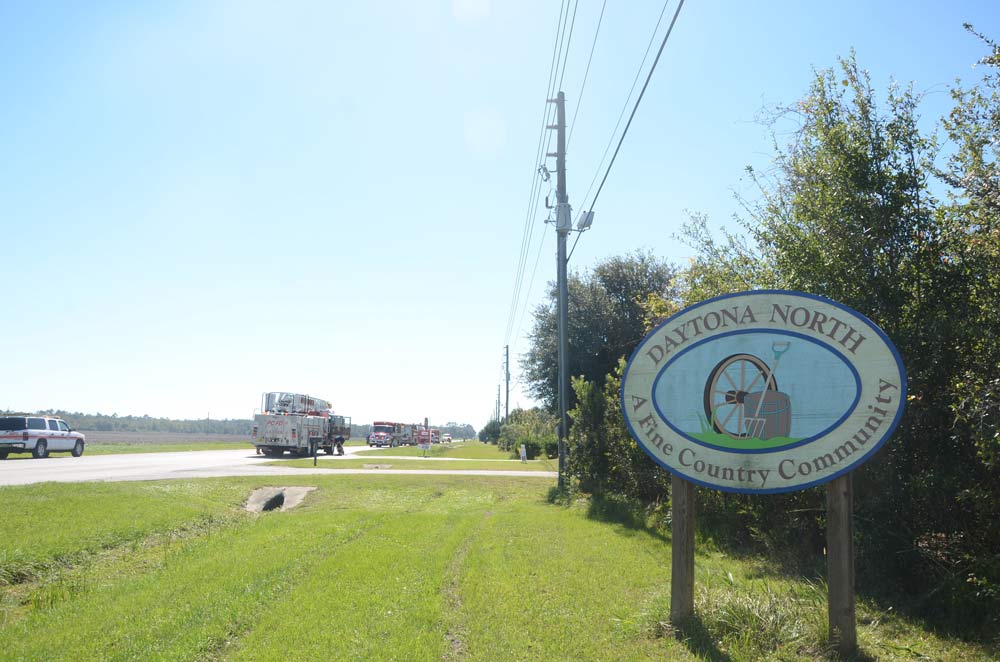 The Flagler County Commission today voted 4-1 to potentially double the special assessment rate residents of Daytona North pay for some road maintenance and other infrastructure improvements. Residents attending the meeting were not happy. Nor was County Commissioner Leann Pennington.
It didn't help them that the meeting took place in early afternoon, as one resident noted: "All the people that are involved are not here to listen and to give input," one resident said. Another said: "The Mondex area is a low income area. People can't afford that kind of money. Maybe some people can, but not everybody can afford that and now you're hurting everybody."




"A lot of the stuff you've got on there doesn't make us a bit of difference whatsoever. And it's being added to us," Judy Long said of her tax bill.
Daytona North, or the Mondex, is a breed-apart subdivision in the west of the county that likes its uniqueness and independence, and where services and infrastructure are a notch below the rest of the county–for a reason. But it's that way also for a reason.
County Attorney Al Hadeed reminded the commission that the county is not obligated to provide any infrastructure improvements to the subdivision–none whatsoever–since its original developer snubbed county regulations. But in the 1980s the county, with residents' agreement, created a special taxing district, overlayed on top of existing taxes, to ensure that some infrastructure improvements could be carried out in the subdivision.
The current tax rate hasn't been increased since 1993. The county charges 58 cents per foot of property fronting the road. The revenue is covering "only about a third of the cost right now," County Administrator Heidi Petito said, "so this area is being subsidized by other funds."




But it is more correct to say that Daytona North is subsidizing the rest of the county, because all Daytona North property owners pay the same rate in county taxes as do residents in the unincorporated area, but don't get nearly the same level of services. It's not their fault, but that of the original developer, whose actions–circumventing county development and zoning regulations–led to a court ruling that absolved the county of responsibilities toward the subdivision. But the ruling did not absolve subdivision property owners from having to pay their county (and other) taxes. Put simply, Daytona North residents send a lot more money to county coffers than they get back.
Nevertheless, in accordance with that legal ruling, the county was not at fault, either, for the subdivision's poor roads and infrastructure. The special taxing district was its way of bringing improvements. Now, the levy is not bringing in the sort of revenue the county needs to pay for the services it is providing there.
To eliminate the subsidy, the levy on residents should be tripled, Petito said. The county isn't proposing to go that far, but it is proposing doubling the rate from 58 cents to $1.16, which would raise residents' assessment roughly from $80 to $160 annually. "It's about maintaining the roads in a safe condition," Petito said.
To Commissioner Pennington, Daytona North is an area of workforce, or affordable, housing. "This is one of the last areas of that," Pennington said. "So we should in theory be lessening the burdens of affordable housing and actually incentivizing those areas so they remain affordable." She questioned some of the charges the county levies for road maintenance, as when county equipment, signs, labor and so on are used ($3,000 for a dump truck for a day, for example). She said the county levies the Federal Emergency Management Administration rate for all those uses.




Petito said it's the standard rate. "We're not trying to make a profit we're trying to break even," she said. "So yeah, they are being charged for travel time, they are being charged their labor rate, their equipment, charges and all of those things because that is a full cost of providing that level of service to that project or that entity."
Still, to Pennington, the residents of the subdivision are on limited incomes. "I know that we're not obligated to do what we do out there. But I would hope that we could come up with a solution that would be more equitable," Pennington said. "I just don't think we should be balancing the backs of this budget on Daytona North."
Commissioner Andy Dance was interested in a more scientific approach to setting the rate: issuing a request for proposals to private-sector companies to find out the market rate of what it would cost to maintain the subdivision–and setting the rate based on those findings. He did not see the matter resolved immediately without damaging residents' trust in the county.
"We're going to have to come to some rational market rate of reimbursements for the time that's going on out there," he said, "because everybody is going to have to come to an agreement on what those rates are going to be–as much as we can."
But when it came time to vote for the proposed new levy at Daytona North, Dance voted for it, in a vote that also raised similar assessments for Espanola, Bimini Gardens, Rima Ridge and other places. As with the tentative tax rate the county also approved today, all those rates remain "proposed," as residents will have the chance to voice their opinions and concerns in coming weeks before the commission votes on final rates.




Residents gave commissioners an idea of the opposition ahead. "Today is the first day I've actually found out that this is all over a tit for tat because the developer and the county got into an argument," Bonnie Turner, a Mondex resident for the last 18 years, told commissioners. "You all could go to your special meeting and you could put on this tax. You could also as a council, you could also abolish this so that one little section of your county is not being done this way."
She added, with wry justice, given the tens of millions of dollars the county has been sinking (in state and federal tax dollars, secured through the county) to rebuild dunes and protect shoreside homes: "Well, they don't ask me when they need their beaches with their million dollar homes on them fixed. Do they hear me coming out of the woods arguing? No, they don't. Because we are a people, we the people, we take care of each other. We don't fight about it. We don't need to argue about it. But we can take care of the less fortunate when the less fortunate don't mind taking care of the wealthy."

2023 07 10 BOCC Budget Workshop and Special Meeting Agendas and Backup