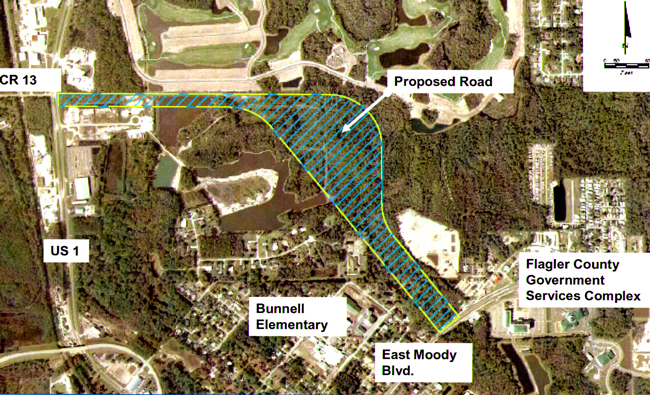 "We have to move with a plan or we're going to end up like some small little town that died on the vine." Those were the words of then-Bunnell City Commissioner Flynn Edmonson eight years ago, who was summing up Bunnell's legacy since I-95 by-passed it four decades earlier. The city managed to stave off flat-lining when the county, the school board and the courthouse built an oversize government complex on the outskirts of the city.
Bunnell may be fighting for its life again. The Florida Department of Transportation wants to build a by-pass around the city, from the intersection of County Road 13 on US1 (just north of the city's business district) to State Road 100, or East Moody Boulevard, perpendicular to the government complex. The bypass would be designed to accommodate an expected traffic surge from the proposed 7,000-home mega-development known as Neoga Lakes west of US1, on land annexed by Palm Coast.
"Somehow I know we're going to be the bad guys."
Palm Coast City Manager calls the by-pass "a wild and crazy idea that might as well put a stake right through Bunnell's heart." But the bypass would not have been proposed without Palm Coast's colossal development, which is projected to generate 48,000 additional vehicle trips per day at the county road-US 1 intersection by the time its 7,000 homes are built at least two decades from now.
"We actually thought that this new development out west would help some of the businesses along US 1 and downtown Bunnell," Landon said during a meeting with county and municipal government representatives and members of the business community last week. "You skirt the traffic all around it, we don't understand this. So this is not a Palm Coast thing whatsoever."
"Are you sure of that?" asked Doug Baxter, president of the Flagler County Chamber of Commerce. "You sure of that?"
"Sure of what?" Landon replied.
Baxter: "I'm just asking."
Landon: "Yeah. That's not a Palm Coast thing. Somehow I know we're going to be the bad guys."
Baxter: "Yeah, yeah you are. We haven't heard anything yet from our members because this hasn't been out into the market place but I guarantee you we're going to hear from them as soon as this comes out."
Tallying Up Pros and Cons
---
Listen In: Bunnell's Cuthbertson Sums Up Bypass Issue[media id=24 width=250 height=100]
It has to come out: Mick Cuthbertson, director of Bunnell's community development department and the city's point man on the by-pass proposal, sent out letters to businesses affected by the by-pass in preparation for a May 20 public outreach meeting at 6 p.m. at the Government Services Building in Bunnell. Cuthbertson will then present a pros and cons briefing to the Bunnell City Commission, which formally considers the proposal at its May 24 meeting. Theoretically, it's entirely up to Bunnell whether the bypass is built or not. If it's built, Cousins Properties, developer of Neoga Lakes, would have to bear the costs.
Step one is a study on the bypass. That's what the Bunnell commission would have to decide first later this month. The study costs, too, would be borne by the developer, who, not surprisingly, opposes the by-pass idea.
"It's important for Bunnell and everyone to understand that we did not initiate this dialogue," Cuthbertson said. "We did not reach out to the Florida Department of Transportation. The Bunnell position that we have is, if there's a project in Palm Coast, best of luck to them. We're not going to interject ourselves into that conversation unless there's some unusual circumstance that we felt compelled to. And that did not occur with this project." But Palm Coast's developments are interjecting themselves in Bunnell's future.
Palm Coast's Motives
Palm Coast is opposed to the by-pass less out of concern for Bunnell's future than out of concern for its own infrastructure wish-list, some of which can be paid for by developers instead of by taxpayers. But that pie is fixed.
"If they spend $160 million over here," Landon said of the Neoga Lakes developers, "that's $160 million they don't spend on Palm Coast Parkway extension or improvements to left-turn lanes on US 1. In other words, the developer doesn't have to do this plus everything else. They have a fixed amount. And what we're trying to say is, this isn't where we want our local dollars. Now the problem is, if Bunnell wants this, I guess I'll change my tune, and it really is Bunnell's decision because it's bypassing their community, not Palm Coast. But yes, it could have an impact on some of our improvements to Palm Coast too."
A by-pass isn't the only way. "One of the alternatives," Mick Cuthbertson said, "is to six-lane US 1 into downtown Bunnell and five-lane Moody Blvd. going out to Flagler Beach. There are implications to our downtown to that. That additional right-of-way, if you're familiar with Bunnell, it's one of the older cities. We have businesses that go right up on the road. There's not a large area for them to expand that road without taking out businesses."
Meanwhile, Bunnell is looking to hear from its own. "We're a sponge. Tell us what you think," Cuthbertson said. "Once those winds of change come through, things never go back to quote unquote the way they were. My expectation is, this is one of those pivotal points for Bunnell that's going to see which directional winds are blowing. They're coming through."