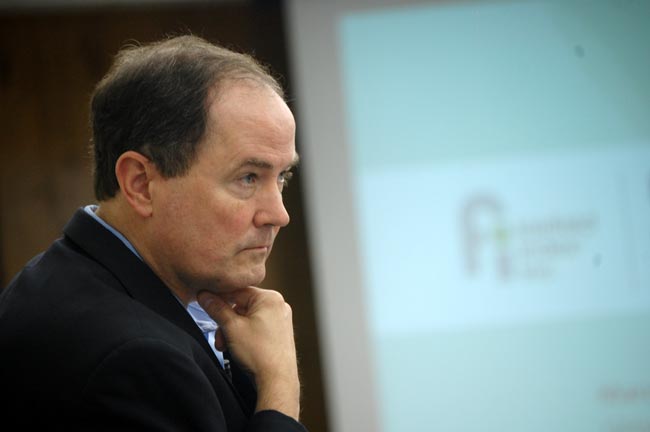 Don Upton has been going around Florida for 10 years telling counties, business and workforce development groups exactly what they want to hear: that they can put themselves on the economic map if only they got along and developed action plans. At $1,100 an hour (lodging and printing costs not included), it's been an economic boon to Upton's Tampa-based Fairfield Index Inc., a consulting firm. The windfall to local communities is less precise.
Upton, a lawyer by training, is in Flagler County this weekend putting on his gig for local governments, who've gathered at the ag extension service building near the county fairgrounds for a two-day "economic development summit." The county hired him to help governments break through some fundamental obstacles to cohesive economic development: who's to pay for it (if anyone), by what means, and under whose leadership. They thought they were getting a facilitator top that end. They didn't.
"I'm actually not a facilitator," Upton says. "I'm an economic developer with attitude." He also exudes can-do optimism that defies borders or economic conditions particular to any region, though he says every action plan he writes is very particular to the localities that hire him. ("It's going to take me 100 hours to put this together," he said Saturday, looking at the material the participants of the meeting were generating through discussions. The entire contract, however, whether he puts in 10 or 100 subsequent hours, is for $22,000.) Whether that translates into a doable plan for Flagler County is to be determined.
Less mysterious is the kind of report the governments can expect once the meetings are over: rich in bullet points, graphs and bracing language that Upton puts in the action column, such as this from a 2009 report he submitted as an example, from a multi-county summit held in Lake City: "Milestone decisions: the team reached consensus on the draft Guiding Principles, with the assumption that more could be added." The conclusions of the report also included many open-ended lines heard here, in Flagler: "What do we need to do to align with and gain support of Enterprise Florida?" "Now that the portfolio is coming into focus, we should explore what 'readiness' means for our sites, our service, and our community and regional partners."
Upton's background is closely tied to Enterprise Florida, the Florida Chamber of Commerce (he was its Chairman's Award recipient in 2001, the year he launched his consulting firm), and local economic development agencies like it, such as Enterprise Flagler. That may be one of the reasons the county picked him: the county commission is leaning toward giving Enterprise Flagler—if perhaps a reformed Enterprise Flagler—the lead in economic development. But he's also worked with start-ups, arts organizations and education agencies.
Over the past decade he's appeared in almost identical settings as Flagler's summit in numerous counties. He's also spoken identical words.
Collier County, March 2009: "We have a working framework. We have working definitions. We have a desire to set metrics under the goals."
Marion County, February 2009: "If you operate as a team, there's no telling what you can accomplish."
Polk County, August 2007: "Now we have the data to move forward. We're going to make good decisions today for the next 50 years."
Manatee, DeSoto, Charlotte, and Sarasota counties, all of whom hired him for a summit in May 2007: "It's about the whole family, not about our counties." (The "family" theme recurs like a verbal tic throughout Upton's presentations.)
Tampa Bay summit, October 2002:  "People said, 'We finally had a chance to interact with each other, and we liked what we saw. We would like to be in the room more often.'"
When developer Rich Smith, one of the people around the table at the Flagler summit, asked Upton on Friday to provide examples of other Florida counties Flagler could follow, Upton listed several of his past clients, including Polk, Charlotte, Manatee and Collier.
When the schedule was set for summit sessions in Flagler, this weekend's two dates were picked, along with a third, on March 18, if that proves necessary. Upton was to be paid $14,900 for the first two days (33 percent of it upfront), and an additional $7,250 for a third day.
When Upton discussed the matter of scheduling in mid-February with the county administration, the third session looked more certain than not. "I have a high expectation that the third session would be more about taking action and implementing rather than revisiting the first sessions," he wrote in a Feb. 11 email. "However, I also understand that we may identify missing data, new ideas and missing leaders, making an additional session of a different character."
In a separate email the same day, he wrote: "Many of the issues the family of leaders face may feel original and daunting, but they are common to many markets and there are a number of constructive pathways to consider." He had seemingly been briefed about Flagler's political and leadership faultlines, and he addressed them. "To say the least, concerns about collaboration, leadership, an economic development agenda, and resources fall in our firm's 'bull's eye.'"
As the clock approached noon on the second day of the summit, three of those issues—collaboration, leadership and resources, which define Flagler's fault lines—had yet to be broached. Discussions until then were rich in setting agendas and priorities and wish lists. But that's never been difficult for any of the agencies and businesses gathered around the tables.