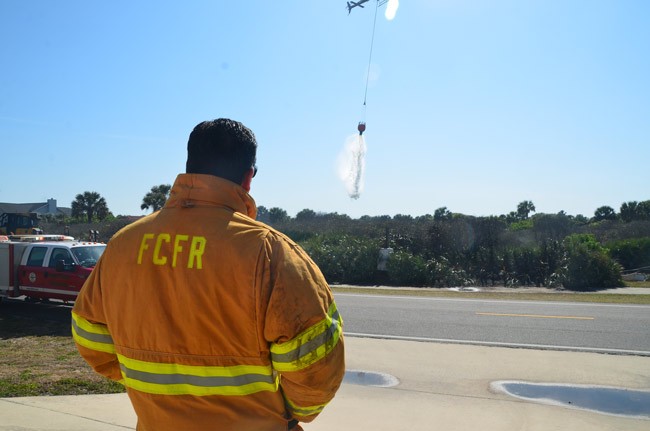 Last week Flagler County Commissioners got an email from County Administrator Craig Coffey telling them about "a difficult situation" County Fire Chief Don Petito was involved in, and cautioning commissioners against addressing the media about it.
The case unfolded between the last week of July and the first week of August and involved Petito making threats about another man, and later saying disparaging things about the Flagler County Sheriff's Office to the chief deputy, causing the sheriff himself to call commissioners and complain.
"No employee conduct violations occurred that I know of at this time," Coffey told commissioners, noting that Petito was not in uniform at the time (as corroborated by video evidence) and was not on county time.
Petito himself, at Coffey's direction, drafted a summary of the case—not including the comments to the sheriff's chief deputy—and had the roughly one-page summary forwarded to each commissioner. The summary describes a family situation that escalated with frustrations, agitation and angry words, though not for irrational reasons: anyone reading Petito's account would more likely sympathize with his reaction rather than condemn it, especially as it became clear that while Petito himself never broke any laws and respected all deputies' requests or commands, his father appears to have been wrongly denied entry into his own home. Petito got involved on his 77-year-old father's behalf.
"It's a family issue and I can't believe it's gone this far but it's something I have to deal with," Petito said in a brief interview, declining to address the matter further.
Petito's father, Don Sr., had been the care-giver for several family members, including his 51-year-old daughter Dawn Petito—the chief's sister—who went blind 20 years ago from diabetes complications, and his severely disabled grand-niece. Don Sr. himself had three cancer diagnosed over the past 20 years, diabetes and other serious ailments. He and his daughter Dawn moved with Don Sr.'s grandniece to Flagler together to be closer to the chief. They lived in a new house in the E Section, not far from the younger Don. Dawn had bought the house. Don Sr. had poured $30,000 of his life savings into it. "His thought was that this would be the last place he lived," Don Petito wrote.
Four months ago Dawn met a man online and began a romantic relationship with him—Richard del Buono, a former corrections deputy at the Flagler County Sheriff's Office who, according to Florida Department of Law Enforcement records, resigned in July 2013 "while being investigated for violation of moral character standards." (An internal investigation, the second in two years, found that del Buono, 57, had threatened a man in Flagler Beach while in uniform. He was subsequently charged and found guilty of improper exhibition of a weapon and last February sentenced to a year's probation. The probation was ordered ended today, Aug. 18,  six months early.)
Del Bueno did not respond to an interview request. Dawn Petito described the matter in a brief interview as a family matter. "I just want to drop the whole the whole thing," she said. "I'd rather not see anybody get in any type of trouble."
According to Don Petito's account, Del Buono moved in with Dawn and Don Sr. Then del Buono, according to Don Petito, "began to plant the seeds for my father to move out."
"The situation escalated when my father returned to find that he was locked out of his house," Petito wrote.
A sheriff's incident report based on Dawn's account of an incident on July 26 states that she and her father got into an argument and Don Sr. "allegedly lunged toward her in an attacking manner," and the two were separated by del Buono. Dawn Petito's July 31 petition for an injunction against her father describes it differently—that Don Sr. only "thought" he had been locked out, and that it was Don Jr. who kept his father from coming first at her boyfriend, then at her. (On Tuesday, she said she would be dropping the injunction.)
At that point Dawn told her father he had to leave the house. (His grand-niece, too, was thrown out of the house, Petito said, requiring the family to find a home for her.) He gathered some belongings and went to his son's house in the same neighborhood. Dawn wanted her father trespassed. "I advised Ms. Petito Mr. Petito could not be trespassed from the property as it is his place of residence," the sheriff's deputy wrote in the incident report, and explicitly relayed to Dawn again after speaking with her father that "he had every right to be there as this was his place of residency"—words Don Petito and his father's attorney, Josh Davis, would later underline when trying to get back into the house to retrieve belongings, but were denied.
---
A 77-year-old man is assured he has the right to enter his own home, then told the contrary by another deputy.
---
Don Sr. had told the deputy that he would return to the house to get some belongings out, but would do so with a deputy present.
"The situation escalated when my father returned to find that he was locked out of his house," Don Petito wrote. On Aug. 4, father and son returned to the house with a moving truck and were refused entrance. "The sheriff's office was contacted for assistance in hopes to be able to retrieve my father's belongings," Petito wrote. "We began to remove the belongings with the deputy on site when the situation became agitated. My sister's boyfriend told the deputy that he wanted everyone out of the house. The deputy complied with my sister's boyfriend much to the opposition of my father and me. The deputy had no right to remove a resident because a visitor didn't want him there. We contacted an attorney that informed us that the deputy was wrong and that we had the right to enter the residence."
Petito, his father and Davis, the Palm Coast attorney, returned to the house on Aug. 5 and were again denied entrance. That was the stretch of day Petito took off from work. "The deputy would not allow me, my father or anyone from my family in the house because my sister's boyfriend didn't want us in the house. They actually made my father stand on the street and told him that he would be arrested if he stepped foot on the property, the same property that he resides in. Needless to say, I became very animated and was caught on tape by the deputies. I felt that this was a good time for me to separate myself from the situation and leave the property."
A request for deputy video footage of the incident was placed with the sheriff's office, which initially provided only two short segments, neither of which showed the altercation Petito describes, or footage inside the house. A new state law allows police to exempt from public disclosure footage taken inside a house or where people have a reasonable expectation of privacy, but not in areas such as front yards readily visible from the street.
After the sheriff's office placed an inquiry with the attorney general's office, it released further segments of video, but again, not the segment that showed Petito involved in the altercation he described. One of the segments captures him speaking in an even, normal conversational tone with a deputy, when he says of his sister's boyfriend, "I'm probably going to knock his [?] out." The word he uses is not clear, though it likely refers to an anatomical part. "Don't say that," the deputy tells Petito. "I'm recording."
On Tuesday, an additional request was placed with the sheriff's office for the part of the footage Petito described, though Jim Troiano, the sheriff's chief spokesman, said, referring to Petito's description of the incident, "I'm going to tell you now that this didn't happen." But he said he'd review the original videos. (After reviewing the videos, Troiano stood by the statement, saying a deputy tells Petito Sr. that he'd be arrested only if he committed a crime, but that he "voluntarily went along with what the sergeant was able to mediate," meaning that he agreed to stay outside.)
The video segments do show that while father and son were not allowed in the house, other people were, and were able to move a truckload of items out and into a rented truck in what appeared to be long stretches of calm, cordial interactions with two deputies at the scene. The segments are not time-stamped and were not released in any sort of order that could enable a logical reconstruction.
Last week, Petito spoke with Jeff Hoffman, the sheriff's chief deputy, and told him that next time he has an issue, he'd call on the Flagler Beach police to help rather than a deputy. The comment caused Sheriff Jim Manfre to call some commissioners and complain—about that and about the way Petito had reacted at the E-Section scene originally.
"He was tired of Don approaching his people in that manner," Commissioner Charlie Ericksen said of the sheriff's phone call. (Petito declined to comment about the interaction. Manfre, through a spokesman, said that if Petito, either as a chief or as a resident, "has a concern or complaint with the sheriff's office, he's welcome to file that complaint with the sheriff's office.")
"I heard from Sheriff Manfre about it," Commission Chairman Frank Meeker said. "He was disappointed at the way his deputy was treated, and I can understand that," but Meeker said he hadn't seen any videos of the incident. By then he'd read Petito's account. "He flew off the handle a little bit, but I would probably feel the same way if somebody did this to my dad. I would probably handle it a different way," Meeker said. "It's a mess, it's one of those family things that are not easy to deal with so I can understand why people would be upset, particularly Don, but was there a better way to handle it? Sure there was a better way." But when family is involved, Meeker said, sometimes caution is thrown to the wind.