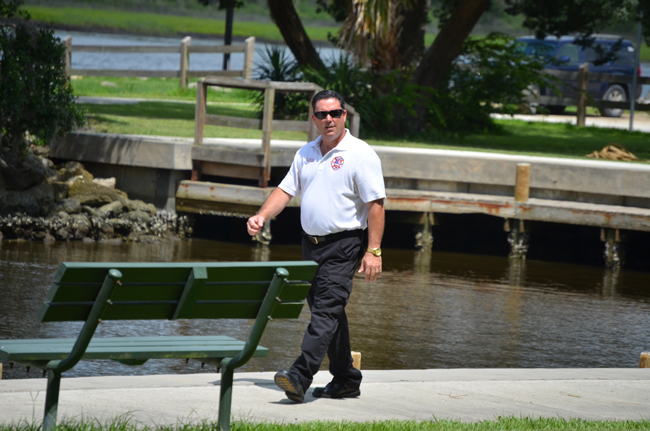 He doesn't want to leave. But Flagler County Fire Chief Don Petito has applied for the top job at the Daytona Beach Fire Department. He's one of several high-rank or high-profile members of the Flagler County Fire Rescue department who have either applied for jobs or landed them elsewhere. Flagler County Administrator Craig Coffey has repeatedly told county commissioners during budget workshops this summer that low pay and the absence of raises for five years running was leading several members of his senior staff to look elsewhere.
Bob Growick, the county's fire marshal, has just tendered his resignation to take up a job a similar job in St. Augustine for $15,000 more. Mike Bazanos, the Number 2 man in the department, applied for a division command post in Daytona Beach, a lower-ranked position than in Flagler that nevertheless would have earned him about $15,000 higher pay. He did not get that job. But Dennis Kline, anchor of the department's championship fire-rescue team–the team that won three world championships at a European EMS competition–left two weeks ago to take a job as a medic on Air One, Volusia County's emergency helicopter.
"I told Craig I don't want to leave here, I own a house here in the city, I love it here, my wife works for the county," Petito said. "I'm really not looking to leave, just looking for the pay." He hasn;t been called for an interview.
Petito is paid $78,000 a year. The pay range for the Daytona job is $81,052 to $143,578. Palm Coast's fire chief, Mike Beadle, makes over $100,000, and his second-in-command makes just under $100,000.
"In the past, a county job paid less than a city job, that was because county benefits were higher," Petito said. That's changed: benefits have been pared back, and "the low pay doesn't cut it anymore." Between the absence of raises, health insurance costs climbing almost every year, the state taking 3 percent out of state workers' paycheck for the retirement fund since last year, and the payroll tax returning to its normal level, Petito said he was netting 20 percent less than when he started the job as chief.
"It's not just me, it's the same thing for my wife, same thing for the guys who work in the field, same thing for anyone who works for the county," he said.
But commissioners are not in a pay-raise mood. Coffey had proposed raising county employees' pay by 3 percent next year, at a cost of $1 million to the budget. But the county is also facing a deficit, and on Monday commissioners said they'd be willing to grant a raise, but more likely one in the 2 to 2.5 percent range. That would essentially be a year's worth of cost-of-living adjustment rather than an actual raise, and it would not compensate for the previous five years' lack of a raise.
Daytona Beach posted the fire chief's job in spring, after the retirement of Fire Chief Jim Bland, and closed the posting in May. The job requires a Bachelor's degree in Fire Science, Emergency Medical Services, Public Administration, or a related field. Bland immediately took the chief's job in Holly Hill after stepping down in Daytona. According to the job posting, Daytona Beach was looking for a candidate with "10 years of progressively responsible full-time experience in an organized paid fire department or related municipal service, five of which must have been in a managerial capacity, preferably at the level of Battalion Chief or above with responsibility for personnel and budget management."
It is up to City Manager Jim Chisholm to cull through the applicants and appoint a chief. The city clerk's office said no finalist list has been drawn up yet.
The Daytona Beach Fire Department isn't much bigger than Flagler's. It has around 90 people total, compared to Flagler's 86. Daytona responds to some 19,000 emergency calls a year from seven stations spread over an area 62 square miles, and serving 65,000 residents, a figure that rises toward 400,000 during special events such as car races and spring break. The Daytona department has an insurance rating similar to Flagler County Fire Rescue's: a 3 (with 1 being the highest-quality rating, 5 being the lowest). Daytona's is the closest department to Flagler that has as high a rating. Palm Coast's rating is 4, Flagler Beach's is 5.
A minimum of three firefighters serve on each engine, as in Flagler County, and at times four. But Flagler County is working on a plan that may reduce its manpower to two firefighters on each engine in order to spread them more thinly across a broader area of coverage: western Flagler County residents have been asking for a station in their area. The county can't afford to add a station at current manpower ratios. By reducing the number of firefighters on each engine, it can add the station at no additional cost.
The Daytona department has had its troubles of late. Lt. Brad Lee Dyess, 41, a 13-year veteran of the department, was arrested last month on charges of threatening to kill his girlfriend, and was–according to Daytona Beach Police Chief Mike Chitwood–involved in an Orange County shootout in 2012. Dyess survived a shooting that left three rival motorcycle club members dead in Winter Springs.
Petito is married to Heidi Petito, the county's director of general services.