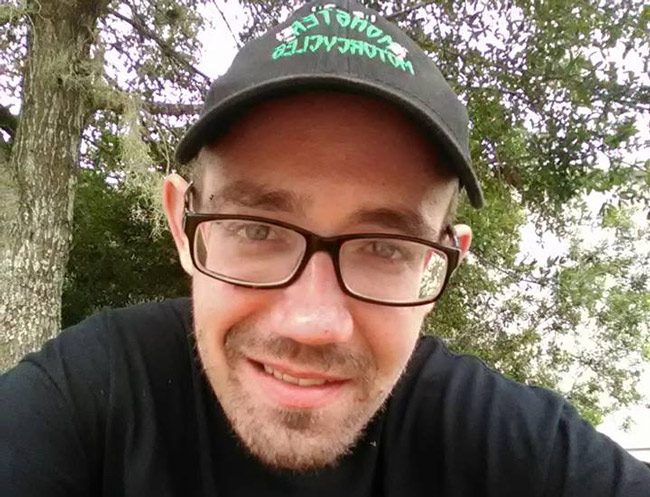 Don Guldenschuh Jr. loved motorcycles. He wore motorcycle gear. He featured his motorcycle in Facebook photos the way people feature their loved ones. He worked at Bunnell's Monster Motorcycles. He posted peans to motorcycles and memes with all sorts of motorcycle humor.
"Life is short," went the one that would turn out to be among his last a few days ago, "break the rules, forgive quickly, love honestly, love easy, keep it simple, ride often, ride FREE and never regret anything that makes you smile."
Saturday morning (Oct. 21), Guldenschuh died in a motorcycle crash.
The 26-year-old Bunnell resident was riding north on U.S. 1. It was about 1:30 a.m. He took the on-ramp at the intersection with I-95, likely on his way home. "For an unknown reason," as the Florida Highway Patrol put it in a release, he lost control of his 2002 Harley-Davidson. The motorcycle overturned. Guldenschuh was ejected. He was not wearing a helmet. He died at the scene.
The crash took place just a few miles south of the Flagler-Volusia county line, so Volusia County law enforcement and paramedics responded to the scene, as did the Florida Highway Patrol, which continues to investigate.
"This man was so amazing," Guldenschuh's brother, distraught, wrote on his Facebook page. "I will always love you bro!! You will live on in my memory of you! I miss you bro! Forever the best brother Ever!" Just three years ago, the siblings had lost their father, also a motorcycle enthusiast, to cancer.
Guldenschuh's appears to be one of three fatalities associated with Biketoberfest this year. Anthony Petro, 52, of Orlando, and Ronald Ackley, 61, of Eustis, who were riding in opposite directions on Tomoka Farms Road just hours before the Guldenschuh crash, were killed in a Friday afternoon head-on crash. It had officially been the 25th anniversary of the annual event.
The News-Journal reported earlier this year that "Close to 500 people have died in motorcycle accidents between 2005 and 2015 in Volusia and Flagler counties, and more than one-third of those accidents occurred during the area's two major biking events," Biketoberfest and Bike Week, in spring.