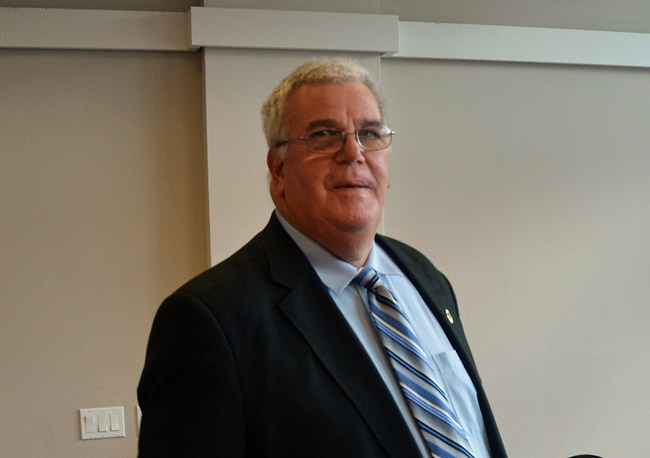 One by one, the loose ends at the conclusion of Sheriff Don Fleming's law enforcement career in Flagler County are being tied.
Earlier this week a state attorney's report cleared him of wrongdoing in his involvement in the case of Jamesine Fischer and the hit-and-run death of 76-year-old Françoise Pécqueur in November 2010. The state attorney found no evidence of anything illegal in Fleming's conversation with Fischer's husband, School Board member John Fischer, in the aftermath of the accident.
Next month, at its January 25 meeting, the Florida Commission on Ethics is expected to approve a settlement agreement between its advocate and Fleming regarding Fleming's ethics violation—his acceptance of a gift membership to the Hammock Beach Resort since around 2005, and of 20 percent discounts to meals that, over the years, added up to close to $20,000.
Accepting the gifts was not illegal. But failing to disclose them on his annual financial disclosure form was. Fleming never disclosed the gifts. When asked about them earlier this year, he defended his access to the club, saying the membership had no dollar value. The ethics commission disagreed.
On Oct. 30, Fleming signed a joint stipulation agreement that admits to the violations. Fleming agrees to pay a $500 fine—a relatively small sum, all told, and at the lower end of fines the ethics commission levies on violators. By agreeing to the settlement, Fleming waived his right to any further hearings on the matter.
The commission's investigative report on Fleming's relationship with the club was released in late June. The earlier revelation of his gift membership had damaged his standing some, in an election year, but not enough to keep him from winning the Republican primary in a three-way race.
Still, the ethics issue hung over his campaign, and his general election opponent, Jim Manfre, made much of it, along with the matter of Fleming's involvement in the Fischer case, and Fleming's refusal to fire a deputy who'd booked more than $8,000 worth of hours on his time sheet without actually working the hours. Fleming ended up losing to Manfre in a close race—by less than a percentage point, or just 332 votes, out of almost 49,000 cast.
Yet in the closing days of the campaign, Fleming, who projected an air of confidence in his chances,  did not disclose the settlement with the ethics commission (which may have favored him, considering the small fine), nor the state attorney's report clearing him in the Fischer case.