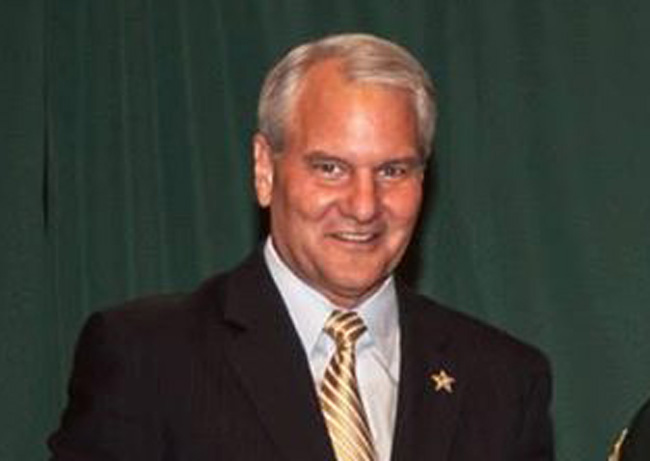 Don Eslinger has been the sheriff of Seminole County since 1990, when he was appointed by then-Gov. Bob Martinez. He was elected sheriff in his own right in 1992 and has been re-elected five times since. A Republican, he is one of the leaders of the "Don't Let Florida Go to Pot" campaign against Amendment 2, which would legalize medical marijuana.
Eslinger began his career at the Seminole County Sheriff's Office as a radio dispatcher in 1978. He later held a variety of positions in that office, then worked with the Federal Drug Enforcement Administration as a task force agent. Eslinger returned to the Seminole County Sheriff's Office as commander of the City/County Investigative Bureau.
Eslinger has a bachelor's degree in applied behavioral sciences from National Louis University and is a graduate of the Federal Bureau of Investigation National Academy in Quantico, Va. He also attended the Florida Department of Law Enforcement Chief Executive Institute and the National Academy of Corrections at the U.S. Department of Justice.
The News Service of Florida has five questions for Don Eslinger:
Q: How's the campaign against Amendment 2 going? What's your prediction?
ESLINGER: Well, the association has formed a coalition with about 137 other entities and other sheriffs, dontletfloridagotopot.com. The intent is to, obviously, inform Floridians of the amendment and how it's flawed. And I think it's going extremely well. It's a grassroots campaign, conducted county by county, community by community, neighborhood by neighborhood, to inform Floridians of the problem.
The latest poll numbers, about (53) percent in favor — I think that's a SurveyUSA-WFLA poll — with about (15) percent undecided. (To pass, the ballot measure must get 60 percent of the vote.) I think it's going extremely well, and I'm very hopeful that the numbers come out right for us.
(Why do you think the campaign has been effective?) Well, because — read the amendment. It's flawed, and once people understand and see that this is embedded into a constitutional cement, so to speak … people understand that it can't be fixed if there's some unintended consequences. There's no age requirement for a qualifying patient, no certification or education or training for a personal caregiver. The entire industry is held harmless, which is pretty fascinating. I can't think of any industry in America that you cannot hold accountable civilly.
So, yeah, I think it's working out. I think people understand that if there's some unintended consequences, it can't be easily fixed, and it's resonating with people.
Q: Talk about the incident in Bell, Fla., where a man killed his daughter and her six children before taking his own life. Is there anything that child protection or law enforcement can do to prevent such tragedies?
ESLINGER: Other than what I've gleaned in the media, I'm not too familiar with the case. I don't know the background. But I can tell you that in all the spree shootings, all the familicides that I'm familiar with, the common thread between all of these is untreated mental illness. And as you know, Florida ranks 49th or 50th in the country for funding with mental health services.
I think there's a valuable tool available to law enforcement, to service providers, that is underutilized, and that is the assisted outpatient treatment that I think would have a positive effect on our quality of life. But in short, controlling human behavior is very, very difficult, and we all struggle with understanding that crime is a symptom of other problems that we're experiencing. And that if we work well with others, with mental health service providers, then I think we can make a significant impact — and have, actually, within our jurisdiction.
Q: Also within your jurisdiction: Sanford after Trayvon Martin's death. Why did Ferguson explode after Michael Brown's death but Sanford didn't after Trayvon Martin's?
ESLINGER: Again, I don't know the background on Ferguson, but in general terms, I could tell you that whenever there's one particular incident that occurs that spurs civil unrest, obviously there is a problem with the relationship between law-abiding citizens of a particular community and law enforcement. The basic foundation of our strategy is partnerships with law-abiding citizens to work together to identify, nominate and to solve problems, require our deputies to be more analytical and have this good relationship. A core component to any relationship is communication.
So although the Trayvon Martin incident occurred within the city of Sanford, it was investigated by the Sanford Police Department, our organization assisted the city leaders and other faith-based leaders within Sanford to mend, to facilitate good, open communication. During that time period — I don't know if you know this or not —- but they had four police chiefs within that one-year period. From the tragic incident involving Zimmerman and Martin to the trial, there were four different chiefs.
So we worked hard with others to provide a safe, secure environment. The media reported tension and all that, but we didn't see that in Seminole County. I'm very proud of the efforts of all the men and women of our organization that worked hard with the citizens of the Sanford community as well as the surrounding area to provide an enhanced level of communication during that time frame. When Zimmerman was arrested, we immediately began planning for a stand-your-ground hearing, and then subsequently for the trial. And we worked hard on that and provided a great deal of effort to achieve a calm community.
The only tension that we saw was from outside the community. Many news organizations anticipated problems, but we didn't see the tension there. We really didn't. In fact, the organizer of the first protest came to us. He's a good friend of ours, pastor of a big church in Sanford, and explained that he's got Al Sharpton and others coming and needed our assistance. And we took the lead on that protest, demonstration, and all the others following. And believe it or not, not one arrest. No behavior, no harm was committed during any of these protests or demonstrations. There was not one arrest made in that entire year.
Q: Seminole County's juvenile detention facility is widely regarded as a model for such programs. Why has it worked?
ESLINGER: We devoted a great deal of resources within our organization to provide juvenile services, intervention services. We are one of a handful of sheriffs that conduct child protective services. We have our own juvenile assessment center. And juvenile detention was a great addition to the complement of programs that we have. We find it very beneficial to devote resources to intervene in a young person's life when there's maladaptive or delinquent behavior (that) presents itself. We work with the school board and other organizations to identify and to provide those services, with the hopes that once (the children) turn 18, they're on the right track, and we don't have to be concerned with their behavior as an adult.
The idea is that how we focus our attention and provide services now determines our success or failure as a community in the future. And our juvenile detention center is just one component to our overall strategy.
(Has Seminole County saved money by running its own juvenile facility?) Well, actually, it all kind of lined up. What happened in March of 2012 is that (the Department of Juvenile Justice) — I have a great relationship with (former) Secretary (Wansley) Walters and now (Interim) Secretary (Christy) Daly, and we do a lot. We have a very collaborative relationship with them. But they were going to close their facility in Seminole County. It was a building that was owned by the county that DJJ rented from the county, so we had the facility. They were going to move our children to a variety of areas — Orange County, Volusia County — and we thought it was the perfect time to move on this, and the commission agreed with us.
The first year, we saved $1 million. You know, DJJ does a great job, but we were able to provide a more comprehensive level of education and other services to our kids. And it's important that we engage in this type of programs and initiatives to have an overall impact of our quality of life. Our crime rate is the lowest it's ever been. Not just the rate, but some volume, like in burglaries. We've had less burglaries than we did in 1974, for example. So I'm really pleased at the collaborative environment in Seminole County, and our strategic approach to the overall quality of life, I think, has had an impact.
Q: There are people who say the sheriffs ought to provide child protection services, not the Department of Children and Families? Your thoughts?
ESLINGER: Yeah, well, that's why in 2000, when I had the ability to do it, I jumped at the chance. The idea is not just to protect children and families, but to provide a better service, more comprehensive approach overall, to our quality of life.
It's a fact that if a child is involved in delinquent behavior and/or is abused, neglected or abandoned, there's a 14 times greater opportunity for him or her to engage in that behavior in the future. So it's a great crime-prevention element, as well, to our overall strategy.
It's a tough job. We're running about 400 investigations a month, and it's difficult. But some suggested that it was a great risk for sheriffs to be involved in this, and I thought it was a greater risk not to.
–Margie Menzel, News Service of Florida