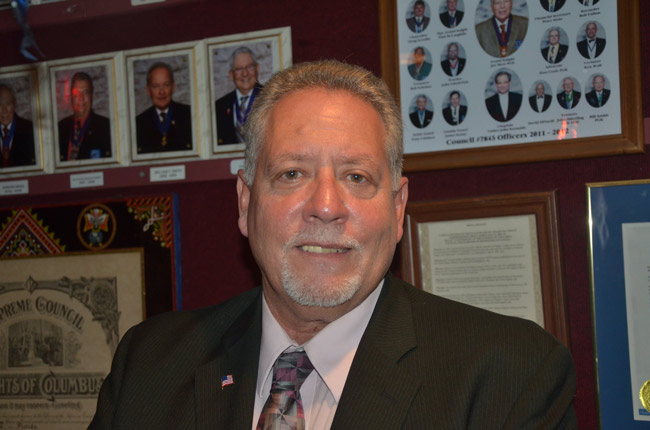 Perhaps one or two people very familiar with the Florida bar's disciplinary archives aside, if not one or two of the seven candidates running for Flagler County judge, no one could have expected that the Elian Gonzalez affair would suddenly become part of the background noise in that county judge  race.
Now it has.
The odd convergence is in the form of an unearthed public reprimand of Don Appignani by the Florida bar, dating back to 2002, delivered anonymously to local news outlets, just as a similar reprimand—concerning Marc Dwyer—was packaged and delivered to the same news outlets in May. Appignani and Dwyer are among the seven candidates running for that county judge position, which Judge Sharon Atack is resigning at the end of the year. The reprimands are public records.
Full Disclosures
If news outlets, this one included, were doing all the background checks they should be doing, the documents would have been unearthed independently. The fact that they were delivered anonymously doesn't diminish the reprimands' validity: they happened, they are a serious matter, they are part of the official record. But the manner in which they were delivered suggests that the judges' race is no less of a cutthroat contest than its other counterparts: Those are not readily accessible documents, and only a select group of people, usually attorneys who know each other (or their staff or their campaign volunteers), know of their existence.
The Dwyer cases have been written about extensively. The Appignani reprimand never has until now.
Appignani said he was going to disclose the matter anyway, because one of the questions sent by FlaglerLive to all county judge candidates addressed past disciplinary issues with the bar specifically. Appignani hadn't yet sent in his responses. (Those interviews will be published later this week.) Asked whether he would have disclosed the matter had such a question not been posed, he said: "I don't know how to answer that, because it was so long ago. It was more than 10 years ago."
He added: "The fact that it hasn't been disclosed is, number one, it was a long time ago, actually 11 years ago when this transpired, the final thing came down a little over 10 years ago. Number two, I adamantly say that I still feel I did not do anything wrong. To this day I'll say that. I said it back then. I'll email you my responses. It was a long time ago, it was a stressful period in my life, I did it to move on and to stop it from getting blown out of proportion any more. And that's where it is."
In the 2002 settlement with the Florida bar's disciplinary process, Appignani agreed to a public reprimand on two counts: violating the conflict of interest rule under the bar's Rules of Professional Conduct, and revealing the contents of an email against his client's wishes. The bar also concluded that Appignani "was not acting out of any dishonest or selfish motives" (Appignani had nothing to gain, and indeed gained nothing, by his actions), and that he was "remorseful." He paid $1,903 in court and administrative fees. He did not have to take an ethics class (as lawyers sometimes do after certain infractions). He had not faced any other disciplinary actions since being admitted to the bar in September 1997. He hasn't faced any other such action since the 2001 case.
From Elian to Appignani
It is a complicated case that took place in the swirl of the Elian Gonzalez affair, its politics and its scandals, involving Appignani only peripherally—as a labor attorney in Miami at the time—but involving him nevertheless to the point of having him appear on a number of television shows and in news articles when he represented a whistleblower involved in the affair. (Appignani's media appearances, of course, were related to his representation of a whistleblower, not to the Florida bar issue.)
You might want to slow your reading pace from this point on.
In 2000, Elian Gonzalez was the 6-year-old Cuban boy who'd escaped to the United States with family the year before. Elian's mother had drowned in the escape attempt. On April 22 that year, Elian was at the center of an Immigration and Naturalization Service raid in which the boy was seized and returned to his father in Cuba. The seizure was in accordance with two federal courts' rulings that only Elian's father could decide his fate, not his relatives in Miami.
Appignani was an attorney for the union that represented INS employees. One of those employees, David Wallace, had written an email to Wallace's union vice president, Jose Touron, 10 days before the raid, raising alarms about the way the INS was planning the raid. Wallace was concerned about INS employees' safety, saying  they would be "at risk of serious public reprisals." Touron took the email, added politicized comments opposing the seizure, and sent it on to his superiors.
What Wallace had written was "protected union speech," Appignani notes. What Touron had written was not. But the two emails got ruinously confused from that point on.
Conflicting Conflicts
When INS higher-ups read the emails, they detained Wallace, who was eventually demoted. The union hired Appignani to represent Wallace. Appignani was also representing Touron, but as a union representative on the usual grievance and contract negotiations issues, not in any way related to the Wallace issue.
During the proceedings, Wallace and Touron had a falling out, with Wallace's wife and Touron running against each other for a union position. Appignani was in the middle. He didn't think there had been a conflict of interest representing both men initially. Wallace filed a complaint against Appignani, charging that there was a conflict, that Appignani did not properly defend Wallace against allegations that he (as opposed to Touron) had politicized the email in question, and that Appignani had not properly explained to Wallace that there could be a conflict between his interests and those of the union.
Complicating the matter further was Appignani's entirely unrelated representation of yet another INS employee, Ricardo Ramirez, a whistleblower at the center of revelations of bigoted and unprofessional, anti-Cuban practices by INS employees during the Elian Gonzalez affair. The Miami side of the Gonzalez family had seized on any revelations that made the INS look bad to buttress its case through a high-profile legal team. Appignani was subpoenaed for a deposition. Along the way, he was asked about the Wallace and Touron email, the contents of which, Appignani said, had been disclosed by the INS earlier anyway.
"When I was first asked by Mr. Ramirez to speak to Mr. Guralnick [Ronald Guralnick, the Gonzalez family attorney], neither Mr. Ramirez nor I ever thought in our wildest dreams that this would receive the attention that it did," Appignani wrote in an 8-page letter to the assistant staff counsel at the Florida bar, laying out his version of events. (The entire letter appears at the foot of the article.)  "Although Mr. Touron and Mr. Wallace were named in the deposition as clients of mine, and the e-mail incident was spoken about, the news media never printed anything about the e-mail incident when the story first became public. At that time it appeared that the news media had no interest in the e-mail incident."
Appignani claims in the letter that had he not complied with the request to disclose the information, the email would have become even more publicized "and may have put Mr. Wallace at risk for much more news media coverage than he received." But Appignani concedes: "The one thing that I did not do was consult with Mr. Wallace before releasing the e-mail to the Gonzalez Family attorney's. As a sole practitioner, this was a very stressful period in my practice, and all the news media attention took a huge toll on both my personal and professional life. I truly believe that I did not benefit from the story. I did not do this with any intent to benefit myself or the Union, to injure Mr. Wallace, and at no time did I ever deceive Mr. Wallace as to what my intentions were." He added: "I still fail to see how my actions caused Mr. Wallace any injury or any potential injury to him."
"I Handled the Situation Correctly"
Wallace's name came out when Jay Weaver, a Miami Herald reporter, unearthed the deposition and the email from the court records and contacted Appignani for an interview. "I probably made a couple of mistakes. I'm not infallible," Appignani said in today's interview.  "One of them is I learned not to trust the news media, because they screwed me." He was referring to the Herald article, where he says he'd told Weaver that Wallace's involvement was focused on the safety of INS employees only and had nothing to do with the political ramifications and allegations of Touron's additional email. The Herald story did not make that distinction, and revealed Wallace.
"I still feel to this day," Appignani wrote in the letter to the bar, from May 2001, "that I handled the situation correctly, except for not contacting Mr. Wallace before giving up the e-mail, and that I did my best to protect his interest. If I did not give up the e-mail and talk to The Miami Herald reporter, I feel that Mr. Wallace would have received much more press and that there was a good chance that the press would have been worse."
He concluded: "I never at anytime felt there was a conflict of interest in representing both Mr. Wallace and Mr. Touron. Mr. Wallace did not like Mr. Touron, and that is why he did not want me to represent him. That is the only reason. At no time was the representation of Mr. Touron materially adverse to Mr. Wallace's. All along I felt that both parties did nothing wrong in sending an e-mail that included what the INS perceived as sensitive information, when the Department of Justice had released this same information to the news media two days prior to the e-mail."

Don Appignani's Complete Letter to the Florida Bar