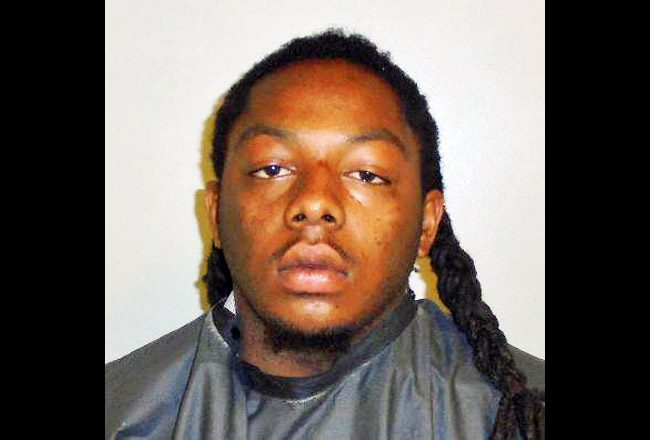 Dominic Neeley Jr., a 21-year-old resident of 41 Peppercorn Lane in Palm Coast, was arrested Sunday evening near his home after a chase from Dayton Beach, where he is accused of murdering a man in a dispute over his ex-girlfriend. The alleged murder took place just before Neeley fled for Palm Coast. A woman was also shot in the chest in the same incident in Daytona Beach.
The Daytona Beach Police Department reported that the shooting occurred at the Carolina Club Apartments (unit 105 or 109: reports are contradictory) on Carolina Lake Drive, off of Williamson Boulevard and south of LPGA Boulevard. Anthony Fields, 44, was found outside the apartment unit with multiple gunshot wounds. He was pronounced dead at the scene. His wife, Chaka Fields, 41, sustained a chest wound that was not considered life-threatening, and Fields's daughter, Chakera Fields, 21, was pistol-whipped and suffered a black eye.
Neeley and Chakera had dated at one time. police reported that Neeley called his mother, Pearl Hodges, 37, to the address. Once there, Hodges and Chaka Fields got into an argument. Neeley went to his car and allegedly retrieved a gun, shooting Anthony and grazing Chaka with a bullet. He then got into his black Dodge Charger and fled north.
It was just before 6:30 p.m. Daytona police units started chasing him but terminated the pursuit once Neeley got on I-95 heading north, where a Volusia County Sheriff's deputy picked up the chase at around State Road 40. Neeley did not stop, and was clocked traveling at 110 mph up 95. Another deputy joined the chase at U.S. 1, with all three vehicles continuing on I-95, at speeds exceeding 100 mph. A Flagler County Sheriff's deputy joined the chase at State Road 100.
Then Neeley abruptly took the Palm Coast Parkway exit. From there, driving at "dangerously high speeds" west on the Parkway, he went down to Belle Terre and took a left, going south, to Parkview Drive, speeding through various streets of the P-Section before driving behind the house at 41 Peppercorn Lane.
"Once at the residence," the Flagler deputy reported, Neeley "took flight from the vehicle on foot and ran to the West side of the residence where he was detained using handcuffs at 6:48 P.M without further incident." The Volusia deputy's report indicates that a deputy found Neeley standing, shirtless, a few feet away from his car. The deputy ordered Neeley to the ground. Neeley complied.
Neeley complained of chest pains and was taken to Florida Hospital Flagler, where, according to a report, he admitted to eluding cops. He did not want to stop, he told a deputy, because "he did not want to get shot by cops," according to a report. He was cleared at the hospital and booked at the Flagler County jail on three local charges–aggravated fleeing and eluding, resisting arrest and felony fleeing and eluding. But those charges are relatively minor compared to the charge on the warrant signed by Judge Matthew Foxman: first-degree murder.
Neeley was being held at the jail without bond, pending extradition to Volusia County. He'd been arrested once previously in Flagler, in 2015, on a fleeing and eluding charge and a charge of driving on a suspended license. He'd previously lived on Pierce Lane in Palm Coast.