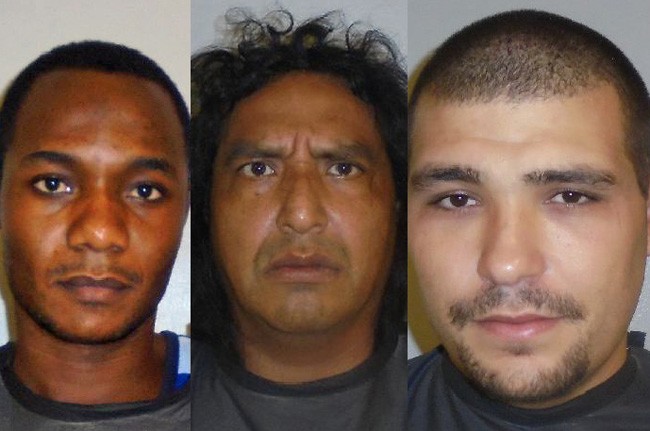 Three Palm Coast men ended up at the Flagler County jail in a 48-hour span following unrelated incidents that entailed allegations of substantial violence against women and girls–two of the men's spouses, a girlfriend, and one of the men's two teen-age daughters. All three incidents resulted in felony charges.
The first incident took place either Saturday or Sunday, Aug. 28 or 29 (the incident report is contradictory, see below) on Pratwood Lane in Palm Coast between Bryan Roosa, 26, and his 33-year-old wife as they walked down the street after visiting friends on Pratwood.
Roosa, according to witnesses at that address who spoke with deputies, started arguing with his wife after he claims other men were flirting with her and he became jealous. He tried to usher her out of the house by pulling her by the arm. Once outside, a witness said, he pushed his wife against the wall. The victim decided to stay at the Pratwood house for a while to calm things down, but Roosa returned a couple of hours later "demanding his wife to come home," an incident report states.
When the homeowner's boyfriend, Jammie Basham, 42, opened the door, Roosa allegedly punched him in the face, triggering a physical confrontation between the two men in the front yard. (A deputy later observed scrapes to Basham's elbows and knees and a contusion to the right side of his
face.) The alleged assailant's wife then emerged from the house and tried to break-up the fight as others in the house called 911. The couple then started walking away.
The victim "tried to downplay the incident" to police, the incident report states, saying the argument never got physical between her and her husband other than his slapping a drink out of her hand. She did not want to "divulge any more information and stated that she did not want Bryan to get into trouble." Her husband denied that anything took place at all, either with his wife or with Basham, then recanted, saying he didn't want to get Basham in trouble. He denied touching his wife or pushing her against the wall but acknowledged getting angry "about guys at the party touching his wife inappropriately."
It was Roosa's fourth arrest in Flagler in four years. In 2011 he was charged with theft from a vending machine. Three months later he was charged with dealing in stolen property. In mid-July,he was arrested for violating an injunction. When the Sunday incident took place, he was on misdemeanor probation, which resulted in a charge of probation violation in addition to his domestic violence battery charge. Bond was set at $1,000 on the battery charge, but no bond applies to a probation violation, so Roos remains in jail today.
The timeline of that incident is contradictory in the incident report, whose narrative begins by stating that a deputy was dispatched to a physical altercation on Pratwood Lane at 10:33 a.m. Aug. 29. The report notes elsewhere that the incident took place between 7:45 p.m. and 11 p.m. on Aug. 28 and that it was reported on the 29th at 11:01 p.m.
Deputies were alerted to the second incident when 911 got a 911 hang-up on Karas Trail in Palm Coast: the dispatch center is required to send police to investigate every 911 hang-up on the assumption that it could denote an individual in danger who may not be able to speak or make sounds at that moment. In this case the hang-up was preceded by a brief but explicit statement: "Get someone here to help me."
The address was at the home of Robert Bigwitch, 38, his 42-ear-old wife, and two daughters, 18 and 16.
Th women told police that Bigwitch had come home confrontational and angry in mid-evening, and started arguing with his wife. His daughters came into the living room to make sure their mother was OK, only to, according to them, cause Bigwitch to turn his anger on them as he "spit in both daughters' faces and pointed his finger in their faces." He allegedly told one of the women to pack up and leave, pushed the 18 year old against the wall, threw threw beer against her and tried to head-butt her, striking her lip instead, and allegedly punching her in the shoulder. Her younger sister told police that he attempted to choke the 18 year old "then tried to punch" the girl "to knock her teeth out," according to his arrest report. (The younger girl hid in a closet and called 911.)
Bigwitch would calm down periodically only to resume his outbursts, the women told police, and at one point made his wife promise "we would be dead by tomorrow." As the confrontations continued the 18 year old kicked Bigwitch into a wall, causing him to jump back at her.
There was no answer when deputies made their presence known at the Karas Trail home. But then two women came running out of the house, "hysterical," according to an arrest report. They told the deputy that the 18 year old was in the house and that she was being attacked by Bigwitch, who soon appeared in the deputy's line of sight and complied with the deputy's directions. In his interpretation of the evening's incident, he said he came home the women yelling at him. He denied touching anyone, saying he put his head down in self-defense and rolled over. He said he'd been at a bar "like forever" beforehand, but when asked if he'd driven home, he stopped talking and asked for an attorney. His knee was bleeding and he appeared to have an injury on his right hand and neck.
He was arrested on a charge of domestic battery by strangulation (a felony) and two misdemeanor counts of domestic battery violence and taken to the Flagler County jail, where a breathalizer test produced a reading of 0.4 blood alcohol level (the legal limit for drivers is 0.08 in Florida.) Charges have since increased to five counts of domestic battery violence. He posted bail on $4,000 bond and was released.
The third incident took place Sunday afternoon. A deputy responded to a Plateau Lane address in Palm Coast, where the alleged victim, a 37-year-old woman, told police that her boyfriend of five years, 28-year-old Garfield Simpson, had assaulted her.
Simpson, she told police, had been looking through her phone and seeing what she'd been saying about him to her friends. (She'd not been saying very nice things.) She got angry. He told police she grabbed a knife and went into a bedroom, where an altercation between the two unfolded–without the knife. He allegedly slapped her and pushed her down, she allegedly bit him before a witness separated them.
But the argument soon resumed and, according to Simpson's arrest report, "he went to the kitchen and he grabbed the kitchen knife and put it against her neck, causing it to break skin."
Simpson was charged with aggravated battery and battery domestic violence before he was released on $3,000 bond.

Two Men Arrested Following Burglary in Flagler Beach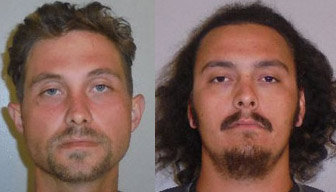 Bradley Douglas Pyles, 27, of Cincinnati, Shawn V. Olique, 27, of Lexington, Ky., were each charged with burglary of an occupied dwelling and grand theft after a Flagler Beach resident on 37 Bulow Woods Circle Tuesday reported that two men had forced their way into his house by breaking through two glass and wood French doors. When the resident screamed at the men, they fled in a white Kia that was soon spotted by a patrolling deputy near Big Al's Bait and Tackle on North Flagler Avenue.
The Kia, deputies discovered, had been reported stolen in Kentucky on Aug. 26. The traffic stop was conducted with help from Flagler Beach police. A 22-year-old Norwood, Ohio, woman traveling with the men was found not to be involved in the alleged burglary.
Detectives from the Flagler County Sheriff's Office Investigative Services Division conducted additional interviews and determined the trio were traveling north from Miami when they stopped in Flagler County. Of the three, the two men were determined to be involved in other burglaries that occurred in several jurisdictions in Florida and Ohio. Detectives are contacting those agencies.