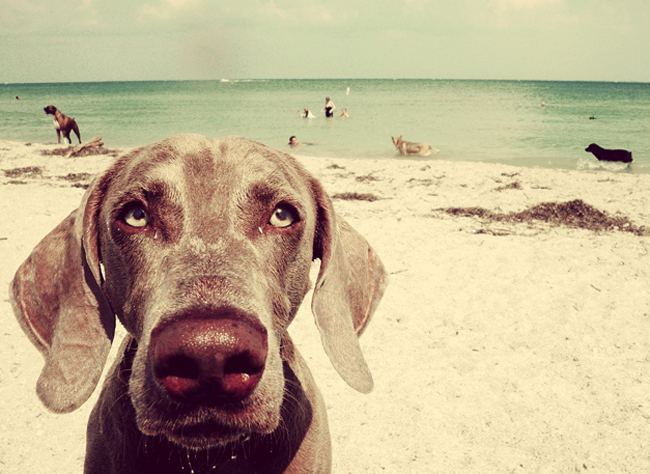 Vicky Mulvaney lives within hearing distance of the surf in Flagler Beach, just below North 17th Street. She's been there 20 years. She likes to walk on the beach. At least she used to. She hasn't been walking the beach, at least not pleasurably, and no longer as often as she used to. The reason: loose dogs are making it difficult for her to stroll without getting jumped. When dogs aren't the bother, their owners are the rude ones if she asks them to follow the law and curb the animals.
"I've lost my freedom to walk the beach un-accosted by dogs," Mulvaney says. "Every few months I say oh well maybe it's going to be different this time, and I go over, and it's the same issue."
No dogs are allowed on the beach in the 20 blocks between North 10th Street and South 10th Street. Mulvaney could make her way down there, though it's not a short distance from her home, and she asks: "Why can't I go to my own beach in front of my house? Why do I have to make the sacrifice, because we don't have the resources to enforce it?
Outside of the 20-block no-dog zone, dogs have to be leashed, and the leash may not be longer than 8 feet. Some people flout the rule. According to Acting City Manager Bruce Campbell, there's been 54 citations in the last year half of them Flagler Beach residents, the other half to out-of-towners, which would include Palm Coast and Flagler Beach residents. The fine is $38. Most of the citations are for dogs running around without a leash in the lash zone, rather than dogs being walks in the no-dog zone.
On Thursday, Mulvaney will appear before the Flagler Beach City Commission to ask that dogs be prohibited anywhere on the city's beach, just as they are in the 20-block core area of the beach. If the city doesn't think the dogs are a safety hazard, she will argue, then the city should open up the 20-block area to dogs.
Mulvaney's plan unleashed an onslaught of emails to commissioners, and coordinated activities in what looks like an organized campaign, including fliers around town, to hedge off any possibility of such a change in the ordinance. City commissioners Jane Mealy and Marshall Shupe have each received upwards of 100 emails, one of them from a dog called Buddy Shunk, almost all opposed to a change in the ordinance. Commission Chairman John Feind received many, too, though he says he doesn't keep track of the number. None of the three commissioners is inclined to change the ordinance, hearing people's request to, in Shupe's words, "leave well enough alone."
"We've got to listen to what the people have to say and make a decision based on that," Feind said. "Having said that, I'd be surprised if we changed the ordinance."
Mealy hadn't yet looked at Tuesday's batch of emails on the matter. She knew there were plenty. She'd received  60 until, then. "Of the 60 that I had, all but one in favor of keeping this the way they are now," she said.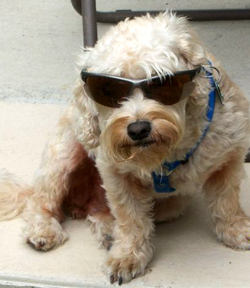 Among them this bit from a poodle that knows his way around a keyboard, though he's a bit loose with the ellipses: "I've been enjoying the beach almost daily since I moved here and now I might not be able to go…but why?  I'm a good dog—I stay on my leash and keep to myself, I don't bother anyone . . .sometimes beach goers want to pet me and play. . .I am always very respectful of everyone. . . why pick on us dogs who love Flagler Beach so much. . .sure, ticket or remove the problem dogs and dog owners, but don't ruin it for the rest of us." Buddy Shunk has his own email address, too:  [email protected].
Amy Morse, a human being from Annette Street in Flagler Beach, who owns a labrador retriever, asks the commissioners not to follow Daytona Beach's and Ormond Beach's ban and note that her retriever is a hit with people, who come over to pet him. "I have lived in Flagler County for 36 years and in Flagler Beach for 16 of those years," Morse wrote. "Our beautiful town is known far and wide as a sort of 'time warp' town – a town where old fashioned values still exist – where neighbors watch out for one another without needing a 'neighborhood watch' sign – where freedom still exists (homeowners can paint their homes the color(s) they choose) – and where responsible dog owners can still enjoy strolling along the surf with their equally well behaved dog."
Others point to the town's dog-friendliness as one reason why people bring their dogs there from out of town, staying at local motels, shopping in local stores.
"We pay higher taxes, gas prices, and sacrifice our drive time, just to be able to come home to this," writes Michelle Nord, a seven-year resident whose dog Max "has several doggy friends that he plays with at the beach." She adds: "Please don't change our lifestyle! Please don't make us like everybody else."
And Susan Burke March took a track right out of the Michelle Obama playbook: "As my husband Ken said, dogs are the perfect solution to our obesity epidemic…witness this recent article in the NY Times. Forget the treadmill: get a dog."
There is the matter of dog shit. But Tom Gillin, the city's parks and recreations director, says there's been "very little. Once in a while we'll come across it. Then again if we get a high tide, it's going to wash away." During the summer, the city's lifeguards patrol up and down from city limit to city limit to enforce the leash ordinance. But during the colder months there's less of a code-enforcement presence on the beach proper, Gillin said.
Mealy is proposing that a leash-free zone be designated somewhere on the beach as one way to possibly reduce violations of the leash provision: if people know they can let their dog run free in a particular area, they'll be less likely to violate the ordinance outside of it, just as most violations today are not found in the dog-free zone, which is easy to police.
Many dog owners use the language of gun owners to justify what they see as their rights: they follow the rules, they ensure others' safety, they clean up, and they don't want to see the miscreant behavior of a few others demolish what rights they have.
"People are so romantic about their animals, 'I want Rover to be with me on the beach,'" Mulvaney says. But she wants to have what she considers her own rights back, too, though she doesn't have illusions about what's ahead. "I don't expect to get much out of it but I'm going to do it anyway, because after this I might pull a Conklin and start suing the city for safety issues."