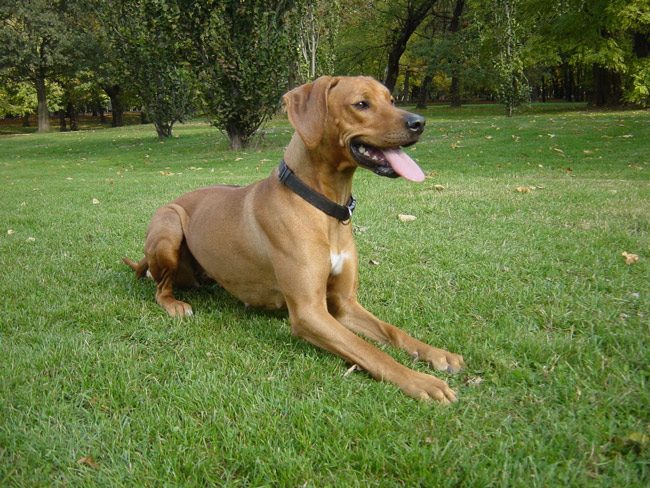 Monday afternoon a small dog—a Shih Tzu–belonging to Sharon Strindholm at 62 Pine Crest Lane in Palm Coast crawled, unleashed, under the fence separating the property from Joshua Guyette's, at 55 Pine Croft. The two properties' backyards adjoin.
Guyette, 41, owns a Rhodesian Ridgeback, a largish dog of a breed with hunting and guarding in its blood. The dog attacked and bit Strindholm's dog in front of Guyette. Guyette is disabled, so he wasn't able to immediately get his dog. Once he got there and was able to get the Shih Tzu released from the large dog's grasp, Guyette noticed the dog was dead.
Strindholm's father came over to retrieve the smaller dog. Guyette apologized, and the man left, the issue apparently over with.
But soon after, according to a Flagler County Sheriff's report, Strindholm, 53, walked over to Guyette's property "and began to yell and curse at Joshua and his wife, Christina." Guyette's wife, 41, felt threatened and asked Strindholm to leave several times. Strindholm was then joined by her daughter, Tara Strindholm, 35, and the yelling continued. Christina told them she would "defend herself and her property if necessary," the report states, and asked a neighbor to call 911.
The Strindholms eventually went back to their property.
When a deputy arrived at the Strindholm's house, however, matters deteriorated again. The responding deputy was Sarah Casey, a young recruit sworn in a year ago. She knocked on the door and stepped to the side for her safety, as she would have been told by the 911 dispatch center of the earlier altercation between the neighbors and had reasons to take precautions. Sharon Strindholm answered the door "and immediately asked me in a gruff and aggressive manner why I was standing off to the side 'in the bushes,'" Casey reported. Strindholm then got alternately upset about her dog, cursed out her neighbors, criticized the deputy for hiding in her bushes and having a "bad attitude," and after requesting another deputy, told Casey to "fuck off" though Casey attempted to get a report on the incident.
Strindholm continued to scream obscenities at the deputy as Casey walked back to her patrol car. Later on her Facebook page, Strindholm unleashed a string of obscenities on the "Palm Coast police," deriding Casey's physical appearance in bigoted terms and calling deputies racist. The deputy, Strindholm and her neighbor are all white. Strindholm says her grandchildren are black. "She feels threatened because my grandson and his cousin are over 6ft and black and had hoodies on cause its cold!," she wrote in the post that evening before further criticizing local cops in general. (Strindholm on her Facebook page copies memes that compare the Congressional Democratic caucus to the KKK, Michele Obama to an animal, and Muslim converts to slaves).
A few minutes after leaving Strindholm's house, Casey again got a call from dispatch that a verbal disturbance had erupted between the same two sets of neighbors.
The Guyettes told Casey that both Strindholm had returned to their property, causing a disturbance and refusing to leave. As Casey was speaking with the Guyettes, Tara Strindholm walked toward her with the xdead dog in her arms. The deputy asked her to return to the house. Strindholm refused. She walked up to the deputy and said: "Why are you scared? Look at the dog!" Then Strindholm's mother stormed out "and began yelling and screaming."
"I told both of them to go back to their residence or they would both be arrested," Casey reported. "Both females initially refused and I told them again to go to their residence and sit down on the ground. I again stated they would be arrested if they failed to comply with my lawful order. Both females finally complied and sat down and I told them to calm down." Other deputies arrived. While attempting to gather additional information, Sharon Strindholm called the deputies on scene "racist pigs," according to the report.
The Guyettes declined to pursue charges following the alleged threats from their neighbors, and were advised to fix any un-mended part of the fence between the two properties. Animal control was contacted.
Less than two weeks ago at Canopy Walk, a large dog attacked a Yorkshire terrier and its owner, James E. Bennett, who'd been walking the dog. The attacking dog killed the Yorkshire and severely injured Bennett, 79, who died of a heart attack three days later.