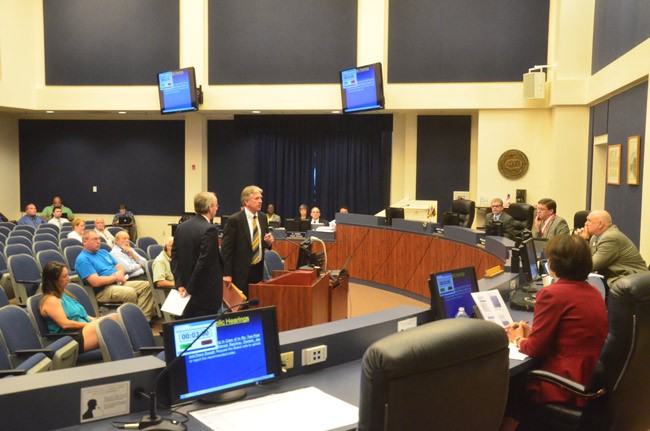 The Flagler County Commission this morning declared dangerous a dog that bit an 8-year-old boy visiting an Eagle Rock home in early July. The commission's 4-1 vote went against the recommendation of a hearing officer, who found that the dog was acting in defense of its owners' home and was reacting to what amounted to a trespassing, uninvited person walking into the house.
"A trespass did not occur, because historically the young man was invited to the house, thus giving, to my opinion, the implied consent," Commissioner Nate McLaughlin said, making his motion. "No judgment on the dog," he said.
Commission Chairman Frank Meeker offered an almost impassioned dissent, siding with the hearing officer's findings, but his voice did not carry at the end of an unusual hearing that drew widespread public reactions–some of it before commissioners–the involvement of lawyers representing both families, and the possibility of a continued appeal. The case would move to county court should the dog's owners, Jay and Dawn Sweatt, choose to appeal the commission's decision.
"You see this kind of in a criminal context sometimes where people are trying to justify things, well, the girl ran into the dog's tooth is basically what he said at the hearing," Dennis Bayer, who was retained by the family of the 8 year old, said in reference to a case he was using to illustrate the Eagle Rock situation. "They don't know if the dog bit her or she ran into the dog's tooth." He also cited the case of the retired police officer bicycling with his wife by the property of the Sweatts in 2014, when the dog, called Bacchus, appeared threatening (though Bacchus was on its owners' property) and the retired cop felt compelled to fire a warning round against the dog.
"Really what we're focusing on is this concept of unlawful entry," Bayer said, discrediting the claim that the boy, 8-year-old Ricky Westfall, had somehow trespassed or had entered the house uninvited, provoking the dog (as hearing officer Charles Cino had concluded). "If you look at the testimony, particularly on Dawn Sweatt, she testified that on numerous times before this young man had entered the home without knocking or ringing the doorbell, numerous times," Bayer said. "To me that's an implied consent to allow this child into the house." There was no testimony about trespassing the child or telling his family to quit sending him uninvited.
That's the key detail commissioners seized on to reverse the Cino recommendation.
That's not how Vincent Lyon, the attorney the Sweatts retained, said happened. "What happened that morning, someone came to the door, made a lot of noise, agitated the dog, the dad comes down, opens the door and tells him to leave, so in the dog's eyes, the Alpha comes and chases away the intruder," Lyon said, referring to the first time Westfall went to the Sweatts's house that day. He returned to the house half an hour or an hour later, though Jay Sweatt had testified of telling Westfall not to return until he'd been called. "The second time the door opens, there's no Alpha around. The dog is on his own. The dog does what he thinks the Alpha has just done an hour ago."
"There is competent, substantial evidence that he let himself in," Lyon said. "The facts clearly showed that he'd been told not to come in, he had returned without being informed that that had been lifted. He let himself in. And yes this is a terrible thing, and yes the Sweatts wish that a burglar had come in that day instead. But it does no one any good to punish the dog for doing what a dog, a sentry on the house, is supposed to do. It doesn't help anyone to punish this dog, and it certainly could possibly make things worse, certainly for the 8-year-old child whose beloved pet this is." He said the punishment could "result in the animal losing his life."
The case is unusual in the sense that dangerous-dog declarations are usually handled at a lower, administrative level: a local government's animal control division does it, abiding by a legal process of its own. But dog owners have due process–the right to appeal such declarations. The Sweatts did so. The county appointed a hearing officer to present a recommendation following two hearings before the officer. The county commission is not bound to go with that recommendation. It must make a decision on its own, but also explain why it would go against a recommendation. The case is then presented, as it was this morning, before commissioners in a quasi-judicial setting, though members of the public–because it's still a commission meeting–are also afforded a chance to speak.
Commissioners drew on their personal experiences to frame their positions on the matter. "I'm not a pet owner have plenty of friends who have them and friends whose homes I visit," Barbara Revels said. "I cannot be around a particular friend's pet for months, I mean many months, and yet when I go to their house that dog will recognize me. That's not a dog I'm allowed to pet. The dog itself doesn't like to have your hand in its face. You can play with it but you can't poet it. But that dog will know me after many, many months, and I just find that Bacchus should or did know the child that was bitten,, and that any family that has to lock up or put dogs away any time anyone enters their house tells me that they may have behavior issues."
Commissioners Nate McLaughlin and George Hanns echoed Revels's statement, recalling dogs in their experience who had long memories and noting how Bacchus had to be confined at times. "I believe that a dog that doesn't like somebody might snap at them, or nip at them," Hanns said. "But for a dog to go into the attack and go for the face, that is pretty vicious in my opinion."
"When you talk about life experiences with animals of this size, I've had a bunch of it," Meeker said, after his colleagues spoke, citing his long list of dogs since he was in seventh grade. "I currently have a rambunctious 45-pound Wheaten Terrier that goes bananas when the doorbell is rung and I had to throw her into the bathroom area just to allow people to come in the door. Three minutes later she's calmed down and everything is good. So each dog reacts to things differently. And the one thing I know about labs, I've been dealing with them for a number of years, is that they're very territorial and protective of two things. They're very protective of the house, and they're very protective of women and children."
Meeker was almost contemptuously dismissive of some of the testimonies presented. "I have a hard time," he said, "declaring a dog a dangerous dog or an aggressive dog or anything else, whatever we're trying to claim, based on the testimony of one 8 year old that doesn't know what school they go to or another 8 year old that doesn't know what a week is, and the only other person that was there present was a 12 year old that says she was in another room." What a week is or what school the child went to was not relevant to the case, however, as was the dog involved and the incident surrounding that dog, which the children testified to clearly, if in conflict with each other.
"So the only testimony you really have to rely on are three children," Meeker said. "I have a really difficult time going after it on that, especially at the young tender ages of 8."