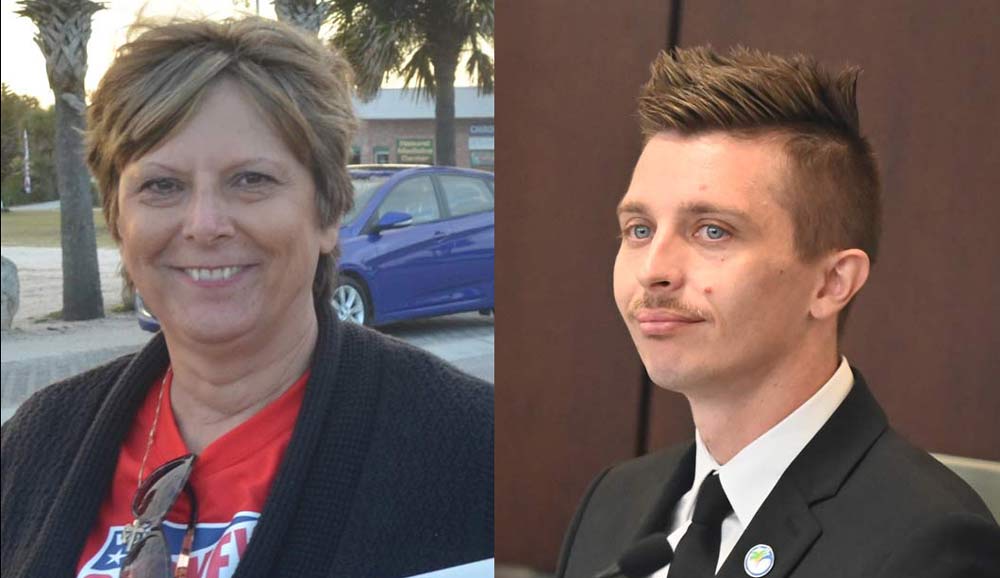 Kim Carney, who fell less than 500 votes short of defeating Dave Sullivan four years ago in the Republican primary for County Commission, will run again in the 2024 election, this time for an open seat: two-term Commissioner Sullivan, who would be 83 at the beginning of a third term, is not going to defend his seat.




She joins a growing field for the District 3 seat that so far includes two other Flagler Beach residents, Bill Clark and Tom Hutson, and does not yet formally include the race's heavy-hitter: Nick Klufas, the two-term Palm Coast City Council member. Klufas, 35, a software engineer, said today he has secured the paperwork and was intending to file in the near future. He'll be the third contestant in the Republican primary.
Fellow-Palm Coast City Council member Ed Danko is also making a bid for a County Commission seat–the District 1 seat held by Donald O'Brien, who's running for a state House seat. Danko, 69, is so far facing one opponent in the Republican primary, Victor Barbosa, his former colleague on the Palm Coast City Council. The two had not exactly been a pair after they were elected in 2020. Barbosa, 43, resigned his seat in March 2022 after a tumultuous 16 months.
No one has yet declared for County Commission District 1, the seat held by Andy Dance. Dance resigned his seat on the school board in 2019, after 11 years, to run for the District 1 seat Charlie Ericksen–who just died–was leaving at the end of his term. In a battle that unfortunately paired two of the most centrist and  astute candidates against each other–meaning that one had to be wasted–Dance, a Republican, defeated Corinne Hermle, one of the rare serious Democrats to attempt a run in recent years. Dance took 62 percent of the vote. (For the record: Dance said he is "definitely running for reelection" and will be filing this month.)
He had been uncontested in two of his four school board races, winning his other two by 16 and 20 points. It would  be surprising if a candidate challenged him in 2024, the outcome being all but foretold, especially since Dance's commission tenure has been the strongest on a board that had been stocked with weak, disengaged or  tawdry officials until Leann Pennington's arrival in late 2022.




Carney, 67, served three terms as a city commissioner in Flagler Beach. She was Sullivan's only opponent four years ago, in what was an open primary–voters of all affiliations or non-affiliations could vote, because there was no declared Democratic or independent candidate, and there was no general election. Carney ran for Flagler Beach mayor in 2021, losing in a three-way race to Suzie Johnston in Johnston's first bid (Johnston got 50 percent of the vote, Carney got 25 percent).
In her second County Commission race, Carney is facing one Republican in the primary (so far) in Clark, 62, a Flagler Beach resident since 2010 and an accountant who's "run several large companies," according to his webpage, and led a sales team. He's focusing on environmental protection of the county's landscape, trees and beaches, and "responsible growth." (He did not return a call before this article initially published.)
Open seats tend to draw more candidates than undefended seats, so the field may yet grow. Democrats have not yet shown signs of life in any of the 2024 county races: all 12 candidates who have filed for seven races are either Republicans or independents, at least by official affiliation: Many candidates have realized that to get elected to any of the county's 38 seats, running as a democrat for any office, other than mosquito control, is more of a sacrificial than realistic exercise: today, Registered Republicans make up 46 percent of the Flagler electorate. Democrats are at 26.6 percent, outnumbered by Independents and minor-party affiliates, who are at 27.5 percent.
The primary winner will face at least one opponent: Hutson, 78, also a Flagler Beach resident, who is running as an independent–a tall order: No independent has ever been elected to a commission seat, though a few have tried. Hutson, now retired, was a former road deputy and police chief, a probation manager, and manager of the DeLand office of the Department of Children and Families. As a commissioner, he would focus on budgeting, finance and contracts.




Unusually for a County Commission race, at least in Flagler County, the District 3 race is featuring three candidates with master's degrees: Carney's is in business administration, Clark's is in accounting, and Hutson's is in police administration. Klufas doesn't have an MA, but he has built a reputation as one of the sharpest, quickest minds among the 38 elected officials in the county.
Sullivan has intentionally kept mum about candidates in the 2024 race, declining to give preference to one or another, at least so far. "I want to be very careful about what I say or do on that, I don't know if I'll be endorsing anyone," Sullivan said previously. Klufas, he said, has talked to him about running. "He's done a good job on the city. I don't want to go in and say much more than that. He has one really big thing going for himself,  he's younger, and I like younger people getting involved and staying involved."
Put another way, Sullivan was born when FDR was just starting his third of four terms (FDR died early in his fourth term). Klufas was born in th final months of the Reagan administration, which had tried hard, and failed, to dismantle the New Deal. 
The primary appears a long way off: it's in a little over a year, on Aug. 20, 2024. But the presidential primary is on March 19, in an election year expected to be as active and raucous as any in recent memory. All five constitutional offices are up, as are two school board seats, two Palm Coast City Council seats and the Palm Coast mayorship.