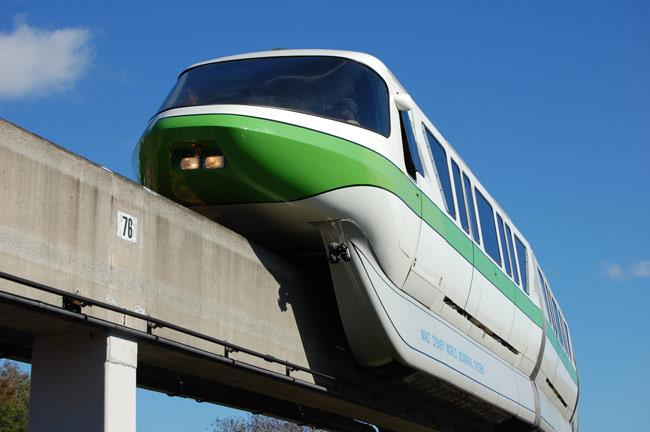 Walt Disney World's monorail system opened with two routes on Oct. 1, 1971, the day the $400 million, 100-acre park first opened. One route traveled between the Magic Kingdom and the Transportation and Ticket Center, the other from the transportation center to the Contemporary Resort and the Polynesian Resort. A third line, the Epoct loop, was added when Epcot opened in 1982.
The three lines run 11 color-coded trains (12 before a July 2009 accident) on 14.7 miles (23.7 k.m) of elevated concrete tracks at a maximum speed of 40 mph (pilots cannot override the computer-controlled limit). Trains are manufactured by Bombardier Inc., the Canadian manufacturer of trains, planes and, until recently, weaponry. Current models, powered by a 600-volt electrical system, have been in service since 1989. The six-car trains have a capacity of 364 passengers and carry some 150,000 passengers per day.
The system's relatively good safety record was shattered on July 5, 2009, when a human error led to the head-on crash of two monorails and the death of a monorail pilot, 21-year-old Austin Wuennenberg of Kissimmee. On Nov. 5, Disney put into service the "teal" monorail, built from the undamaged remains of the two trains involved in the July wreck. A 12th train is scheduled to go into service in 2010.
The July accident wasn't the only inglorious moment for the monorail. Richard Nixon, mired in the Watergate scandal, delivered his infamous "I am not a crook" line during a news conference with newspaper editors at the Contemporary Hotel on Disney's grounds, in the shadow of the monorail, on Nov. 17, 1973–the same news conference where he lied about secret White House tapes of phone conversations he said did not exist.
[media id=2 width=250 height=50]
No sum-up of the monorail system would be complete without this coda: "Please stand clear of the doors. Por favor manténganse alejado de las puertas"–two of the most celebrated phrases at Disney. It was recorded by Jack Francis Wagner (1925-1995), the official park announcer until 1993.