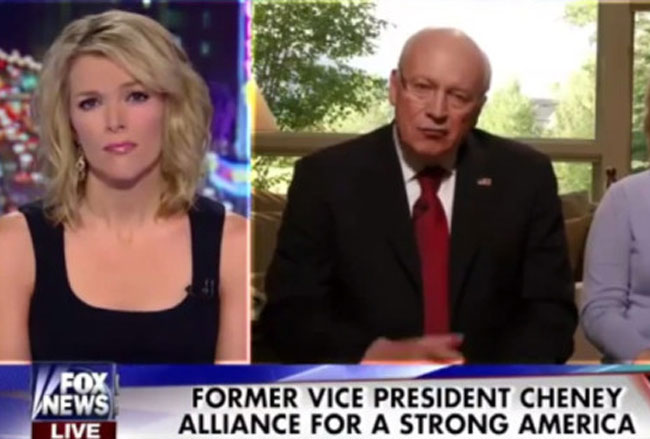 By now I'm sure you've had your fill of all the online congratulations tossed at Fox News's Megyn Kelly for simply asking the right questions of former Vice President Dick Cheney. (See the interview below.) It's a little like congratulating a carpenter for hammering a nail, but, after all, it is Fox News. Kelly played it safe of course, by using an appropriately angry column by Paul Waldman in The Washington Post as a stand-in for her first question, but the question did put Cheney in the position of explaining exactly how he has the nerve to blame the current situation in Iraq on President Obama.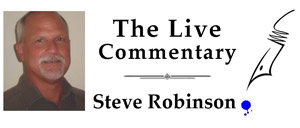 Cheney has once again risen from the muck to write a shameless opinion piece in The Wall Street Journal as a way to promote a new organization he and his daughter Liz have launched called The Alliance for a Strong America. Cheney has to start a new organization through which to spread his lies because his old organization, the Republican Party, wants nothing to do with him.
To hear Cheney tell it, Iraq was in fine shape when he and George W. Bush handed it off to Obama in January 2009. Five-and-a-half years later, with Baghdad in the crosshairs of an army of Sunni militants, the whole thing is Obama's fault. This is such a stupendous lie that were it not coming from the lips of a man with more blood on his hands than a Mesopotamian flood we could simply ignore it. But it's Cheney and he has the floor.
Sitting beside his daughter Liz for nearly 11 minutes on Fox, Cheney not surprisingly defended the Bush administration by saying that everyone was in favor of invading Iraq, including "Bill Clinton [who did not have a vote at that point] and Nancy Pelosi." Kelly did not have the chops to remind him that the votes to authorize military force against Iraq were based on lies told to the world by Bush and Cheney, as well as then-Secretary of State Colin Powell in his career-ending appearance before the United Nations.
I frankly don't think Cheney has an audience anymore—after all, daughter Liz couldn't even muster enough support to stay in a Senate race back home in Wyoming—but that's not what troubled me about Kelly's interview with Dick and Liz. While Liz sat mute for the first six minutes of the interview, not once did Cheney refer to our twice-elected chief executive as "President Obama." He called him "Barack Obama"—the syllables uttered as if Cheney were choking on a tough piece of beef—"the White House," "the administration," "this president," and, finally "he."
It is no accident that this loathsome man, who was a heartbeat away from the presidency for eight years, refuses to call President Obama by the honorific to which he is entitled, and by which all presidents and vice presidents refer to their predecessors and successors as a matter of courtesy and respect. It is a way of sending a message to the few who still think that Cheney has something to say that Barack Obama is not rightfully the President of the United States. Am I making too much of this? I think not—Kelly concluded her "tough" interview with the Cheneys by asking Liz if she believes President Obama is "dangerous." Young Liz—failed Senate candidate and State Department "Deputy Assistant Secretary by Virtue of Her Last Name"—answered in the affirmative.
Liz Cheney, whose father lied us into a war that cost this country trillions of dollars and 4,486 dead service members—not to mention the tens of thousands who are suffering from lifelong wounds both physical and psychological—had the nerve to say that President Obama (she did call him that) has presided over a "weakened America."
The only thing that has weakened the United States of America in the eyes of the world is its colossal arrogance in invading a country ruled by a madman who represented no threat to our shores, and was not even a serious threat to his neighbors. The current nightmare in the Middle East—Iraq, Syria, Libya—has its roots in sectarian hatreds that go back centuries. No one expected George W. Bush to solve them, but we relied on him and his minions not to make things worse. That they did, and are now blaming it on Barack Obama is not just shameless, it is disgusting.

Steve Robinson moved to Flagler County after a 30-year career in New York and Atlanta in print, TV and the Web. Reach him by email here.