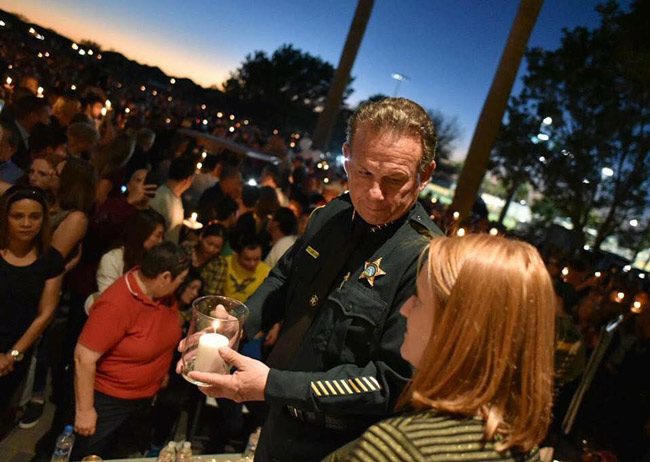 Quickly using his power, Gov. Ron DeSantis on Friday suspended embattled Broward County Sheriff Scott Israel, accusing the law enforcement chief of "neglect of duty" and "incompetence" related to the mass shooting at Marjory Stoneman Douglas High School last February.
Israel, a Democrat first elected in 2012, has faced fierce criticism for his agency's handling of the Parkland shooting, in which 14 students and three faculty members were killed and 17 other people were injured. Speaking to reporters shortly after DeSantis' announcement, Israel vowed to contest his ouster.
DeSantis earlier Friday removed Okaloosa County Superintendent of Schools Mary Beth Jackson from her position, citing what he described as "dereliction of duty" laid out in "scathing" grand jury reports. DeSantis, who replaced Jackson with Assistant Superintendent Marcus Chambers, said he based the suspension on a recommendation by Education Commissioner Richard Corcoran.
Flanked by family members of the Parkland victims at a news conference near Fort Lauderdale, DeSantis announced he had suspended Israel and named Gregory Tony, a former sergeant with the Coral Springs Police Department, as the sheriff's replacement. Tony will be the county's first black sheriff.
"The neglect of duty and the incompetence that was connected to the massacre at Marjory Stoneman Douglas has been well-documented, and I have no interest in dancing on Scott Israel's political grave. Suffice it to say that the massacre might never have happened had Broward had better leadership in the sheriff's department. The Parkland families, the people of Broward and the broader community want accountability. But I think just as important, or more important, they want the problems fixed going forward," DeSantis, who took office Tuesday, said. "As governor, I don't want to leave it to the future to do what we can do today."
A recently released report by a state commission created to investigate the massacre — one of the nation's worst school shootings — found fault with the sheriff's office's handling of the horrific attack by confessed gunman Nikolas Cruz, a former student at the school with a long history of mental health problems.
As 19-year-old Cruz unleashed a volley of bullets inside what was known as the freshman building, the high school's resource officer, former sheriff's Deputy Scot Peterson, lingered outside. Other deputies hid behind cars. The delays, along with a lack of training, communication problems and Israel's policy that did not require deputies to confront active assailants, contributed to the number of deaths and injured victims, the commission found.
Max Schachter, whose son, Alex, was among the slain students and who has served on the commission, praised DeSantis.
"He realized that public safety is the most important thing, and that cultural corrections are necessary to protect the citizens before the next mass-casualty event happens in Broward County," Schachter said.
He said the commission's eight-month investigation revealed failures by the Broward County School Board and the "horrible response of the Broward Sheriff's Office under the leadership of Sheriff Scott Israel."
Andrew Pollack, whose daughter, Meadow, was among the slain students, has been one of the outspoken DeSantis supporters demanding that Israel be stripped from his post.
"We've been waiting nine months for this thing, right?" Pollack said as he stood beside the new governor and Tony.
The community will be "much safer now that Sheriff Israel is out of office," Pollack said.
Another commission member, Ryan Petty, whose 14-year-old daughter, Alaina, was killed at the school, also hailed DeSantis' action.
"Today is about a new chapter for Broward County, and I want to look forward rather than looking back," he said, thanking DeSantis for "bold leadership" and for following through with a campaign pledge to remove Israel.
But, as he has in the past, Israel repeated Friday evening that he committed "no wrongdoing" and blasted DeSantis for "merely fulfilling a campaign promise" by removing him from office.
"This was about politics, not about Parkland," Israel told reporters.
The law enforcement veteran said he was targeted because he has been an outspoken critic of gun violence and the National Rifle Association.
"Let's understand the suspension for what it really is: a massive political power grab by the governor," he said.
Following the Feb. 14 mass shooting, Israel said his agency "immediately began to make changes that will make Broward County and our students safer."
But, he concluded, "For now, it's on to court."
Elected officials who have been removed from office can seek a hearing with the Florida Senate, which has the power to reinstate them. Israel's lawyer, Stuart N. Kaplan, said he and his client have not decided whether to seek redress from the Senate or in state or federal court.
DeSantis' executive order accused Israel, among other things, of having "egregiously failed in his duties" as sheriff, failing to "provide his deputies adequate, thorough and realistic training," and neglecting to "establish an appropriate response to a mass casualty incident."
But Kaplan, who conceded that "there were some shortcomings and there were mistakes made," said the fault was not with Israel.
"There is one individual who is responsible for the massacre of Feb. 14, and that is Nikolas Cruz, and that is the only person that should be held responsible," the lawyer said. "We can always identify certain things that could have been done better and we have learned from those mistakes. … But it does not in any way rise to the level to single out Sheriff Israel and hold him accountable for what happened."
Tony tried to reassure sheriff's office employees, the families and the community as he takes over a troubled agency with 5,000 employees and 3,000 deputies. A former Florida State University football player, Tony is the founder and president of Blue Spear Solutions, which provides training for active-shooter incidents and mass-casualty events. According to the company's website, Tony worked for the Coral Springs police for more than a decade.
"To the employees and deputies," Tony said, "I am not here for any type of political, grandiose agenda."
–Dara Kam, News Service of Florida