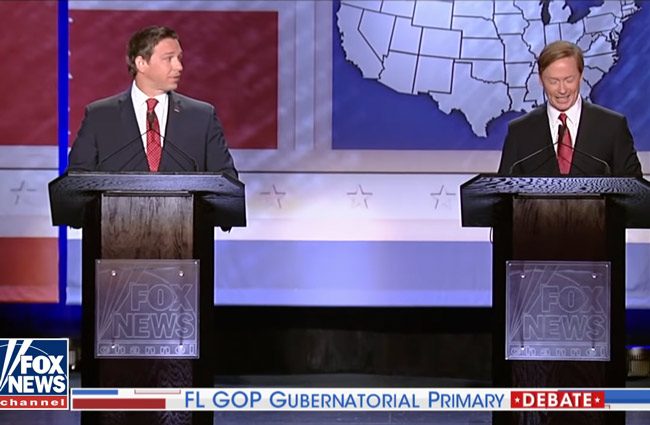 In an exchange focused more on national topics than challenges facing the next Florida governor, the two top Republican candidates to replace Gov. Rick Scott clashed in a televised debate Thursday over their support for President Donald Trump and immigration issues.
Early in the hour-long debate, which was broadcast to a national audience by Fox News, state Agriculture Commissioner Adam Putnam and U.S. Rep. Ron DeSantis quickly turned to the key themes of their campaigns.
"I'm proud to have the endorsement of President Donald Trump in this race," said DeSantis, a three-term congressman from Palm Coast, while responding to a question about the appointment of a new U.S. Supreme Court justice.
In a question about Trump's upcoming summit with Russian President Vladimir Putin, Putnam said he was proud to support Trump's agenda, including negotiations with foreign leaders, tax cuts and efforts to improve the country's trade policies.
"But I'm running a Florida first campaign. I care more about the schools in Washington County than what's going on in Washington, D.C.," said Putnam, who is also a former congressman and state lawmaker.
Putnam, who supported former Florida Gov. Jeb Bush in the presidential primary in 2016, was asked if he would endorse Trump in his 2020 re-election bid.
"Most assuredly. I look forward to campaigning with him as governor of Florida," Putnam said.
But DeSantis shot back that it "would be the first time you ever campaigned with him," noting the agriculture commissioner's absence during Trump's primary campaign in 2016.
"You couldn't find Adam Putnam if you had a search warrant," DeSantis said.
Both candidates, who will face off in the Aug. 28 primary, refused to blame Trump for the current negative tone of political discourse.
"He is under an attack like no president has faced," DeSantis said. "The last thing I want to do is go up there and lob hand grenades at the president."
"This method of incivility did not begin with President Trump. It is only reported by the left-wing media because they want to undermine our president and the conservative movement," Putnam said.
DeSantis described immigration as a "big point of disagreement" between the candidates, while slamming Putnam on issues such as opposing the use of E-verify, a system to confirm the legality of workers. He said Putnam worked to kill an E-verify law being considered by the Legislature.
"I appreciate him saying he put Florida first. But he didn't put Florida first there," DeSantis said. "He put his big donors who want cheap foreign labor ahead of the interests of our citizens."
Putnam said Florida employers "need a stable, legal workforce" but Washington has failed to come up with an immigration fix.
"Washington should do its job. They haven't passed an immigration bill," he said.
Asked if he still considered himself "a proud NRA sellout," Putnam said he is "a proud supporter of the Second Amendment" and would not let "the left hijack this debate" in an effort to limit the gun rights of law-abiding citizens.
DeSantis blamed the Marjory Stoneman Douglas High School mass shooting in February on failures by local and federal officials. He said he would have fired the Broward County sheriff, and he said FBI agents who received information about the shooter prior to the incident should be fired.
Both candidates said they opposed the legalization of recreational marijuana in Florida but pledged to carry out a 2016 constitutional amendment that broadly legalized the medical use of the drug.
Asked after the event if more questions should have focused on what would occur in Florida if either is elected, DeSantis said the choice of topics came from the moderators and then turned to his endorsement from Trump.
"I think that the fact that Trump has said, 'Ron DeSantis is a brilliant leader, he would make a great governor, he's tough on borders, he's tough on crime.' People look at that and say, 'That's a big, big deal.' And so I think it's just created more excitement, and, look, this race is dramatically different than it was a week-and-a-half ago," DeSantis said.
In his post-debate response, Putnam said "if you want to be governor of Florida, you need to know Florida."
"I don't think there is any doubt that questions were very national issue-centric. And I took the opportunity to bring it right here to Florida," Putnam said. "We're here in Kissimmee. They kept calling it Orlando. We're not even in the same county. If you know Florida, you know that."
Republican Party of Florida Chairman Blaise Ingoglia, a state House member from Spring Hill, said the event was "passionate" and that both candidates "delivered on what they had to deliver." And while he would have liked to have heard more Florida questions, he said the event was broadcast to a national audience.
"Fox News has an audience, and they delivered on that," Ingoglia said. "We expect other debates where they'll get down on more policy tailored for Florida."
The debate, which was held at the Gaylord Palms Resort and Convention Center in Osceola County, was the first of what may be only two debates before the August primary.
DeSantis and Putnam are next scheduled to appear in an Aug. 8 debate that will be hosted by Jacksonville University and WJXT Channel 4 in Jacksonville.
–Jim Turner, Lloyd Dunkleberger, News Service of Florida