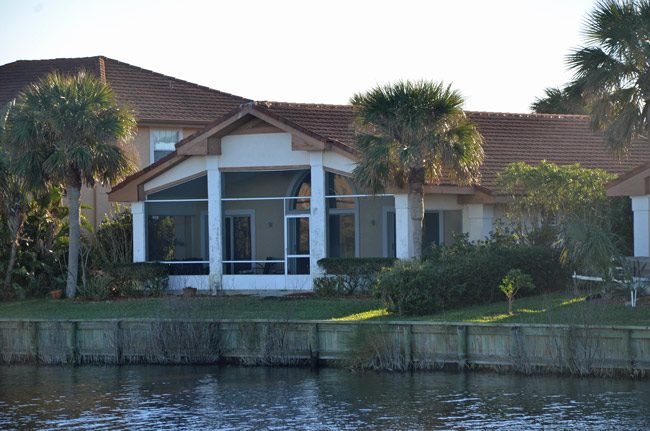 Last Updated: 1:04 p.m.
Rep. Ron DeSantis's neighbors in the Lakeside By the Sea gated community on A1A knew something was up when they saw a few cosmetic changes at the residence he'd hardly used since buying it barely a year earlier—or maintained.
"It was all overgrown and never kept up, ever," said one close neighbor, who asked not to be identified. "Then they did some trimming and some planting, and there was the moving truck two weeks ago."
The neighbor was referring to the 1,500-square-foot house at 12 San Pablo Court DeSantis bought for $242,000 at the end of October 2016, just before winning his third term for Florida's 6th congressional district, which includes all of Flagler, portions of Volusia and portions of St. Johns counties. He claimed a homestead exemption on the house for 2017, though neighbors said they rarely saw him there.
On Jan. 1 the property went up for sale with an asking price of $324,000, a further sign that DeSantis was divesting himself of district-related connections as he prepared for a run for governor.
This morning, he made it official: "I'm excited about taking this first step towards a campaign for governor," DeSantis told Politico ahead of filing papers to run. "As a former prosecutor, Iraq veteran and conservative leader who's endorsed by President Trump, I've got the experience needed to win this race and build on Gov. Scott's strong legacy." Gov. Rick Scott is expected to challenge Sen. Bill Nelson for his seat.
The congressman's decision means that District 6 will be an open seat again for the second time in six years and the first time since it was redistricted, making it slightly more moderate than it had been, thus creating an opening for Democrats. No Democrat has represented any part of Flagler since the earlier part of the last decade, when Corrinne Brown's district included a portion of the county. (Brown is headed for prison following a conviction on a fraud scheme.)
Two Democrats have declared for the congressional seat—Nancy Soderberg, a foreign policy expert and top aid in Bill Clinton's administration who lives in St. Johns County, and Bob Coffman, a retired fighter pilot who's lived in Palm Coast for a few years. Soderberg raised $336,000 in the third quarter of 2016. Coffman is not nearly as well-funded (if funded at all: he has not yet reported to the Federal Election Commission), and speaking to the Palm Coast Democrats Thursday night, he said he was still seeking a campaign manager.
Asked about DeSantis's home sale and steps toward a run for governor earlier this week, Soderberg said she was more interested in discussing her own race. "I'm focused on the residents of the district not his residency right now. I think it's clear he's going to get out and run for governor very shortly," she said. "Whoever is in this race I'm focused on winning this race, regardless of what Republicans put forth."
Two Republicans have filed to run in the district so far—John Ward and Jeremy Kelly, though Fred Costello, the former state lawmaker who ran for the congressional seat previously, is kicking off his campaign for the seat Saturday at Rockefeller Park in Ormond Beach in the morning and at Heroes Park in Palm Coast around noon, with Palm Coast Mayor Milissa Holland, a former Democrat, at his side.
If District 6 had been a safe Republican bet for years, shifting tides under the Trump presidency are making it less so. "My chances are building every day with the groundswell of concern about what's happening in Washington," Soderberg said, going so far as to predict that the House of Representatives "will flip." (Most analysis consider a flip of the Senate to Democratic control to be feasible but not likely, and a flip of the House to Democratic much less likely at this point.)
Just after noon, Soderberg issued a statement on the DeSantis decision. The statement anticipates an opposition not much different from the kind DeSantis represented: "Anyone, Republican or Democrat, who proposes throwing over a million Floridians off health care, making massive cuts to Medicaid, raising premiums on those over 50 and eliminating the protection of pre-existing conditions — can anticipate a vigorous debate from me," Soderberg said in the statement.
On Dec. 22, President Trump endorsed DeSantis for governor in a tweet, calling him a "brilliant young lawyer" immediately after watching DeSantis on Fox News, where the congressman has made more appearances than public appearances in his district.
DeSantis, a Tea Party conservative, will face Agriculture Commissioner Adam Putnam in the GOP primary, among many other candidates who have filed. Putnam, an establishment conservative, is considered the front-runner with a $15 million war chest ($13 million of it in his political committee, Florida Grown, and $2.5 million in his campaign account). DeSantis starts the year with $3.7 million between his own account and his political committee, Fund for Florida's Future.
Democratic gubernatorial candidate Gwen Graham issued a statement Friday that quickly made clear DeSantis' ties to Trump will be an issue during the campaign, the News Service of Florida reports this morning.
"Ron DeSantis running as Trump's hand-picked candidate with the backing of out-of-state billionaires may endear him to the most partisan primary voters, but he is too extreme for Florida," Graham, a former congresswoman, said. "While DeSantis has dedicated his time in Congress to protecting Trump from Mueller and becoming a Fox News star, we look forward to a vigorous debate on the real issues that affect Florida families most. Ron DeSantis's support for privatizing public schools, his denial of climate change and his votes to cut Medicare are just out of touch with Florida."
Two DeSantis neighbors interviewed at Lakeside Thursday said they were glad to see him leave. "He used to jog, always kept his head down, he was very unfriendly," one of the two neighbors said. "He didn't even recognize the neighbors." The neighbor said she saw him jog around the subdivision perhaps a half dozen times in the past 15 months. (A third neighbor who said he'd have "nothing of value to say about DeSantis" declined to be interviewed.)
They had kinder words to say about DeSantis's father, who helped maintain the house on occasion. DeSantis himself, however, was observed on rare occasions driving in with his truck, parking in the front of the house, then turning on a large TV in the living room, leaving it on, then getting picked up by an aide in a different car.
"It was a huge TV that reflected in the lake," a neighbor from a small distance across the lake said. "And I'd go, there's that big-ass TV again. It was on all the time."
Elizabeth Fusick, DeSantis's communications director, did not respond to a call and an email since Wednesday.