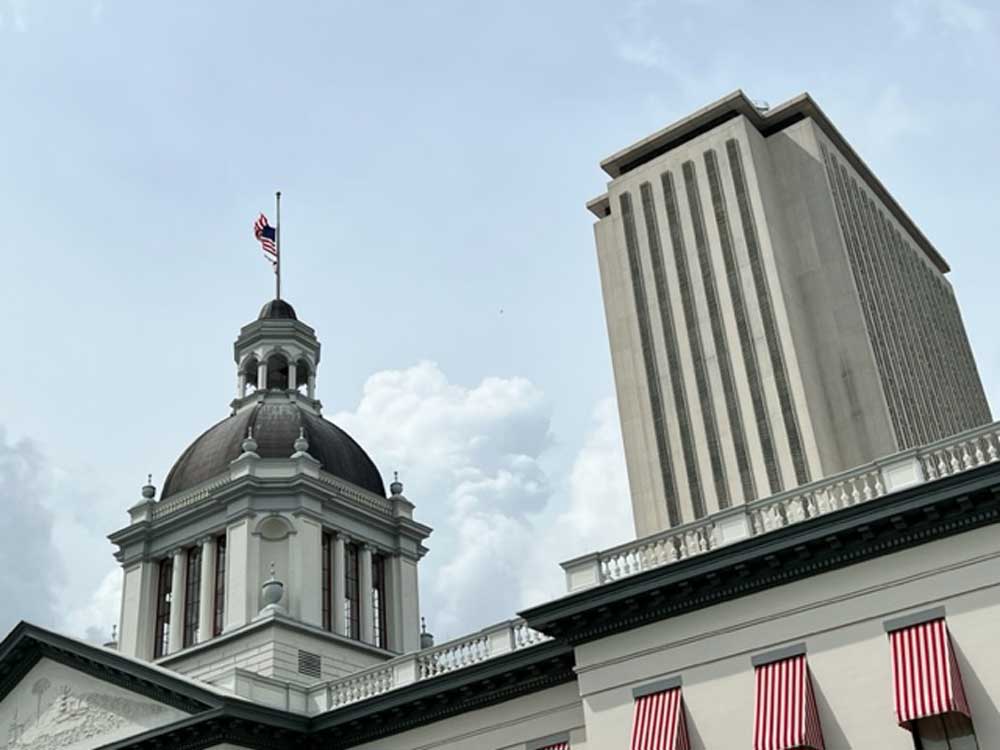 U.S. flags will fly at half-staff at local, state, and federal offices through sunset on March 31 in memory of the three children and three adult staff members shot to death at The Covenant School elementary school in Nashville this week.
The gesture by Gov. Ron DeSantis comes as the Florida Legislature debates controversial bills that would allow any adult to carry a deadly weapon without having to register with the state or undergo firearms training. Existing law requires an application to the state for a permit to carry a concealed weapon, as well as undergoing a training and safety course and an additional background check.




The state House approved what's called a permitless or "constitutional carry" bill (HB 543) along party lines on Friday. (Every Democrat voted against the measure.) The state Senate must pass the legislation before it goes to DeSantis' desk and the governor has already said he would sign the bill into law.
If ultimately approved, the legislation would make the Sunshine State the 26th state in the nation to have such a law.

In addition, a committee in the state House advanced a bill last week that would repeal a gun-reform provision – reducing the age to purchase rifles and other long guns from 21 to 18 years old. The measure (HB 1543) would allow someone too young to drink legally to purchase a firearm from either a licensed dealer or a private seller. That bill has been sent to the House for a vote. So far, there's been no Senate version.
Parkland anniversary
The HB 1543 bill comes at the five-year anniversary mark of Broward County's Marjory Stoneman Douglas High School shooting massacre at Parkland, where 17 students and staff were killed in 2018 by a teen, Nikolas Cruz, with an AR-15-style rifle.
In Nashville, the shooter was identified as a former student Audrey Elizabeth Hale, 28, a former Covenant student armed with at least two assault rifles and a handgun, police said. She was killed by two police officers.
President Joe Biden on Monday ordered flags lowered at federal facilities, and Gov. Ron DeSantis issued the order Tuesday for facilities belonging to the state and its political subsections.
Biden called it "a mark of respect for the victims of the senseless acts of violence perpetrated" on Monday.




"I hereby order that the flag of the United States shall be flown at half-staff at the White House and upon all public buildings and grounds, at all military posts and naval stations, and on all naval vessels of the federal government in the District of Columbia and throughout the United States and its territories and possessions until sunset, March 31, 2023," Biden wrote in an executive order.
"I also direct that the flag shall be flown at half-staff for the same length of time at all United States embassies, legations, consular offices, and other facilities abroad, including all military facilities and naval vessels and stations," Biden continued.
"Pursuant to this direction, I hereby direct the flags of the United States and the State of Florida to be flown at half-staff at all local and state buildings, installations, and grounds throughout the State of Florida immediately until sunset on Friday, March 31, 2023," DeSantis' order reads.
–Michael Moline, Florida Phoenix