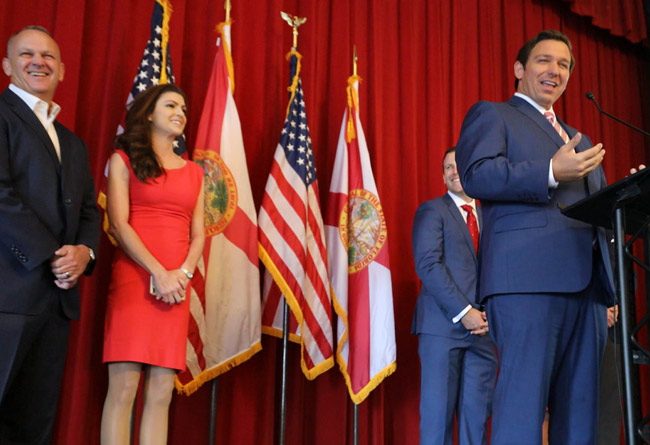 By Nancy Smith
You knew Gov. Ron DeSantis' thank-you paybacks were coming.
Every new Florida governor we've seen in the last 40 years — and probably longer than that — repaid his loyal campaign staff and supporters with jobs in his administration. It's a normal, if immoral right of passage in Tallahassee. You just hold your breath and hope he won't appoint too many square pegs to round holes.
But this year it strikes me as especially egregious.
DeSantis, remember, is the hero mainstream media celebrate for yanking 46 "lame," last-minute Rick Scott appointments.
Maybe some of the Scott critics should shudder to think of who he's going to put in their place.
Look at the pile of mismatches the governor has installed in critical state agencies so far. I'm going to cite just a handful  (which doesn't even include recently departed Secretary of State Mike Ertel)
Chad Poppell. He's our new secretary of the 10,000-plus-employee Department of Children and Families (DCF). Zero experience protecting children, zero promoting strong families or advancing personal or family recovery. But he did quit as secretary of the Department of Management Services in 2017 to lobby state government for campaign donor IBM. DCF apparently did get a number of large contracts from IBM recently …
Danny Burgess. He's the governor's 32-year-old executive director of the Florida Department of Veterans Affairs. Elected to the Zephyrhills City Council in 2005, while he was still in college, Burgess has always pursued elected office. Right out of law school he was commissioned in the Judge Advocate General's Corps of the U.S. Army Reserve as a first lieutenant and continues to serve with the rank of captain. But he has absolutely no administrative experience. Perhaps not a political appointment, but certainly a questionable one. Veterans who have served beyond the Reserves, in a theater of war, are telling me, "We don't get it."
Jordan Wiggins. Who knew the Florida Fish and Wildlife Conservation Commission had a new deputy chief of staff until Friday, when Tampa Bay Times environmental writer Craig Pittman introduced us. Wiggins, 33, has never worked for a wildlife agency before, or for any other state agency. But he did raise a lot of money to help get DeSantis elected and after that he helped run his inauguration, which earned him a rewards card. Pittman reminds us, on Jan. 10 DeSantis "emphasized his interest in ensuring the use of sound science at the state's environmental agencies" — to which Frank Jackalone of the Sierra Club responded, "The appointment of somebody who doesn't have any wildlife experience (Wiggins) would make one wonder whether DeSantis was being genuine." You think?
And there are any number of downcard appointments that have nothing to do with qualifications, but in all honesty, the state is unlikely to crumble if they fail. Still, I can't help drawing your attention to the governor's director of appointments, Makenzi Mahler, age 23. She was deputy finance director for the DeSantis-Nuñez campaign, another rewards card entitlement. Dial up her Facebook page. It's an application for a job. [Editor's note at 1 p.m. Jan. 28: Makenzi Mahler's Facebook page was taken down.]
I'm hoping Mahler will grow into the job. She has a way to go. Last week she telephoned Melanie Peterson, formerly of the South Florida Water Management District Governing Board, asking what Peterson's intentions were, would she resign from the SFWMD board early or continue to serve out her term? She was clueless Peterson was long gone.
"It wasn't much of a conversation," Peterson told me. "I informed her I had already resigned to Governor Scott (effective Jan. 1)."
"A governor who sends little girls to do his business doesn't give me much confidence," she said. "At least I served a governor who called people directly like a real man."
I admit, I really do need to look more thoroughly at DeSantis' picks so far. DCF secretary, executive director of Veterans Affairs, deputy chief of staff for Fish and Wildlife — these are mighty big slots. Seems to me the governor has tried to mate a Great Dane with a Yorkie. If Rick Scott had appointed these people, the media would have crushed him like a grape.


Nancy Smith is the editor of Sunshine State News. She started her career at the Daily Mirror and The Observer in London before spending 28 years at The Stuart News/Port St. Lucie News as managing editor and associate editor. She was president of the Florida Society of Newspaper Editors in the mid-1990s. Reach her by email here, or follow her on twitter at @NancyLBSmith.