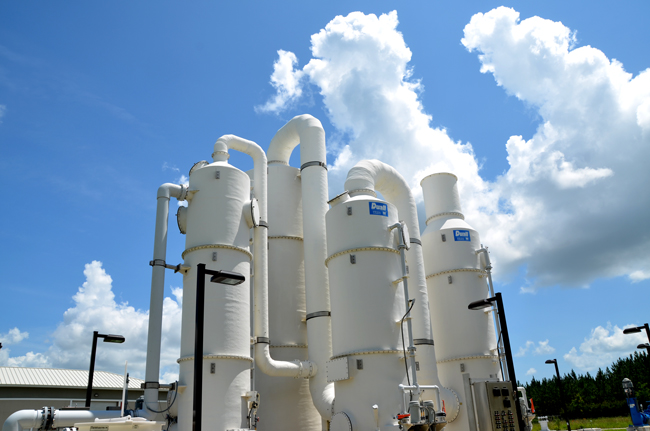 It was a rather grim meeting of Palm Coast's desalination consortium this morning, held at the city's shiny new water-treatment plant on U.S. 1.
The consortium, once a partnership of a dozen local governments combining dollars and pledges to build a desalination plant somewhere in Flagler County, no longer exists. But at least $213,000 has yet to be spent, possibly more, from the project's latest phase, which had a total budget of $1.7 million. The question today was what to do with that remaining money, and whether to continue meetings between Palm Coast and its consultant, Tampa-based Malcolm Pirnie.
"The budget turns into a pumpkin at midnight," Palm Coast Utilities Director Richard Adams said at one point, referring to a September deadline, when all dollars presumably stop. But maybe not quite.
Malcolm Pirnie officials pushed for continuing quarterly meetings: the consultant would paid through carry-overs from money allocated this year. Malcolm Pirnie's Ed Balchon suggested that it could "keep a pulse, a low pulse," until the desalination project wins back partners and looks ready to move forward again. In the meantime, Malcolm Pirnie would keep tabs on the science and other factors that would be useful should the project resume.
Adams agreed. "We'd like to do as much as we can do on this project, recognizing that there's not going to be additional money," he said.
But it's still going to be for the Palm Coast City Council to decide. What money remains could also be flowed back to Palm Coast's utility fund and to two other contributors that are no longer in the consortium–Leesburg and the St. Johns River Water Management District, as other dollars usually are at the end of a budget year, when they're not spent. The consultants today were making the case to keep that from happening–to keep dollars on the desalination project regardless. That may be a hard sell for council members, who are facing another extremely tight budget year, and talking about eliminating firefighters' jobs and closing down a firehouse, among other options. Council members would have a difficult time justifying spending another $213,000 on a defunct project, just because the money is in the pipeline.
The partnership was down to just Palm Coast, Leesburg and the St. Johns Water Management District by last month, when Leesburg left and the management district predicted that it would quit contributing about one-third of the project's costs. Gov. Rick Scott and the Legislature ordered the districts around the state to slash budgets and end such involvements as as the desalination partnership. The St. Johns River Water Management District carried out the order. It just eliminated 140 jobs, out of 700, and scaled back its investments, among them desalination.
That left Palm Coast by itself carrying the weight of a project that, even in its scaled-down form, would cost at least $200 million.
Palm Coast Mayor Jon Netts had said that without the management district, Palm Coast would have to abandon the project, or at least shelve it for many years. That's what Palm Coast Utilities Director Richard Adams talked about today with Tampa-based Malcom Pirnie, the consulting firm hired by Palm Coast and the consortium to lead the desalination initiative, officially called the Coquina Coast Desalination project.
The purpose of keeping quarterly meetings of the desalination group going, Adams said, would be to encourage partners to re-join. But even that appears unlikely for now, for the very reasons that partners have dropped out: the cost is too high, budgets are being scaled back, and growth isn't compelling alternatives on a scale as colossal as desalination.
"I think there are a lot of people who aren't at this table who have a future need," Adams said. "Palm Coast for one ultimately recognizes that growth will return and there will be a need for an alternative water project."
The site of the meeting was a water plant that treats 1.7 million gallons of well water per day. It was built in 2008. The site itself implicitly concedes in its design and projected capacity that desalination was a long shot. The plant is permitted to draw up to 3 million gallons per day from wells. But it is engineered for future expansion to enable twice that capacity or more–not from alternative sources such as desalination, but from current water sources.
The same site is an indication of the changing dynamics of Palm Coast's needs. There are no plans for expansion at the moment. The site was also to be the location of a new wastewater treatment plant. That plant probably won't be built for several years yet–not until significant growth resumes.