Dine Royally (and Affordably)
Living as we do in a resort/convention mecca, we benefit from the hundreds of restaurants that have made Orlando into an award-winning food destination with celebrity chefs serving haute cuisine from around the world. This September we can eat royally while saving money and supporting the ARTs – all at the same time.  While it would take an act of magic to make that all happen, we ARE a magical town, and the Orlando Magical Dining Month is a culinary celebration presented by the Orlando/Orange County Convention & Visitors Bureau. Here's how it works; from September 1 to 30, participating restaurants will feature three-course, fixed-price dinners at the amazing price of $30. This is our chance to experience Orlando's finest restaurants at an unbeatable price. Then, $1 of every Magical Dining dinner is donated to the Arts & Cultural Alliance of Central Florida. More than 60 Restaurants will offer three-course meals for $30, allowing us to savor our appetite for savings while supporting the ARTs with every tasty bite. "We love to feature the foods that make Florida one of the most exciting places to cook in the world," said Chef Norman Van Aken of Norman's at The Ritz-Carlton. Popular restaurants include Norman's, Emeril's Tchoup Chop, Luma on Park, Everglades at the Rosen Centre, The Palm at Hard Rock Hotel, and Roy's with all the restaurants, menus and reservations available at orlandomagicaldining.com.
Torn Paper Paintings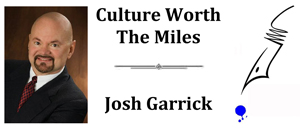 Torn bits of hand-painted papers make up the unique and vibrant collages created by Artist Elizabeth St. Hilaire Nelson.  Nelson's paper-paintings will make their debut at the newly 're-organized' Maitland Art and History Association in an exhibit inspired by the subject of music called "Exquisite Harmony." Musical instruments (including a representation of Nelson's own violin), botanicals, and provocative conceptual works will be on display in the show that runs from September 10 through October 24, with a reception on Friday, September 10 from 6 to 8 pm. One series of new works includes collages representing Camille Saint-Saëns Carnival of the Animals. A First Place Winner in the category of collage for The Artist's Magazine (2010), Nelson also received a Professional Development Grant from United Arts of Central Florida to assist in funding this exhibition.  The multi-talented Artist currently plays the violin with the Maitland Symphony Orchestra and is a graphic designer in addition to being a visual artist.  Visit artandhistory.org or call 407.539.2181
More Torn Paper for the Magic!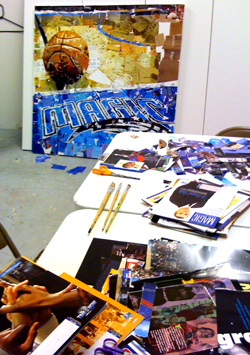 The art of collage is gaining new respect from exhibits like that of St.Hilaire-Nelson and a recent artist's commission by the new Amway Arena in downtown Orlando.  A multi-million dollar building needs signature artwork and that will include the art of Derek Gores, a young artist from Brevard County.  Gores, who came to national attention with a work accepted (and sold) in the unique collection presented during the inauguration of President Obama has been commissioned by Amway to create six major original works – and Gores also works in "torn paper."  The Artist has been known to use recycled maps, magazines, and wine labels in his works. "The Magic gave me a huge box of programs, posters, photos, and tickets – all this stuff that I can use," says the Artist, "and they're going to hang in 'primo' spots inside the stadium."  The new works include the Magic logo, Dwight Howard, and the Lake Eola Fountain among others. Throughout history, artists have enjoyed placing hidden references within their work, and Gores is no exception. He says, "Sometimes the torn pieces have writing on them that relates to the subject. Some of Dwight's stats are in there."  Look for the new works when the Stadium opens this Fall; Gores' work will be in place for Game One.  Work by this national award winner will be showcased (and seen close up) beginning with an Opening on September 11 from 5 to 8 pm at the Baisden Gallery at 442 Grand Central Avenue in Tampa.
Mad Cow Kicks Off the Sondheim Celebration
This is the season of Stephen Sondheim in Central Florida with a number of theater companies performing works created by this 20th Century Master of Musical Theater.  Taking the lead with Company – one of Sondheim's masterworks – Mad Cow Theatre will open their 14th season with the cutting edge musical in performance from September 10 through October 17.  The very funny/sometime sad portrayal of five married couples is seen through the eyes of bachelor Bobby. Dealing with fears of commitment, growing up, and determining what's next, Company received six Tony Awards in 1971 – including Best Musical.  40 years after the Broadway premiere – at a time when society is still passing laws and examining what marriage 'means' – this hip and sexy show is more relevant than ever.  Introducing Shawn Kilgore as Bobby, the show features a brilliant Sondheim score, full of intricate word-play as the cast of 14 question their loves, their commitments and their marriages. Company will run through October 17 at Mad Cow Theatre, 105 S. Magnolia Ave in Downtown Orlando. Tickets by phone at 407.297.8788 x1 or visit madcowtheatre.com
And NOT to be Missed …
The Art of Edward Gorey at the Orlando Museum of Art
The exhibition "Elegant Enigmas: The Art of Edward Gorey" at the Orlando Museum of Art (OMA) shows off the deliciously malevolent illustrator whose atmosphere of potential danger made 'creepiness' into fun – running through Halloween at the Orlando Museum of Art. Call 407 896 4231 or visit www.omart.org
Charles Turzak, Master of Modernism
American Modernist Charles Turzak epitomized the American Modern Art movement in the 1930s. His trademark Art Deco woodcuts will be on display at the Albin Polasek Museum in "A Master of Modernism: Woodcuts and Paintings by Charles Turzak" running through November 14th.  Call 407-647-6294 or visit www.polasek.org