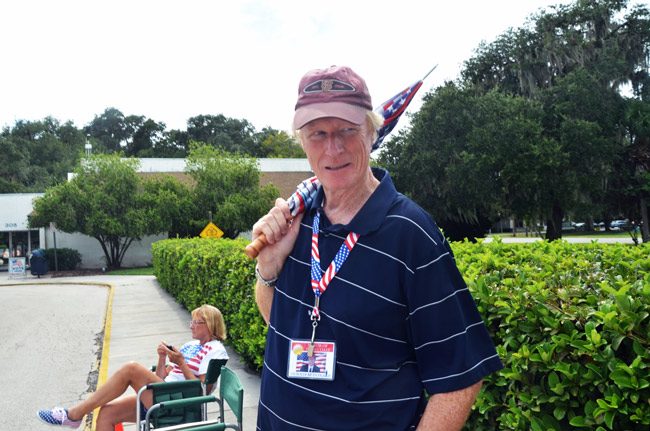 For the third time in five years, Dennis McDonald, a four-time candidate for local office, for years (but no longer) a fixture at local government meetings, and the husband of School Board member Janet McDonald, is suing Palm Coast government–again over a trip and fall on a city sidewalk, as was the case in 2015. McDonald has also initiated civil actions against county commissioners.
So far McDonald is barely ahead of the city in the duel, at least financially. This time he's asking for $120,000 in damages following a fall before last Christmas on a sidewalk at Palm Harbor Golf Course, the city-owned property. "I'm out taking a walk with my wife and I end up face down on the ground with a busted hip," McDonald said. He had to have the hip replaced. "It was an interesting odyssey to say the very least, and I don't recommend it."
And it was, in his words, a matter of "here we go again."
"This is a little bit different situation," McDonald said, comparing it to the first time he sued after falling on a sidewalk, following an in jury that was minor in comparison. "We know why the city took over the golf course: because the golf course was totally being mismanaged and nobody was doing anything other than collecting the green fees and mowing the lawns. The difference here is the severity of the injury. I used to have a perfectly good left hip."
While recovering, McDonald read about the latest survey of Palm Coast residents, who regularly rate city services and amenities. Sidewalk maintenance got poorer marks, with 52 percent calling it only fair or poor in 2017, down from 67 percent in 2013, the year when McDonald first tripped on a city sidewalk. The figure is a reflection of residents' dissatisfaction with a lack of sidewalks, highlighted by a spate of pedestrian injuries and fatalities in 2017.
On Feb. 20, Jim Manfre, the former Flagler County sheriff who's returned to private practice as an attorney, running his own firm, wrote City Clerk Virginia Smith of McDonald's intention to sue and claim negligence on the city's part. He cited the Dec. 16, 2017 incident and referred to a "one inch depression in the sidewalk" that caused McDonald to fall. "He endured seventy two hours of intense pain until surgery could be scheduled and continues to suffer pain and discomfort due to the injury," Manfre wrote. "He now walks with a slight limp."
Manfre added: "I look forward to negotiations to settle this claim prior to the one hundred and eighty day time period to file an action with the Circuit Court."
"The city doesn't take much care of anything, it was very interesting what we learned the first time around," McDonald said. Walking trails are among the city's most prized developments in the last few years, but they're distinct from its sidewalks. Asked about his chronic suing of the city, McDonald said he had no response other than to point to the survey. "And here we go again, and I'm sure there's lots of other people. How this happens to me like this is just unbelievable. It's like lightning striking twice."
"Obviously we received the letter notifying us of their intention to sue and we have, as we have done in the past with these filings, forwarded it to our insurance company for them to handle the situation," Palm Coast Mayor Milissa Holland said.
"We have grounds crew maintenance that's there on site," the mayor continued, referring to Palm Harbor Golf Course, "maintaining the facility, that certainly would have notified us if there was an issue of concern. We maintain all of our facilities under our current plan, and our public works crew immediately are out there under any such complaint or concerns from a resident."
McDonald's first lawsuit, in 2013, was an attempt to keep the city from uprooting trees in developments along Palm Coast Parkway. The city fought back, termed the lawsuit inaccurate and won a judgment that not only called the lawsuit frivolous, but ordered McDonald to pay the city $8,000 in legal fees (McDonald did). His attorney at the time was also ordered to do likewise.
That was on Jan. 30, 2015. Less than eight weeks later, on March 23, McDonald sued the city over a fall he took on a sidewalk while walking along Clubhouse Drive, hurting his hand. The suit was filed two years to the day after the fall, charging negligence against the city.
A sidewalk inspector then employed by the city as an equipment operator and sidewalk inspector, described in a deposition doing those inspections while riding a Gator cart or parking it and walking the sidewalk and looking for "hairline cracks" and "fractures" in the cement. (The inspector was blind in one eye, as he told the attorneys during the deposition.) But based on photographs he described a "misleveling" in the sidewalk where McDonald tripped—something worse than a crack—and that it would have been recorded and known as such by the city, if procedure was followed. On the other hand, city documents never made clear whether the area where McDonald fell had been inspected.
The case went to mediation, and the city agreed to settle, paying McDonald $9,000, much of which would likely have been paid his attorney, Ward Berg. The city's insurer paid the amount. The agreement stipulated that it was subject to approval by the Palm Coast City Council "within 20 days" of its signature, on April 11, 2016. (The following day, the city Attorney, Bill Reischmann, told the council of a needed closed-door session on the matter on April 19, but there is no record of the item on the council's agendas for approval through May 17 that year. Council members may discuss strategy but are prohibited from taking votes behind closed doors, even on legal matters.)
McDonald has also filed ethics complaints about county commissioners through the Florida Ethics Commission and, identically, through the state Elections Commission. The complaints were all thrown out, the ethics complaints being termed frivolous, causing county government in turn to go after McDonald, among others, for repayment of legal fees, and in amounts far exceeding the fees Palm Coast sought from McDonald and his attorney.
McDonald has run for the county commission twice, for state Senate once and for Palm Coast mayor once. He has not won an election.