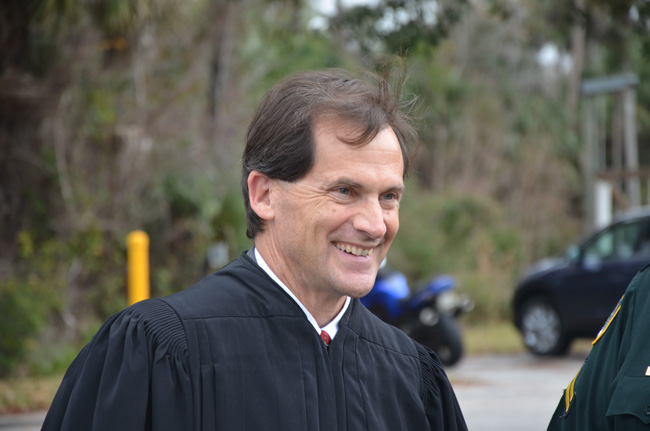 This is why judicial circuit elections matter regardless of where the winner will initially be seated: there is no such thing as a "Flagler seat" in the four-county Seventh Judicial Circuit. A judge may be seated here one day and in Volusia, Putnam or St. Johns the next. So it is with Dennis Craig, who was elected to the bench in 2010 to replace Kim Hammond, and has been in Flagler since.
Craig has been reassigned to the civil division in Daytona Beach. He will be replaced in Flagler by Michael Orfinger, who was elected to the bench after running unopposed last summer. Orfinger is the son of the late Melvin Orfinger, who was one of the original judges appointed to the Fifth District Court of Appeal when that court was created. Michael Orfinger's brother has been a judge at the 5th District Court of Appeal since 2000.
Michael Orfinger, who goes by Mike, is a Daytona Beach native. He was a principal with the Upchurch Watson White and Max Mediation Group for 10 years until his election, after spending 14 years in a private litigation practice. As a mediator, he works to resolve disputes and keep them from going to trial. He's a 1982 Seabreeze High School graduate. He got his undergraduate degree from Wake Forest University and his law degree from the University Of Florida College Of Law. While in high school and college, his campaign biography notes, he worked bagging groceries and stocking shelves and was an announcer for three radio stations in North Carolina.
"My Dad taught me by his actions that my word should be my bond, that good reputations take years to build but can be torn down in a minute, and that I couldn't be truly successful as a lawyer or anything else unless I was also ethical," Orfinger is quoted as saying on his campaign website. "I've always tried to live by that code, and Laura-Grace and I have tried to teach it to our children as well."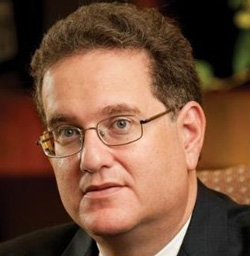 His partners for 10 years at his mediation firm apparently knew his time there was limited. "Within a short time after hiring Mike out of law school to join our litigation team," Larry Watson, a principal at the firm said in a statement shortly after Orfinger's election, "it became apparent his real destiny was on the bench, not before it. Mike is an astute legal scholar, writes exquisitely, and possesses a sharp analytical mind. Couple those skills with his kind and generous spirit and strong sense of fair play, and he represents an excellent addition to our judiciary. "
For Flagler, the departure of Craig is the latest in a series of judicial changes since the second circuit judgeship was added in the county in 2010, after Hammond's retirement. The criminal division assignment went to Judge Raul Zambrano immediately after Hammond's retirement until Zambrano was reassigned to Volusia County two years ago, despite a Facebook page that sough public support to "Keep Judge Z" in Flagler. But circuit judges are rotated for a reason: it broadens their experience and skills. Zambrano was replaced by Judge J. David Walsh, who will remain in Flagler for the foreseeable future. Flagler's county judgeship also changed hands in the interim when Sharon Atack retired and was replaced in 2013 by Melissa Moore-Stens, ending a stretch of some 30 years of that seat being held by an Atack: Sharon Atack's husband had held it for 14 years previously.
Flagler is part of the Seventh Judicial District, which includes Volusia, Putnam and St. Johns. The judicial changes were announced this morning in a news release noting the arrival of seven new judges district-wide, six of them elected and one of them appointed.
Circuit Judges R. Michael Hutcheson, Shawn L. Briese, Robert K. Rouse Jr., and Terry LaRue are retiring. Circuit Judge Thomas Portuallo and Volusia County Court Judge Peter McGlashan lost in the recent elections. Judge Carlos Mendoza was appointed to the U.S. District Court, Middle District of Florida in June.

The following assignments, for new judges and for current judges rotating to different divisions, will be effective on Jan. 6, 2015:
Circuit Judge-elect Sandra Upchurch will preside over the circuit civil division, at the Volusia County Courthouse in DeLand, in which Judge Rouse has been presiding.
Circuit Judge-elect Karen Foxman will preside over the family law division which is currently assigned to Judge Briese at the Volusia County Courthouse Annex at City Island in Daytona Beach.
Circuit Judge-elect Michael Orfinger will preside over the civil and family divisions in Flagler County, which are currently assigned to Circuit Judge Dennis Craig.
Judge Craig will rotate to a civil division, at the City Island annex in Daytona Beach, in which Chief Judge Terence Perkins has been presiding.
Chief Judge Perkins will preside in the criminal division, at the S. James Foxman Justice Center in Daytona Beach, which is currently assigned to Judge Hutcheson.
Circuit Judge C. David Hood Jr., who was appointed to the bench in October, will move from a family division to the juvenile delinquency division, at the City Island annex in Daytona Beach, which is currently assigned to Judge LaRue.
Circuit Judge-elect Kellie J. Miles will preside over the family division, in Daytona Beach at the City Island annex, which had been assigned to Judge Hood. Judge-elect Miles had won election as Kellie J. Killebrew and will now use her maiden name.
Circuit Judge-elect Kathryn Weston will preside over the juvenile dependency division in Daytona Beach at the City Island annex, which is currently assigned to Judge Portuallo.
Circuit Judge-designate Howard McGillin Jr., who was appointed to a vacancy created by the appointment of Judge Mendoza to the federal bench, will preside over a unified family law division in St. Johns County.
Volusia County Court Judge Robert A. Sanders Jr. will take over the criminal division in DeLand which is currently held by Judge McGlashan.
Volusia County Court Judge Christopher Kelly will take over Judge Sanders' county civil division. This division is being relocated from the Courthouse Annex in New Smyrna Beach to the DeLand courthouse, where an additional judicial chamber is under construction.
Volusia County Court Judge-elect Angela Dempsey, will take over Judge Kelly's civil division at the City Island annex in Daytona Beach.