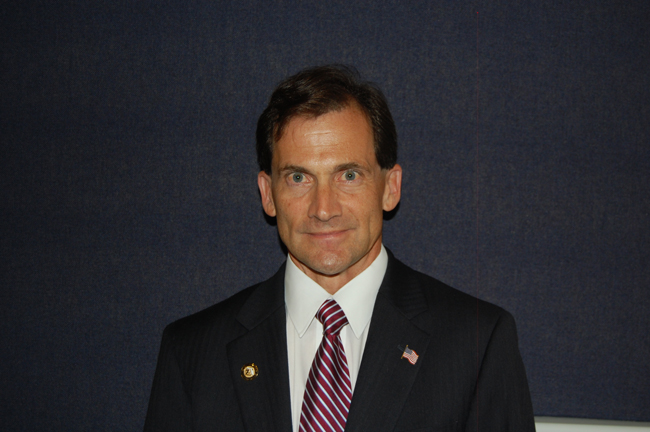 Dennis Craig, 49, is a native of Pittsburgh, where he grew up. He got his law degree from the University of Pittsburgh in 1986. He was in private practice for 10 years, was admitted to the Florida Bar in 1997, and has been an assistant state attorney in the Daytona Beach office of the State Attorney since, trying cases throughout the four-county Seventh Judicial District (Flagler, Putnam, St. Johns and Volusia). "Pretty much everything you could think of, I practiced," he says.
---
Click On:
Dennis Craig's Website
Dennis Craig's Facebook Page
Did Not File a Self-Disclosure Statement with the Florida Bar
---
---
Since 2005, according to his website, he's been the prosecutor in 85 felony jury trials before 16 different judges and against 46 different attorneys. When he spoke at a forum in late July, he upped that number to 89 trials, and said one of the things he enjoyed most about it was "the adversarial nature of it," though he added: "As a judge you have to step back and basically be the referee not the advocate, but the best part about what I like about the trial work is the public service part of it."
He was asked to explain the high incidence of juvenile crime. "Lack of parental control, or lack of parents," Craig said. "A lot of times there are no parents involved. One parent or another might have a drug problem, one parent might be in prison. But there's no guidance."
What can be done about it? Craig's answer did not relate to what a judge or the judicial system could do. "If a person is engaged and busy," he said, "they don't have time to run out and commit crime, steal a car, commit a robbery do these things, so these kids need not only to be involved in church and school, but to be involved in community activities."
Craig, who has less experience, and less varied experience, as a lawyer than some of the candidates in Group 5, aims to overcome that difference by pointing to one advantage: "This position is for a trial judge. I'm the most experienced in the courtroom." He's also been nominated by a judicial nominating committee four times.
Craig is married and had five children, one of whom died in her sleep when she was 3.

Candidates for Circuit Court Judge (Click on the Name to Go to the Candidate's Page)