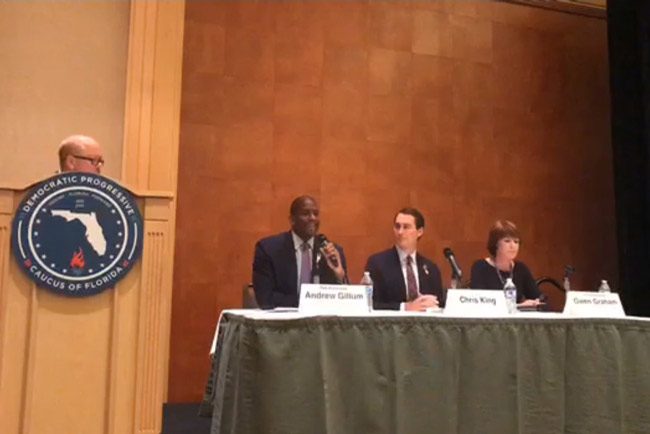 With 14 months to go before they face their party's voters, the three declared Democratic candidates for governor gingerly began outlining their different approaches to the race during a forum Saturday in front of a packed room of activists.
Tallahassee Mayor Andrew Gillum, former Congresswoman Gwen Graham and businessman Chris King did not clash much on the issues, and weren't expected to, as organizers made it clear from the beginning of the forum that it was not supposed to be a debate.
The candidates hewed closely to Democratic positions on issues like the environment, education, health care and the minimum wage. A controversial and wide-ranging education bill known as HB 7069, signed this week by Gov. Rick Scott, came in for a hammering from the candidates.
"And when a Democrat is elected governor, and I hope it will be me, our first priority will be to turn back this regressive, horrible legislation that takes away from our kids the opportunity to learn," Gillum said.
Still, it was the first chance to see the three candidates side-by-side, discussing the challenges facing Florida and the party that hasn't won a gubernatorial election since 1994. It provided a few contours to a race still taking shape, particularly as prominent trial lawyer John Morgan and Miami Beach Mayor Philip Levine are still weighing whether to jump in.
Gillum continued to try to pursue liberal voters in the Democratic base energized by the election last year of Republican President Donald Trump, who narrowly won in Florida. The mayor touted his clash with the National Rifle Association over local gun laws and his early moves to welcome same-sex marriage in Tallahassee.
He also told the crowd that digging in was a way to reach out to Floridians who feel left behind by the Republican dominance of Tallahassee — and a way to win.
---
Watch the Forum from Broward's Leadership Blue
"We're going to stand up unapologetically and stand firmly on what we believe in. … My opinion is the only way we win is by bringing those folks out to the ballot by telling them that we stand with them too," Gillum said.
He also took an implicit shot at Graham, who has come under scrutiny from some on the left for her voting record in Congress when she represented a swing district in Northwest Florida.
"The truth is … that we gotta make sure that people understand that we're not trying to be Republican-lite," he said.
Graham, on the other hand, tried to use her experience winning that district in 2014 to her advantage.
"I won with your help in a red year, a red Republican wave and a red district," she said.
Graham did not run for re-election last year, following a court-ordered redistricting that made her former seat far friendlier turf for Republicans.
She also tried to obscure traces of moderation that might hurt her during an election cycle in which the Democratic Party seems to be moving left. She called repeatedly for a public option in health care and joined Gillum, in particular, in bashing the standardized school-testing regime that has been a Republican hallmark for two decades.
"I will end the testing culture that has taken over our schools," she said, adding that she would also do away with the school grades that come from those tests. "Every school is an 'A' school in this state."
King, a real-estate developer who works in affordable housing and is making his first bid for office, pushed the need for Democratic candidates to promote economic development and growth — saying the GOP has largely dominated on those issues in recent years.
"We have been beaten over and over by the Republicans. … We need to be speaking from the same tune on a broad-based economic message that lifts people up, that lifts wages up and that tells the story very clearly that the Republican one-party government has mismanaged this economy," he said.
The Winter Park developer focused on the need to help "home-grown" businesses by trying to generate additional capital for small firms.
The forum took place in Broward County at the party's annual "Leadership Blue" weekend, which includes an annual fundraising dinner expected to host 1,250 people. Former Vice President Joe Biden and U.S. Sen. Bill Nelson, who is up for re-election in 2018, were scheduled to speak to the Saturday night gathering.
–Brandon Larrabee, News Service of Florida