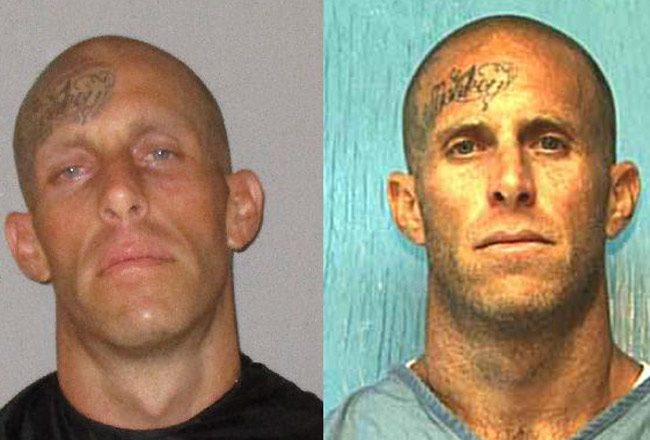 It started Saturday afternoon (Sept. 15) at Home Depot in Palm Coast. The man who would later be identified as Jonathan Michael DeMartino ran out of the store's garden section with a cart-full of merchandise, without paying for it–a $300-pressure washer, two $300-chain saws, and $199-wrenches. He then got into a blue SUV and fled.
It ended a few hours later with DeMartino, 37, a felon with a long criminal history, yet again booked at the Flagler County jail on four felony counts and a misdemeanor after a run of alleged property and other crimes, one of them injuring a woman. The run was likely motivated by the hunt for merchandise to steal and sell in order to buy drugs. (One of DeMartino's aliases, according to the state Department of Corrections, is "Crackhead Demartino.")
The theft took place around 1 p.m. Not much later, dispatchers sent word of a hit-and-run at Palm Coast Parkway and Pine Lakes Parkway, involving a vehicle whose description matched that seen fleeing Home Depot.
There were several calls into 911, with callers describing a blue truck "driving crazy." One witness described the blue SUV speeding east, going off the road three times and almost hitting several vehicles, running a red light, and finally crashing into a Ford.
Deborah Carbone, a 67-year-old resident of Bunnell, told cops she was driving her Ford Escape on Palm Coast Parkway westbound when she was rear-ended at the intersection with Pine Lakes Parkway. The vehicle behind her was the blue SUV. It was going an estimated 30 mph, according to a sheriff's report. Carbone pulled over. Her Ford's rear was heavily damaged (the sheriff's office estimated the damage at $4,000), and she was suffering from head and neck pain. Carbone was taken to Florida Hospital Flagler.
The driver who crashed into the Ford didn't immediately leave the scene. Witnesses saw him get out of the car, open a rear door and rearrange things in there, then flee, making a U-turn and heading eastbound on Palm Coast Parkway then speeding south on Pine Lakes Parkway. He did not render aid to the victim of the crash nor attempt to talk to her, though she was able to note the first three characters of the vehicle's license plate. A 49-year-old witness at the scene followed the fleeing SUV but lost track after it turned off Whiteview Parkway onto Rolling Sands Drive.
But calls kept coming into 911 about a seemingly reckless SUV going east on Whiteview toward Belle Terre, with heavy front-end damage and spewing smoke, swerving every which way, running drivers off the road. Further calls came from a driver on Old Kings Road, where the SUV was seen as if losing control and going off Old Kings and into the woods in the area of Graham Swamp. The driver and passenger stopped to render aid, but the man in the SUV got out and started frantically throwing things out of the car and yelling at one of the witnesses who was approaching him, before fleeing into the woods.
Witnesses described the driver in ways that matched descriptions of DeMartino–a man in his 30s or 40s, white, bald, thin build, with tattoos (he has a prominent one covering half his forehead with elaborate calligraphy.)
Cops arrived. The SUV license plate's first three characters matched those provided by Carbone. A search of the Graham Swamp area began at 1:20 p.m., and drivers reported road closures in the area. The search included Flagler County Fire Flight, the emergency helicopter. DeMartino wasn't found–at least not in the woods. But by then deputies had pieced together enough information to lead them to his house.
A deputy checked out DeMartino's last-known address at 51 Blairsville Drive, and while there saw a silver car pull into the garage. Deputies knocked at the door. Suzane DeCerbo, a 68-year-old resident of the house, opened and granted permission for a search. During the search a deputy heard movement in a bathroom. It was DeMartino, in a bathtub, with the shower curtain closed. One of the deputies took out a Taser but it proved unnecessary: DeMartino complied.
He was familiar with the procedure. DeMartino has a long arrest record, including two stints in state prison, his last ending in January, for grand theft, and another stretching five years until 2012, for armed robbery and false imprisonment.
His last arrest is barely a month old, in the Seminole Woods area, for possession of heroin, possession of meth, and possession of drug paraphernalia. His arraignment for that arrest was just last week, though it was continued. While in jail on those charges, he was charged with a fresh count of battery against an inmate. The charge was dropped. He also faces a new count of "habitual jail offender," a misdemeanor. He has many more arrests on his record.
And those were before Saturday's charges: leaving the scene of an accident with injury, leaving the scene of an accident with property damage, and grand theft.
Sheriff Rick Staly credited the alertness of residents whose information helped lead to DeMartino's arrest. "I am praying the people he injured were not seriously hurt and will have a speedy recovery," Staly said. "It is time for the courts to send this guy away for a very long time as obviously he doesn't learn while on probation."